As they did with most of their memorable offerings (Cabaret, Chicago) John Kander and Fred Ebb were sitting at Ebb's kitchen table one day and wondering what to create next. Tony-Award winning director/choreographer Susan Stroman (The Producers) was there on that fateful day more than a decade ago and when the idea arose to shine the spotlight on an "American" story, few could have predicating that the troika would delve so deeply into one of history's most haunting injustices, let alone drench it in music.
Eventually, their efforts would give birth to The Scottsboro Boys -- there was a brief reprieve in the process after Ebb's death in 2004 -- now touring and running at San Francisco's American Conservatory Theater.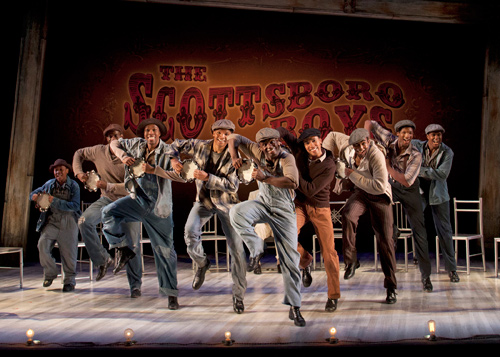 The cast of The Scottsboro Boys (Photo: Henry DiRocco)
The Tony-nominated gem, which features Broadway vet/television star Hal Linden in the pivotal role as The Interlocutor, revolves around the little-known, real-life tale of the emotional and judicial horrors that took place in the South during the 1930s when two women wrongly accused a group of African-American men of a gross injustice. Presented as a "minstrel show," its creators go beyond pushing envelopes here. The show is simply magnificent; as engaging as it is "uncomfortable" as it plows through various issues of race, only to eventually demonstrate how the real-life story became the spark for the Civil Rights Movement.
Of the history behind the show, Stroman has said that "the Scottsboro Boys is one of the most famous groups of trials in our collective history... It was a dark time in our history... The case was about the North against the South, black against white, Communists, the NAACP. Kander and Ebb are known for writing for the underdog, writing songs like "Maybe This Time" (Cabaret)... writing about ordinary people in extraordinary situations, like Nazi Germany or a Latin prison, so they were attracted to this story... because it is about how one lie destroyed the lives of nine young men."
I recently interviewed several of the show's stars, including Hal Linden. Take a look at my backstage peek below. Peruse a slideshow of the production at the end of article.
"The Scottsboro Boys" runs through July 22 at San Francisco/ ACT.
PHOTO GALLERY
The Scottsboro Boys on Tour