This week's Ralph Lauren Boycott in Chicago generated, at times, up to 50 advocates for better media and advertising images, but a recent Page Six summary on nypost.com reported that "a store manager" said there were only four people in attendance.
To which this reporter has only this to say: Somebody must have photoshopped away some sanity.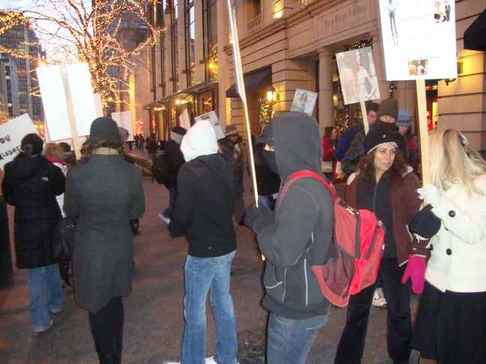 For what it's worth, the boycott, launched by filmmaker Darryl Roberts (America The Beautiful), is not so much about how many people venture out to rally, it's about, in part, sending out a message--through a grassroots campaign--to the corporate behemoths like Ralph Lauren to reconsider the images they are using in their ads. (By the way, it took Martin Luther King, Jr. some time to successfully launch a civil rights campaign.)
So, who needs to be heard here? The many millions of young girls and women that continue to be flooded with media images that tell them they have little or no value unless they are thin. These images are linked to promoting eating disorders, among other issues. They perpetuate the illusion that only when you achieve "thinness," will you be beautiful, adored and loved.
True, we all live in a world where this belief is rampant but it doesn't make it right, or true.
As for the Ralph Lauren Boycott, filmmaker Roberts and his posse have yet another one scheduled for 1 p.m. Sunday, Dec. 20 at the Ralph Lauren flagship store in New York City at 72nd and Madison.
Interestingly enough, that demonstration is being organized by NOW (National Organization of Women), the largest women's group in the United States. NOW's website, in fact, promotes the upcoming boycott, saying: "Get Your Photoshop Off My Body."
NOW isn't the only organization supporting Roberts' cause. The Campaign for Gender Equality, The Women's Therapy Centre Institute, IAEDP (International Association of Eating Disorder Professionals), The Canadian Obesity Network and ANAD (Anorexia Nervosa and Associated Eating Disorders) are also on board, as well as more than 5,000 people on Facebook.
Miss Indiana, Nicole Pollard is also a supporter.
Learn more about the issue at americathebeautifuldoc.com or at NOW. Catch up on how the boycott came to be in my previous blogs.