There's a golden halo of positively good juju hovering above Cyndi Lauper these days. Her recent memoir became a best-seller just as the Grammy-winning pop/rock icon also mastered the intricate task of writing the music for Kinky Boots, which hits Broadway in March -- it's already been generating major buzz (the version I saw in Chicago in fall was already brilliant) so don't be surprised if the woman nabs the gold at the Tony's.
So, what's left? Well, there is Reality TV.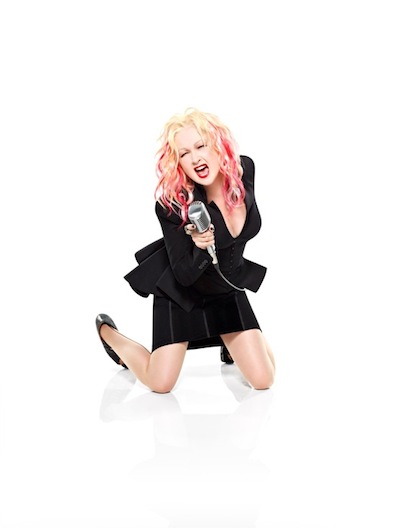 Photo courtesy of WE tv
Fans got a glimpse of Lauper's persona when she appeared on Celebrity Apprentice a few seasons back but in WEtv's new offering Cyndi Lauper: Still So Unusual, which debuts with back-to-back episodes Jan. 12 (check listings), the singer-songwriter-philanthropist-wife-mom-artist extraordinaire unveils even more -- from her emotional ties to various philanthropic causes like her True Colors Fund to being a wife (of actor David Thornton) and mother (to her 14-year-old son, Declyn), all the while braving the fickle show biz machine.

The good news: While most reality outings tend to be grating, tiresome and completely contrived, Lauper et al manage to deliver a fun romp with plenty of humor and heart in Still So Unusual. Yes, reality TV has, over the years, mastered its creative cookie-cutter formatting, and this endeavor does, at times, fall victim to the quirks of the genre, but Lauper's persona truly enlivens each tale. You simply want to spend more time with her.
What to expect: news about Kinky Boots, which was written by Harvey Fierstein. (Did I mention this is destined to be one of the most energetic, addictive rides to hit Broadway in some time?) Beyond that, there's other behind-the-scenes banter -- from Lauper's performance on NBC's The Voice to her humorously taking on Grand Marshall duties in the Pegasus Parade at the Kentucky Derby. There's also segments revolving around the feverish work involved in raising funds for True Colors.
In between tweaking "Boots" and promoting Still So Unusual, the performer who rose to fame in the 1980s crooning chart-toppers like "Girls Just Wanna Have Fun," "True Colors" and "She Bop," took a deep breath and answered some burning questions:
Q: A reality show. Hey, it's a lot of fun.
A: It is fun. I think so. You never know how things are going to go -- in my life, anyway. You think it's going to go one way and then, you know... but it all came at a time when it gelled with a lot of other things I was doing. And I got to spend time to my family, too, and that was good.
Why did you say yes to this?
Well, there was talk of doing a comedy show and then somebody said to me, "You're life is a comedy show!" So, I was like, "OK... let's do this." And this show is about a different kind of family yet a very traditional family. I found it interesting that a lot of times you want to do things "big" and you want to bring your family along. This one trip (on the show), which I wanted to be this fun trip about my family, turned into all about me -- I needed to warm up for a TV appearance and the keyboard I always use got lost on the flight over. I was, like, OK, how do you like them apples? And then another time, trying to take a day off at the Kentucky Derby, I took the family to a place that I thought was beautiful and one of them had allergies -- taking them to a horse farm was one of the most dreadful things in the world.
Ouch.
Well, and then they are setting me up as Grand Marshall [at the Derby] and the all the brouhaha with that, and people turned on their TV sets and the first thing they saw in the parade was some Yankee saying: "Great -- it's not on [the mic]. Fucking idiot!" You know... and that was me! And then my son is showing me all the hits that thing got on YouTube. Oh my God! So, yeah, I don't have to make this stuff up. It just happens. Everybody was so excited [at the Derby] -- there's always excitement at things like parades -- but unfortunately, for me, I got busted on it. They were like, "You Yankee! No respect!"
Well, your show is dubbed "Still So Unusual"... so what do you think, overall, makes your life so unusual? Your creativity or...?
You know, I really don't think my life is that unusual. My whole life, I always thought it was everybody else that was really unusual. I'm serious. I did. I think, that overall, for us, as a family, we love each other and we make it work. It's not what everybody else's house is like -- and I don't care. And the good news is, my husband doesn't either.
That is good.
You know, somebody once explained to me that if you are a real feminist, you have to really look at what you do in life. You know what I mean? Like -- you wanna be equal? Or, in theory, do you want to be equal? So, I believe in equality and a wise friend once told me that husbands and wives are partners in life, and one day, one guy is doing one thing and then you are doing something, and it then reverses. It's never the same. You never know in life. You just have to always try to be together as much as you can and be there for each other. I think a lot of women can relate about their struggle -- or the "juggle." And that's really difficult. And for David, it's really difficult -- sometimes your whole life becomes about driving and waiting and driving and waiting...
I get it. Well, congratulations, too, on Kinky Boots. I saw the version that was in Chicago and I am looking forward to seeing it again on Broadway.

You saw it?
Loved it.
It has a big heart. And [the theme of] people changing their minds. Gandhi said, if you want to change the world, you change yourself, right?
Exactly. Can you talk about what was most challenging about crafting the music?
Well, it's still challenging. I'm writing a new song -- "Crazy Black Widow" is a different song. You know, it's never over until it's set. There are always changes. And they have to do that. For me... I am here to serve the story, anyway, and to serve the story, I always try to do musical things that I think are interesting. Maybe nobody else does, but I think they are. [Laughs]. Each person has their own unique style and I try to write that in the music. You know, sometimes [in shows] it's like, the next song plays and then the next song plays and then the next song plays. And I hate that, you know? Plus, I think that people speak in a different cadence. I wanted to show that. And all this is in the new [reality] show, too -- we go into doing this [Broadway] show.
And what are you most excited about next?
I am excited about the [reality] show, honestly. I am excited to see it like everybody else will see it. I am excited about learning a new craft. You know, reality shows... they are basically new. They are 20 years old, and that's not very old in the land of television. I am just learning. I love TV. I watch all different kinds. This year I've acted -- Bones [as Avalon Harmonia] and then in Fran Drescher's show, Happily Divorced. So I am learning about all those different aspects of TV. Yeah -- I am excited about the show Still So Unusual. And honesty, once again, let me make myself perfectly clear and reiterate: I never thought I was unusual. I always thought it was everybody else. [Laughs].
What's the most interesting thing you have been learning about yourself lately?
I've learned about how I am eating; how I take things and shove it in my mouth when I am nervous. You know, you don't have to do that.
The fact that you are conscious of that is great.
Yeah. I'm trying to eat more healthy. I don't eat meat much. I'm trying to eat differently.
One more for the road: What's some of the best advice you have been given in life?
That not everything is a 10 -- or a three. That there are many chapters in your life, and that one chapter isn't the be all, end all. There's always another chapter... that can be as exciting as any other chapter.
PHOTO GALLERY
Wanna Have Fun: Round Two