Politics is always a festive target for comedians and performers, but leave it to a gaggle of famous drag queens to impregnate 2012's election fodder with some of the best if not fertile material around.
In Electile Dysfunction, The Kinsey Sicks -- that groovy quartet that originated in the Bay Area nearly 20 years ago -- leaves no political pebble unturned. Morphing into "Republicans" on stage, the frisky crooners playfully launch an outlandish campaign to become "the first Dragapella Beautyshop Quartet to serve as President of the United States and Leader of the Free World."
In other words: Big creative wedgies for everyone!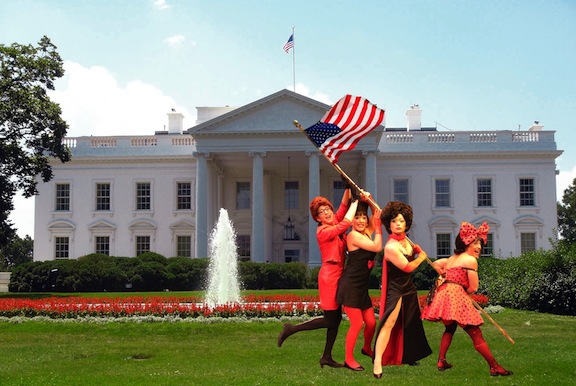 Photo: C. Stanley, courtesy of Theatre J.
The gals -- Winnie (Irwin Keller), Rachel (Ben Schatz), Trampolina (Spencer Brown) and Trixie (Jeff Manabat) do many things well together -- they give good tongue-in-cheek. But in their mission to "take (a)back America by out-pandering, out-conspiracy theorizing, and out-outlandishing even the most cynical of the current crop of Presidential candidates" onstage, and all in glorious four-part harmony mind you, they manage to create one of the most refreshing, unforgettable political romps to hit the nation; an intelligent yet uproarious soiree that is as thought-provoking as it is sublime.
Their show runs through Aug. 19 at The Rrazz Room in San Francisco. The ladies hit Florida later this month and sashay into the Midwest (from Wichita, Kansas to Chicago) in the fall. (Be on the lookout for their holiday caper, "Oy Vey In A Manger.")
Funny enough, the creative force is unlike most others. In addition to their impressive award-winning chops, they happen to be the longest-running drag sensation around. Off-Broadway shows helped fuel some success, as did headlining Vegas. Along the way, they have given birth to seven albums and were the subject of several films.
As for the their moniker, it's a play off the words on "Kinsey 6," the end of the Kinsey Scale. When asked what is the secret to their longevity, Schatz (a.k.a. Rachel) once quipped in an interview with me: "I haven't a clue. Maybe authenticity. Many performers are pre-packaged. We write our own stuff, aim to have fun, and be challenging to ourselves. We say what we think, and I think people respond to that."
And what about the group's unprecedented success over the years? "This is something we started as a lark -- it's my longest career ever," Schatz adds. "And I am very grateful that we live in a country filled with people with bad taste and discretionary income."
He's joking, of course. (Well ... ish.)
Back to the show ... It's wonderfully loaded with clever ditties.
"Peoria" (sounds like the pop hit "Gloria") and boasts lyrics such as:
Peoria,
to be a GOP frontrunner
Gotta win the Sarah Palians,
Need to talk like Archie Bunker.
But in the fall you won't remember
When I'm moderate and well bred
With blue highlights in my red
For ya Peoria!
Then there's "T'anint It Love," a parody by Schatz, which is based on "Tainted Love;" the inspired "Yahweh" parody by Schatz, based on "My Way;" and a delicious offering dubbed "I Will Watch YouTube" (see below), a parody based on "Every Breath You Take" by Sting.
There's plenty of audience inner-action in between but by show's end, it's hilariously clear that these four gals have to be the most inventive, high heel-stomping muses capable of giving today's unscrupulous political beasts what they need most: A reality enema.
Check out the gals in the slideshow (below), and in "I Will Watch YouTube" (below).
PHOTO GALLERY
Life's a Drag: The Kinsey Sicks, America's Favorite, (and longest-running) Dragapella Beautyshop Quartet