Some of us get excited when we see celebrities on the street, pumping their gas, paying their meter or rushing out frustrated from a massage appointment. They're just like us! Andrew Parish, though, cooly serves them drinks. But he doesn't just set a cocktail on a napkin and nod and hope for a nice tip; Parish has become one of the go-to mixologists to the stars. The owner and creative director of Beveredge -- a mixology catering company -- draws up original cocktail menus for some of the biggest events in Los Angeles. With summer approaching, I caught up with Parish to talk about slinging drinks for Hollywood, if he could make a cocktail using spaghetti squash and if he could give Huffington Post readers an exclusive recipe to get us through the upcoming June Gloom.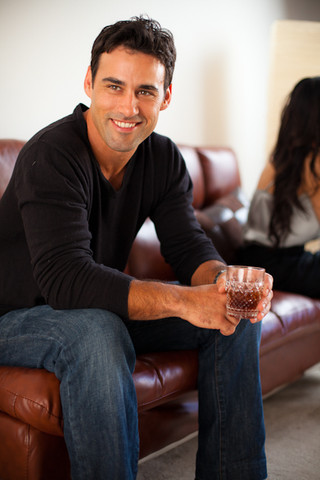 Greg Boose: You're in the business of making personalized cocktails for the stars, and are most known for being the personal mixologist for Chelsea Handler. How exactly did that happen, and can you share Chelsea's favorite drink?
Andrew Parish: I met Chelsea Handler through a friend who was friends with one of her assistants. Chelsea was having a 4th of July party and needed beverage service, and that's simply where it all started. In fact, this party was the reason I started my own event company, Beveredge. She was my very first client, and before she moved I was doing all of her events at her home, creating cocktail menus for her and her guests. Most of the drinks were created and named after some quotes on her show. One cocktail she enjoyed in particular was a drink called the "Pikachu," but mostly she requested Belvedere and soda, and sometimes a good margarita.
Working with Chelsea was a blast, she was very funny in person and really nice. And everyone I met through her made me laugh all the time.
GB: But there were celebrity gigs after Chelsea moved. Is it easier or harder to sling drinks for Hollywood stars compared to those hiring you for other LA events?
AP: There have been many celebrity gigs after Chelsea moved to her new place. I've worked with some of the cast from Glee and Reza Farahan from Shas of Sunset, I've served Will Ferrell and 50 Cent at different events, but lately it seems I've been working with a lot more corporate businesses.
I've had a blast working with celebrities; they have always been really kind and welcoming. I've been lucky to have not had bad experiences. And to be honest, I don't have a preference of who I'm working for, just as long as they are kind.
GB: So, you've worked for celebrities, high-end clients and for all these different events, and you're asked to pair this wine with this dish, or create a special cocktail to kick-start an evening. What have been some of the most unique requests, and did you have to turn them down? Anyone's tastes you were particularly impressed/surprised by?
AP: Good question. I had this event last year in Santa Monica for a 40th birthday party and they wanted a '70s themed cocktail list because the caterer was serving up some '70s style food. I wasn't asked to pair the drinks with the food, but I felt inclined to do so myself. So I made some Harvey Wallbangers to serve with the deviled eggs. Weird, but it all worked quite well.
I work with this couple Bill Frack and Kristi Nelson -- I've done multiple events for them -- and I've been most impressed by Kristi's tastes. She has a beautiful selection of wines from all over the world and is passionate about what she is drinking. During a few of their parties, she will bring out something exquisite to the bar and say, "Andrew, only serve this to me and this person and that person, that's it, because only they will appreciate it."
GB: You're doing all these events, heading up your own catering and events company, and at night you're making some pretty popular cocktails at BLT Steak. That sounds like a hell of a lot of mixology, all the time. How do you keep yourself from getting burnt out?
AP: It does sound like a lot, doesn't it? Well, when you are passionate about something, it doesn't seem like work and you never get bored with it. It's funny, I never thought in a million years that I would be involved in the food and beverage industry. My mother worked for years at restaurants in Charleston, SC, and I saw what she went through, so I went in the other direction and got into the mortgage industry, where I did quite well. We all know what happened in 2008, so I decided after failed attempts to stay in that field I'd try my luck in the food and beverage industry. I found something I liked: mixology.
I love making new and exciting cocktails, plus tackling the classics. And the expression on the guest's face and their compliments drive me to work even harder. I don't feel like I would ever get burnt out on what I'm doing, especially when I have tennis to help distract me. I play at least 4 or 5 days a week.
GB: What are the inside trends of mixology in LA right now? What's out, and what's new?
AP: I think that the trend in LA right now is taking more chances on different and more complex combinations of flavors, a.k.a. molecular mixology. As a mixologist, I find myself demanding more from the kitchen and the garden than anything. I like everything to be as fresh as possible. I think bartenders are working with a lot of the classics more and steering away from the god awful club-style drinks. I mean, there will always be someone who likes those drinks, but they won't be remembered.
GB: What fruits and vegetables from the kitchen and garden are finding their way into your cocktails lately? What if someone said they wanted something with spaghetti squash? How long would you work on a vision before realizing that it's not going to work?
AP: Well, there is one vegetable that has made its way into the cocktail world and I've tried to serve it at BLT, but Mark (the sommelier) thinks it's too esoteric. Maybe he's just afraid of different? Anyways, that vegetable is parsnip. It has a light, sweet flavor and is easily overpowered. What I did was juice about four large parsnips, mix the juice with pear vodka, lime juice and simple syrup. It took a few tries to make it right, but I got a nice balance between the parsnip and the pear vodka that gave it a beautiful mouth feel, and the lime gave it just enough citrus to keep the drink from falling flat.
Spaghetti squash, eh? Well, I would work on until I came up with something, I wouldn't give up.
GB: Have you ever come across an ingredient you just couldn't make happen?
AP: I haven't really quit on anything. But if there's one thing I haven't really finished, it's beet juice. I tried working with this vegetable for a few days and made some tasty discoveries, but haven't really gone back to it. Maybe I will now.
GB: What was the first cocktail you ever tasted?
AP: The first cocktail I ever tasted was a White Russian. I was in Charleston, underage with a fake ID. I went to this bar with an older friend and he told me to order a White Russian because it would be easy on me. In fact, it was too easy and I had about eight or so.
GB: You're on point to be the guy at the Taste of Calabasas coming up next month. What can attendees expect from you there?
AP: Well, I don't want to give away too much, but the attendees can expect a couple of special cocktails that will be tailored specifically for this event. I will say that there will be quite a few guests, so don't expect a ten drink menu, but it will be special and people will walk away with a pretty memorable experience.
GB: Summer is practically here. How about an Andrew Parish original cocktail for Huffington Post readers to enjoy the warmer weather?
AP: Sure! Here's a summery cocktail I call the Fresh Mule that's a twist on the Moscow Mule, but with a bit more flavor and freshness. I've been over the bottled ginger beer for some time now because they all lack a certain richness and fullness, so I muddled some fresh ginger, mixed in some honey syrup, lime juice and used Ultimat Vodka... and the results are fantastic.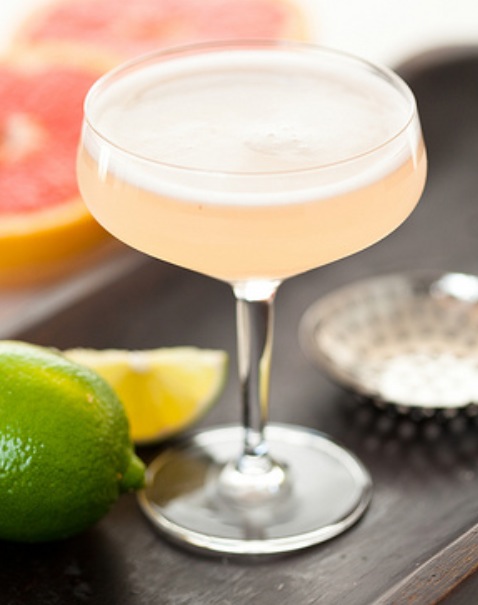 2 oz Ultimate Vodka
1 oz fresh lime juice
3/4 oz honey syrup or agave nectar
3 slices of fresh ginger
1 lime wheel for garnish
Take three slices of ginger and muddle really well, add the rest of the ingredients minus the lime wheel. Shake and strain into rocks glass with fresh ice. For a cleaner presentation, strain through a fine mesh strainer.