After three years of standing stoically on the street corners of Chicago, Farhad Khoiee-Abbasi has stepped it up. Or actually, he's sat it down: The man with the blank stares and the loud signs has finally taken a seat.
But it appears it's because he's too weak to do otherwise.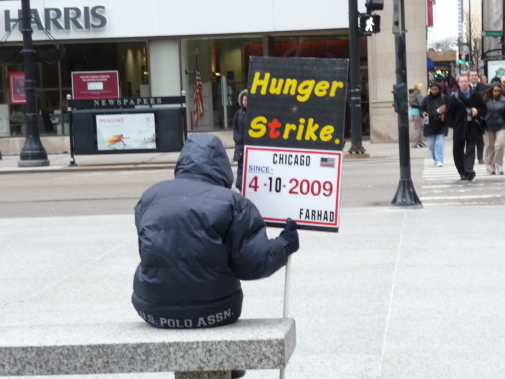 On what looks to be his fifth day of a hunger strike (photo taken on Wednesday), Khoiee-Abbasi sat crumpled on a park bench on the corner of Washington and Clark. With his pale and muttering face aimed downward, he held his new sign half-heartedly: "Hunger Strike - Chicago - Since 4.10.2009 - Farhad." Chicagoans who were all too used to seeing the man standing there every other morning were once again taking notice, staring over their shoulders and shaking their heads.
Best known for his colorful signs calling for a certain FBI agent to stop raping his wife, I wrote how Khoiee-Abbasi finally changed his tune last September with a new sign asking then-candidate Barack Obama to spare his only child.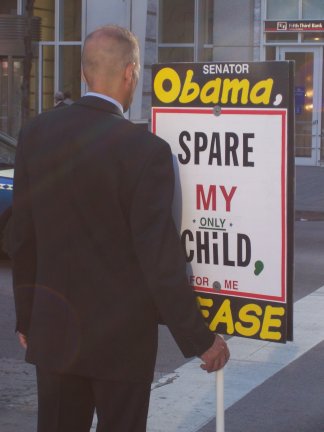 It was a refreshing change at the time. His rape sign had not only lost its shock value to regular Chicago commuters over the years, but it was interesting to see how last November's election even reached the seemingly schizophrenic.
Khoiee-Abbasi had stuck with his Obama sign up until last week, alternating his morning show from Clark and Randolph to down the street at Clark and Washington.
One can only deduct that things have gotten more desperate for him. That maybe he's lost all hope at ever gaining custody of his only child. That he has no other options. But whatever the case may be, I have no doubt he has the resolve to keep it up. I just hope he doesn't.
***
Evolution of Khoiee-Abbasi's signs: