Last month, Richard Proudfit stood before a black-tie crowd in Washington D.C. with a medal around his neck and announced that he was declaring war.
But Proudfit's war is not one of guns and bombs -- it's a war against hunger.
The Minnesota businessman and founder of Kids Against Hunger made this declaration while receiving the Jefferson Award for Public Service for spearheading innovative meal-packaging projects held around the country to address global starvation and food insecurity. The Jefferson Award, widely known as the "Nobel Prize for public service," affirms Proudfit as a peer of the award's past winners, who include visionaries like Jesse Jackson, Betty Ford, Barbara Bush, Paul Newman and Bill Gates.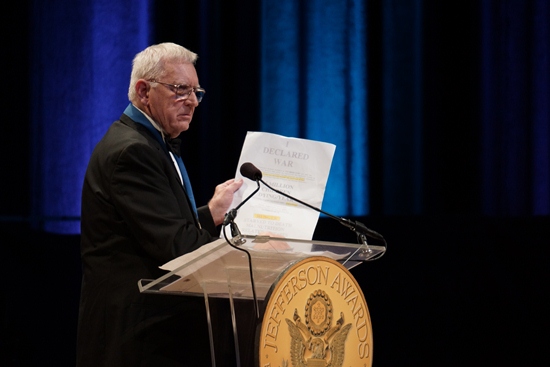 I listened to Proudfit recall his Jefferson Award acceptance this weekend at a meeting in Minneapolis of directors from many of Kids Against Hunger's 100 satellite organizations scattered across the nation. At one point, he offered a glimpse of his vision for addressing hunger in the form of a hypothetical: what if just $150 million (roughly 0.015 percent of the 2012 U.S. military budget) were spent on feeding starving kids around the world instead of buying guns and building bombs?
To my knowledge, Richard Proudfit's war on hunger hasn't redistributed military spending from weapon development to humanitarian aid, but his work has done more than suggest we not build bombs -- it has built bridges.
I first encountered the meal-packaging concept as an interfaith organizer in 2010 while working on my undergraduate degree at the University of Illinois at Urbana-Champaign. I was drawn by the atmosphere of 300 volunteers working together in assembly line fashion to rapidly package rice, soy, vegetables and vitamins into six-serving bags, which were boxed and stacked by the thousands. At that time, we were responding to the natural disaster in Haiti, and the product of our efforts was distributed by the Salvation Army and 82nd Airborne to refugees displaced by the earthquake.
To this day, we still talk about what we accomplished -- not just the 1,012,640 meals produced, but the way we brought people of different religious and non-religious communities alongside one another to serve and dialogue together. And the reality of the bridge-building effect is that it's not just happening in Urbana-Champaign, but around the country.
Not only has interfaith meal-packaging been repeated multiple times in my community, but this weekend I've also heard the stories of hundreds of secular and faith-based communities mobilizing together to address issues of world hunger. Representatives of one church-based organization described their collaboration with a local Buddhist community that contributes rice to the packaging efforts. Last month at Kids Against Hunger headquarters, members of a mosque, a church, and a synagogue came together to produce more than 8,000 meals -- an activity that they hold quarterly with a shared meal and socializing.
These stories of interfaith collaboration are inspiring, but too rare.
My friend Eboo Patel says that "if we don't find a way to make faith a bridge of cooperation and not a bomb of destruction, then we're in trouble." When meal-packaging projects become collaborations between communities that have historically clashed, stereotyped, judged or ignored each other, then bridges are being built instead of bombs. And not only do hungry kids need food, but this is a time when our increasingly religiously diverse country needs to learn to build bridges.
The meal-packaging community -- hundreds of organizers of all ages who have dedicated their free time, and sometimes their entire careers, to creating these projects -- has roots in the Christian tradition that can be traced back to Richard Proudfit's inspiration to feed God's children. The potential for interfaith collaboration in this sphere, however, is only on the verge of being realized.
One director of a church-based packaging organization explained his desire to shift his faith community's attention toward feeding the starving, something he described as "the responsibility of the Church."
"It's not just the Church," another Christian replied, "but the responsibility of every man, woman and child on earth."
The power and the potential of interfaith service are bringing people together around this responsibility while breaking down barriers and replacing otherness with relationships. Interfaith cooperation serves a dual-purpose, increasing the capacity to produce practical results while building bridges of understanding and collaboration with immeasurable significance.
"I have to feed the world," Richard Proudfit explained, "I have no choice."
Richard Proudfit is not just feeding the world, but building bridges. And those bridges allow us to feed the world together.
This piece originally appeared on Sojourners.