Half way around the globe, in a foreign country in the Middle East, an eight hour time difference from our daily routine, American youth representing the American Chemical Society have started an educational process with their peers at home. The primary goal of this ACS sponsored project, is the education of a new generation, and our students are fulfilling that goal in an incredible way! Five different Skype sessions to interact with High School students in York, PA, and five different FaceTime webinars to share their new found knowledge with York College of Pennsylvania (YCP) students, faculty, administrators, and the York Community. Almost 500 people have received direct communication from Nicole Deluca, John Siller, and Parker McCrary, the three students representing ACS during week two of the UNFCCC Climate Talks (COP 18).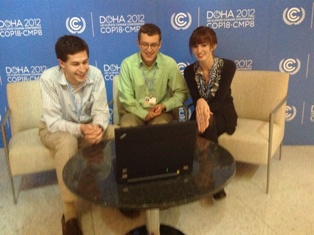 Each teleconference session started with a short set-up by the faculty mentors, Keith Peterman or Greg Foy, and then Nikki, John, and Parker took the stage. Each provided a 5-10 minute session on their experience so far at COP 18, including a few comments on their exposure to the Qatari culture. The three students have been truly immersed in this conference. And, their learning is fast and furious! Their presentations have been insightful along with their answers to the excellent questions posed from back home are thoughtful and thorough. One question that captured the concerns of both sides of the world came from York College students asking "What can we do to help slow climate change?" Our crew on the ground in Doha responded that American youth need to get organized and help the three representatives with campus initiatives -- the simultaneous high school skype session piped in "Don't forget about us, we have some very active and dedicated students here at York Suburban High School!" These sessions made us extremely proud of our students!
In stark contrast, sitting through multiple press briefings by NGOs and even some of the briefings by other nations, we hear that the U.S. negotiating team is not just refusing to genuinely participate, but actively blocking progress! This morning, the latest block as reported by the Climate Action Network (CAN) is coming in the area of finance -- not only refusing to commit to any new numbers, but backing away from even continuing to fund at the current level.
The youth at this COP are energized despite the warnings of a potentially bleak outcome, SustainUS is spearheading a letter to the president begging for action. These youth are scared and angry, demanding action from their elders, and taking action of their own.
At the SustainUS press conference Thursday, this youth organization listed five members of the U.S. House of Representatives who have done the most to prevent action on climate change and then the five members of the U.S. Senate contributing to the general paralysis surrounding climate change legislation. Our youth here in Doha provided these handy tweet-able descriptors in the table below -- youth take flight!
United States House of Representatives
Mike Pompeo (R-KS) Career Fueled by Big Oil
Cathy McMorris Rogers (R-WA): China and India stink
Fred Upton (R-MI) Environmental Policy Flip-Flopper
Lee Terry (R-NE) Keystone Rodeo clown
John Boehner (R-OH) "But we breathe out CO2..."
United States Senate
James Inhofe (R-OK) Only God can change the climate
John McCain (R-AZ) Peer pressured into denial
John Barrasso (R-WY) The Smoking Gun
David Vitter (R-LA) Ridiculous pseudo-science garbage
Joe Manchin (D-WV) Pockets Black from Big Coal
Youth and Civil Society action ramped up here on Friday with a "huge action" under the spider, the center of the QNCC. The action began with a song from "Sing for the Climate" followed by a call to "reject the text" and a demand that the rich countries -- the U.S., Canada, and Japan -- step aside. The crowd stood in solidarity with the developing nations as shouts of "Don't Back Down" filled the cavernous Qatar National Convention Center (QNCC).


The youth are asking... Where is the urgency in the U.S.? Are we really willing to sit back and wait for the disasters that climate change is bringing before we take serious action? Are we so mired in our own less significant problems that we cannot see what the rest of the world sees, that climate change will profoundly change our world? Citizens of the U.S., political leaders in the US, all generations in the U.S., WAKE UP -- the science is sound, there is no time to wait and see.