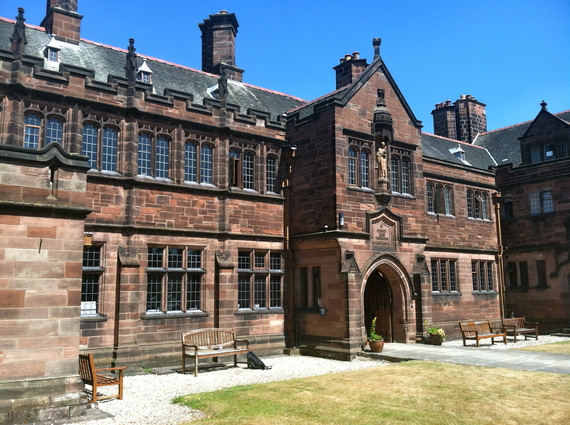 Great festivals of the arts are often large, loose, baggy monsters, as Henry James said of War and Peace. I know this because I've seen plenty of them up close and personal, as participant, attendee, or resident of the city of Austin, Texas: the Texas Book Festival, the Austin City Limits Festival, the South by Southwest Music Festival, the Austin Film Festival and more.
This summer, as I've been in the U.K., I've watched with interest as the Hay on Wye Festival welcomed luminaries like Toni Morrison, Richard Dawkins, Carrie Fisher, Ray Davies, Stephen Fry, and Judi Dench over eleven days in May, and as I write, the Edinburgh International Book Festival is underway with over 800 authors, among them George Martin, whose sold-out performance attracted hordes of fans dressed in medieval garb.
There's a buzz about big festivals, with all their hastily-glimpsed famous faces and enormous crowds. Whenever you gather so many people around one event (220,000 for Edinburgh, approaching 300,000 for the three weeks of South by Southwest), of course it's going to be exciting.
As well as frustrating.
By their very nature, these festivals tend to be a bit, well, overwhelming. The celebrity authors, actors, and musicians often parachute in and seem to be extracted by helicopter. So many offerings crowd the schedule that one is guaranteed to miss something really good, and often so many people crowd the festival that it's difficult to get from here to there, find a place to stay or a bite to eat, or even to get cell coverage.
That's why I'm delighted to write that Gladstone's Library in North Wales is putting on their second Gladfest literary festival Sept. 5-7.
There's nothing like Gladstone's Library anywhere (I travel almost 5000 miles to write there each year). It's a residential library established by the great statesman William Gladstone as his bequest to the nation, with a beautiful library wing full of books, and a hospitality wing with a congenial staff who feed and house visiting writers, scholars, and tourists throughout the year.
Gladfest this September will bring world-class writers, critics, artists, and artisans to North Wales, but unlike the big festivals, no one will be pushing through crowds, walking through churned up fields of mud, or straining to see and hear. Gladfest in fact advertises itself as small, manageable, affordable, and intimate. Twenty talks or lectures are scheduled over the three-day weekend, and all of the events are held in the Library, its conference rooms, or the "big tent" on the back lawn.
Instead of venues holding thousands, most Gladfest events will be small, and the authors and panelists (who include best-selling novelist Salley Vickers, theologian and memoirist Richard Holloway, former Foreign Secretary and writer Douglas Hurd, and novelist Sarah Perry, whose After Me Comes the Flood has just been longlisted for the Guardian First Book Award) will be mingling with participants throughout the weekend.
I asked festival director Louisa Yates about the genesis of Gladfest, and her favorite things about it. Her responses may help explain why this is a festival with a vital difference:
Greg: What was the inspiration for GladFest? Why do a literary festival at Gladstone's Library of all places?
Louisa: We'd had a few years of hugely successful creative writing events here at the library and we wanted to do something more structured, like a series of events. But we were victims of our own success, and we couldn't find six Fridays in a row that were free. Or six Wednesdays, or six Sundays.... I was complaining about this to Peter [Francis, Warden of Gladstone's Library] and he suggested that we stick it all over one weekend. Fourteen weeks later, Gladfest happened!
As for why, I think that fact that it came together in fourteen weeks is the best reason I can give. Gladstone's has such a strong community of writers and readers that I was able to contact a whole range of writers and critics, from legendary poet Wendy Cope to Damian Barr (who wrote one of the best books of 2013) to unpublished up-and-comers like Sarah Perry (whose book has just been released to general five-star acclaim).
Why did they say yes? Because of the Library and it's residential splendour. I get to call myself 'Festival Director,' but really, it's the building that lures people in! The offer of staying here has a pull all of its own.
Why do these events sell out? Because people know that we are building a strong creative community here and they want to be part of it.
Greg: Who are a couple of the writers or speakers you're particularly excited about this year?
Louisa: Honestly, I'm looking forward to all of them--it's the mix that makes Gladfest such a strong festival. But if I had to pick, I'm really looking forward to: Robert McCrum, because I've been eagerly following his series of 'The 100 Best Novels'; Katrina Naomi and Tim Ridley, who are performing an argument about the relationship between poetry and art; and Melissa Harrison, because she's leading a group out into the countryside for a walk to talk about nature and writing. These last two events really show how different Gladfest can be, and the freedom we have to do things that our community will enjoy.
Greg: What is your favorite thing (or, okay, one of them) about the Festival? What one reason would you give someone to come?
Louisa: My favourite thing is the bar! And not for the reason you might expect (well, perhaps a bit). There's no green room at Gladfest, no VIP barriers, we're all in together. So you might find yourself sharing a couch with your favourite writer. I would suggest to anyone thinking of coming that they really should--with the most expensive ticket being only £10, it really is worth trying new things!
As Louisa notes, tickets for Gladfest (September 5-7) are quite reasonable: £6 for the talks and £10 for workshops. Gladstone's Library is located in the village of Hawarden, approximately six miles from the ancient city of Chester. Liverpool and Manchester are 45 minutes away; London is just over two hours by train from Euston Station to Chester, and then a twenty-minute bus or taxi ride to the Library. Lodging is available at the Library and locally, food is available at the Library and locally, and books will be sold onsite.