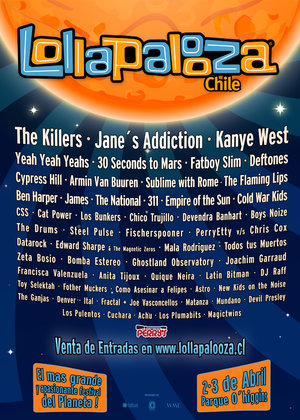 Are you one of the lucky ones traveling to South America for this big ass concert? Tack on a few more days of fun for yourself while you're there.
The country of Chile is having something of a renaissance right now. Once under the thumb of a dictator, and only a short time since a devastating earthquake, the country now feels vibrant and full of promise, both culturally and economically. No wonder Jane's Addiction front man Perry Farrell is taking his massive music festival Lollapalooza down to Chile's capital city Santiago April 2 & 3. The lineup is as dope as ever, with Yeah Yeah Yeahs, The Drums, and that egomaniac Kanye West capping it all off the last night. Yet only an insane person would fly 10 hours each way for only a concert, so here are some fun side trips I cannot recommend enough in this charming pocket of South America.
Santiago:
The capital city feels like its coming into its own, with lots of construction and new buildings and hotels going up. There's a W with a rooftop bar that has a breathtaking view of the entire city, and my favorite, a Chateau Marmont-esque boutique hotel in the Bella Vista hood called the Aubrey, (www.theaubrey.com.) Cool space, personable staff and a GREAT restaurant, Pasta e Vino. Have the ginger pisco sour, a great twist on Chile's national drink.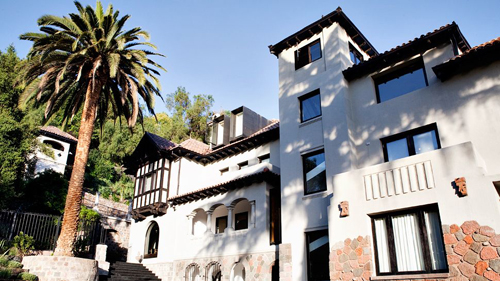 A great way to really see the city is to rent a bike. You can dart through the streets, the city's parks and see all the old architecture, street art and shop at the big food market. Then pop by the rowdy dive bar, La Piojera for a terremoto, or earthquake, a bizarre mix of wines and ice cream that somehow works. When I was there at 10:30am the bar was already packed to the rafters with several very drunk patrons watching soccer. Ahh, a city after my own heart.

Pucon:
Had enough of the big city? Escape south to Pucon, a tranquil little hamlet nestled on Lake Villarica. So untouched and lush is this countryside, Spielberg used arial location shots of it to double for his remote island in Jurassic Park. By a country mile, the best place to stay here is the Hotel Antumalal (www.antumalal.com.) A hillside oasis by the lake, the cozy family run hotel was a favorite of both the Rockefellers and the Royal family. I didn't want to leave.
There's plenty to do in Pucon, like acting out the movie Cocoon in the natural hot spring baths, hiking a working volcano, or white water rafting (politur.com,) where somehow I managed to stay on the damn raft, cursing like a sailor in front of a good Christian family, while several friends fell into the freezing rocky rapids. Good times!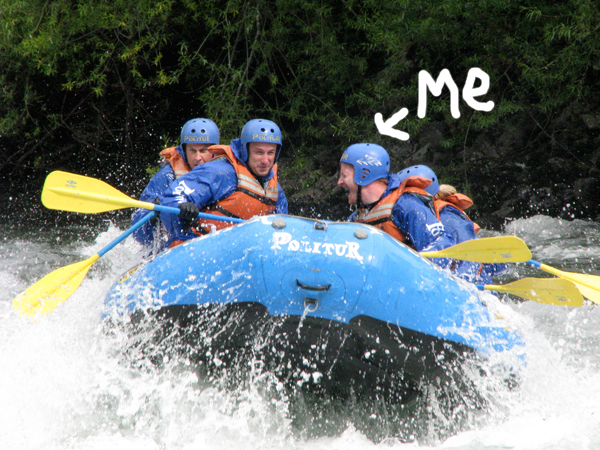 Wine Country:
Drive a few hours south of Santiago to experience Chilean wine country, where you can act out your own personal version of the movie Sideways, or better yet, Patsy and Edina's sloppy wine tasting from the France episode of Absolutely Fabulous. I'm an awful wine snob and usually only drink French reds. I do not like whites, and save a speical hatred for that vile Chardonnay, aka Soccer Mom Swill. However, white wine is a revelation in Chile, and their Sauvignon Blanc is so full of flavor I've changed my tune. And the Carmaneres are unbelievable. It is easy to see why wine is one of the top imports of Chile.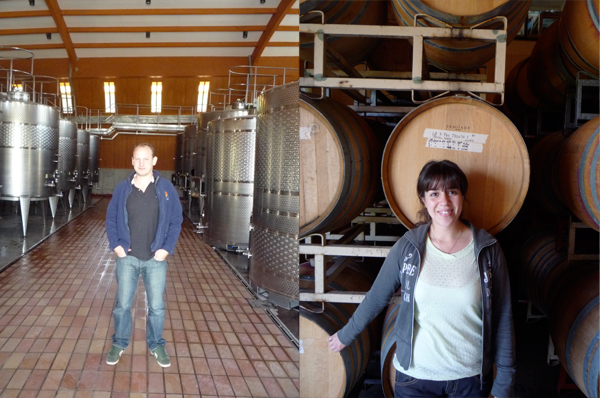 My friendly winemakers at Loma Largo & Kingston wineries
I saw 4 vineyards in one day, Loma Largo, Kingston, Concha y Toro, and Matetic, and and went directly to the airport. Everyone was staring at me as I slurred my way past check in, I went to the bathroom and realizing the red wine had turned my tongue black. I know you're supposed to spit the wine out, but that just doesn't seem right, like a sad alcoholic version of bulimia.
Thanks for fun Chile. I cannot wait to head south again soon...
Book NOW;
http://www.lan.com
www.us.lastminute.com