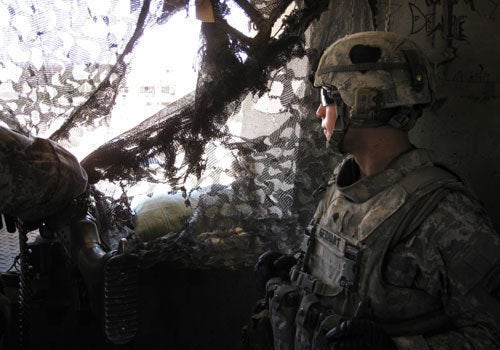 For more than five years now, I have written often about a subject that once got no coverage, and still gets far too little: so-called "noncombat" deaths among U.S. troops in Iraq. Included are those who die from illness, accidents and suicides. One case I have followed lately involves the heroic work of Cheryl Harris, whose son Sgt. Ryan Maseth was electrocuted and died in Iraq back in January.
Cheryl's efforts (I helped with some research early on) have, amazingly, sparked congressional, Pentagon and journalistic probes.
Now, on the front page of The New York Times, James Risen has broken the electrical risk story wide open, citing the death of Ryan Maseth as a turning point, in declaring that the threat to soldiers at "United States military bases in Iraq is widespread and dangerous, causing more deaths and injuries from fires and shocks than the Pentagon has acknowledged, according to internal Army documents."
Risen continues: "During just one six-month period -- August 2006 through January 2007 -- at least 283 electrical fires destroyed or damaged American military facilities in Iraq, including the military's largest dining hall in the country, documents obtained by The New York Times show. Two soldiers died in an electrical fire at their base near Tikrit in 2006, the records note, while another was injured while jumping from a burning guard tower in May 2007.
"And while the Pentagon has previously reported that 13 Americans have been electrocuted in Iraq, many more have been injured, some seriously, by shocks, according to the documents. A log compiled earlier this year at one building complex in Baghdad disclosed that soldiers complained of receiving electrical shocks in their living quarters on an almost daily basis.
"Electrical problems were the most urgent noncombat safety hazard for soldiers in Iraq, according to an Army survey issued in February 2007."
Returning to Cheryl Harris: The military at first lied and told her that her son had carried an electrical appliance into the shower. She has been instrumental in getting Congress, and the Pentagon, to probe the issue -- and she finally testified before Democrats (and some Republicans) in Congress two weeks ago.
She is also suing KBR, the contractors in charge, and two former KBR people also blew the whistle. Another mother, Larraine McGee, who lost a son in Iraq accused KBR of "homicide" at the same hearing, as I noted here last week.
"It is about time we got some answers ... at long last," said Sen. Robert Casey Jr., D-Pa.. He released a letter to Gen. David Petraeus asking why his command had only recently ordered "theaterwide" technical inspections of military facilities despite being alerted to widespread wiring problems in Iraq installations more than three and a half years ago in a report filed by a U.S. Army Corps of Engineers safety specialist.
Ryan Maseth's twin brother has just returned to the U.S. following his third tour in Iraq, and his mother told me last week that she was flying off to meet him. Cheryl Harris has another son in the military, as well. I'd like to close by quoting from her testimony to Congress:
My son died while serving his country. His death was unnecessary; his death was preventable. His death makes me wonder who is looking out for our troops. His death leads me to ask who can the troops in Iraq count on to ensure that this same fate doesn't await them. I stand before you today to demand accountability, to implore that preventative measures be adopted, and to ask for your commitment that no military family will have to endure the paralyzing pain of this type of senseless tragedy.

My personal ordeal began the night of January 2, 2008 when an Army Chaplain and two Army Non-Commissioned Officers came to my door at 9:45 p.m. Both my twin sons, Ryan and Brandon, were serving tours of duty in Iraq. Ryan was on his second tour and Brandon was on his third. I knew when I came to the door that night that something very serious had happened to one of my sons. I was hoping it was simply an injury and not death. I asked who it was and I was told Ryan had been killed. I asked how it happened and they could not answer me. At that time, I was left with unanswered questions about Ryan's death, not to mention incredible grief.

Since the time my twins and their younger brother, Adam, entered the army, I always lived with the fear that I may face the news that one of my sons had been killed in the line of duty. On January 2, 2008, that fear was realized. What I did not expect to hear, though, was the manner of death that my son, Ryan, a decorated Army Ranger and Green Beret, experienced. While I had always been prepared to hear that one of my sons died by way of a firefight or a roadside bomb, I was dumbstruck to hear in the days following the news of my son's death that he was electrocuted while taking a shower in his living quarters on his Army base at the Radwaniyah Palace Complex in Baghdad.

Since January, I have taken a decided approach to find out what actually happened to my son and why he was electrocuted in his shower at the age of 24. I have learned that my son's electrocution was the result of the failure to correct a known electrical hazard in a building replete with electrical hazards.