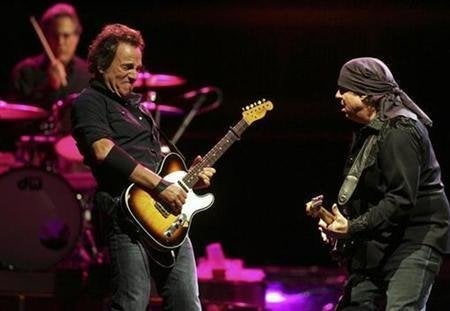 When I met Bruce Springsteen back in 1972, I could not have imagined that the scrawny kid in the hooded sweatshirt from New Jersey, whose first "record" (as we used to call them) had not yet come out, would one day play the Super Bowl -- let alone be star attraction at the Inaugural of any president, after helping get that first African-American elected. And to think that I met him in... Sing Sing Prison.
As you must have heard by now, Springsteen is doing the 12-minute gig at halftime of the Super Bowl on Sunday, and delivered one tremendously witty performance already--at a press conference yesterday. This follows his high-profile concerts for Obama last fall, and his spot on the steps of the Lincoln Memorial for the pre-Inaugural concert. This political activity is not exactly a shock by now, especially since he also sang for Kerry in 2004.
But it continues an amazing evolution I have watched closely since 1972, when I first met "Brucie" -- at Sing Sing -- and helped write and publish the first magazine article about him. But for the first few years I knew him I swear I never heard a "political" sentiment escape his lips. Now he has become a new kind of political "Boss."
Bruce did me a solid last year, writing a brief preface for my book on Iraq and the media, So Wrong for So Long, but his "solid" for Obama -- runnin' on the Barack streets? -- meant much more, obviously.
My brand new book, Why Obama Won, covers his contributions to this year's campaign.
Now, to Sing Sing, in a nutshell: For most of the 1970s, I worked as the #2 editor at the legendary rock/political magazine Crawdaddy. One day in early December 1972, I got a call from a fast-talking chap named Mike Appel, inviting me to a promo gig for his client, someone named Bruce Springsteen (I presumed it was "Springstein"). Actually, I knew the name somewhat because Billboard had reported that a kid had been signed by John Hammond at Columbia who just might be "the new Dylan" -- a claim that had doomed many before him.
Anyway, the invite was only modestly intriguing until Mike mentioned that the gig was in... Sing Sing Prison, an hour or so up the river from Manhattan. Well, I'd always wanted to step inside The Big House (as a visitor, anyway), and always had a weakness for those "new Dylans," so I accepted, as did my friend and top editor, Peter Knobler.
So we showed up on the morning of December 7, 1972, my birthday, under an overpass of the West Side Highway and climbed into the band's van, where we learned that besides Peter and myself, not a single other member of the New York rock world had accepted the invite.
Off we went. Space prevents a full account of that amazing day at Sing Sing. Two highlights: An inmate jumped on stage and we all feared for our lives as he whipped out a...tiny sax. Bruce also took his life in his hands when, addressing the cons as if they were at a late-afternoon high school assembly, joked, "When this is over you can all go home."
But we loved Bruce, the guys and his music enough to go see him that night play his first E Street Band show in NYC at a small club. About 12 others were in the audience.
Then we got a test pressing of Greetings from Asbury Park. We were so knocked out we produced a 10,000-word piece for our next issue titled, "Who is Bruce Springsteen and Why Are We Saying These Wonderful Things About Him?"
And the rest, as they say, is history.