"Touch Mickey to Mickey," the Disney employee instructed me, a tinge of frustration creeping into her mandatorily sunny Disney disposition.
"I'm trying," I replied, tempted to add a profanity or two before remembering that, this being Disney World, there were bound to be children nearby. Not my own, but children nonetheless.
"Here, let me do it," she said, as I surrendered the gray rubber band from my wrist. Behind me, five Disney customers - sorry, "guests" - were eager to get on with their magical days. I just wanted a cup of coffee, normally a simple transaction if one uses cash, a credit card or even the Starbucks app.
I was trying to use a MagicBand, aka hotel room door opener, lost child locator, restaurant reservation maker, credit card replacer and Space Mountain wait time reducer. Or, in my case, Dopey identifier.
This always seems to happen when a new, consumer-oriented piece of technology is unleashed upon the masses; everybody easily acclimates to it except me. I still can't correctly send group messages to relatives; meanwhile my 13-year-old daughter can blast a photo to everyone in her middle school in the time it took to read this sentence. Texts from me, a journalist, remain littered with misspellings. Conversely, my other daughter could easily compose a grammatically perfect, 10-page term paper via a series of texts and send it off to her history teacher, so adept is she at using the virtual keyboard.

Now, as I checked into a Disney-owned hotel for a business conference, I stared at this new appendage on my body and realized my latest trip to "the happiest place on earth" was going to be fraught with adventures far scarier than anything Snow White encountered in the Haunted Forest.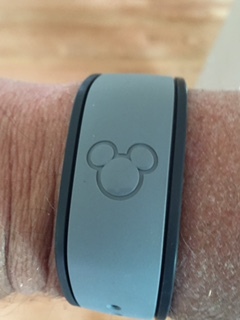 The MagicBand is the mouse empire's $1 billion attempt to reduce the hassles one can encounter when visiting the world's most popular tourist attraction. An RFID chip talks to a plethora of sensors throughout the resort, putting you, the Disney guest, firmly in control of your itinerary. The MagicBand, together with the My Disney Experience app, can book fast passes for the park's most popular attractions, let the wait staff know you've arrived for your lunch reservation at the Be Our Guest Restaurant, and purchase that sorely needed, late afternoon margarita in Epcot's World Showcase Mexico pavilion. Upon returning to your hotel, the MagicBand MAGICALLY becomes your room key. Want to jump in the pool? No problem; MagicBands are waterproof.
The longer I wore it, the more I realized what house arrest must feel like. OK, unlike criminals I had the luxury of going wherever I chose, but I knew Disney was monitoring my every move.
Hey Marv, he's in line for Tower of Terror. Twenty bucks says he chickens out.
It's a bet!
I've never been a huge fan of Disney theme parks, citing an aversion to crowds, humidity and my disappointment that Disney has yet to create a "Sit Down and Rest Land" within the confines of the Magic Kingdom. Yet I remain fascinated by Disney's nonstop attempts to eliminate its guests' pain points through a combination of technology and unbridled cheerfulness. The latter always rubs off on me; I say 'hello" "thank you" and "have a nice day" to everyone I encounter at Disney, even as I'm being charged exorbitant prices for waffles shaped like mouse ears. But, when it comes to Disney technology, I always feel like the lab rat who didn't respond positively to the new cancer-fighting agent.
During a long ago visit, my paper ticket got stuck in the entrance kiosk. On another, the fingerprint biometric scanner had issues with my fingers. The turnstiles, thankfully eliminated due to the MagicBands, have locked on earlier occasions as I've tried to enter the park.
MagicBands are designed to make entering Disney World and paying for everything Disney simpler. Just line up the Mickey icon on your band with a similar icon on a band reader. If reader Mickey turns green, success! If it turns blue, try again or consider foregoing morning coffee.
By day three, I was mastering the band's quirkiness and feeling proud of myself. As I left the hotel, I spied a framed quote from Walt Disney himself: "Whatever you do, do it well."
That's great advice, Walt. I just wish I was better at getting into my locked hotel room.
2015 GREG SCHWEM. DISTRIBUTED BY TRIBUNE CONTENT AGENCY, LLC.