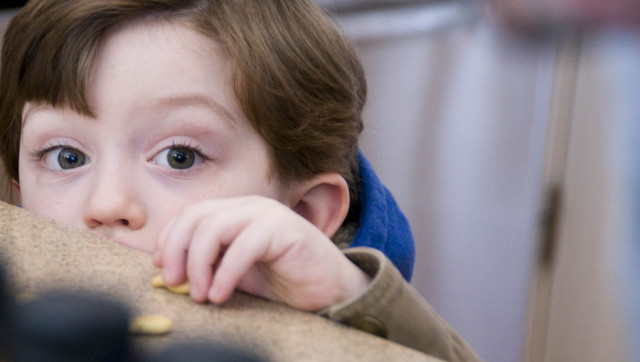 For the first time since age five, I am not going to school this autumn.
I graduated from the University of Southern California in May, and while many of my friends are this year beginning graduate school or returning to the classroom through Teach For America and similar programs, I am leading my non-profit organization Give Running full-time. Like the first day of school, it is intimidating but more so exhilarating.
Seeing school from the outside allows me to reflect on how transformative education has been to my life. My new relationship to this school year has enabled me to appreciate the energy and magic surrounding centers of learning from a different perspective - and yet I can only begin to imagine what school must look like to those who have been excluded from ever entering a classroom.
Understand, many schools in developing countries have specific dress codes that students must adhere to in order to be admitted - and often one such requirement is that pupils wear shoes. Because Give Running shoes are in many cases the first pair our kids ever receive, this gift allows them to not only play sports and walk to school safely, but also serves as a ticket for children to enter school and pursue an education.
* * *
There was an anthropologist who chose a most unlikely form of field study; rather than conducting a project, say, on gorillas in Tanzania, he spent a year with kindergarteners in the sandbox.
Among countless life lessons, the researcher's biggest big take-away was that the kind of learning we don't lose takes place in creative play.
The best learning - the kind of learning that sticks - takes place in creative play.
When we creatively play, not only do we hold onto what we learn, but we can't just hold it in - we have to share it with others! That is in part why utilizing the sport of running to teach youth about the foundations for a successful life and to foster unity is so powerful.
In addition to paying forward the opportunities I have been blessed with, I endeavor for Give Running to challenge the youth we work with to do the same: emerge as positive role models in their communities, feel the authentic joy of helping others, and amplify our impact by further paying forward goodwill.
As Rhodes Scholar, Navy SEAL, and veteran leader Eric Greitens writes in his best-selling new book The Heart and the Fist, it is not what we receive but what we do that helps us heal by coming together. In this way, holding youth accountable for responsible leadership - fueled by gratitude for what they have received and empathy for those who have not been similarly blessed - is the most impactful lesson we can instill.
Similarly, we must fully engage volunteers and supporters so that they grow through our organizations just as our organizations grow because of them. What better way to manifest our appreciation than create a movement?
* * *
October 11, 2012 will be the United Nations' first-ever International Day of the Girl. Give Running is partnering with the feature film and social action campaign 10×10 to celebrate this long-overdue milestone by holding girls' runs around the world. Our goal is to deliver a clear message: educating girls in developing nations will change the world.
Using the power of storytelling and strategic partnerships, we can show our family, friends, colleagues, and communities that the facts prove what our hearts already know: educating girls is not only the right thing to do, but it's smart. Indeed, empowering girls is truly fundamental to solving the greatest challenges facing our world today and tomorrow, such as overpopulation and poverty.
We are never too little to do big things, and we are never too big to do the little things.
Across the globe, little girls pursuing their education and little runners racing after their dreams are doing big things that will improve society for generations. We can all play a big role by doing such little things as sharing 10x10's stories of inspiration and involvement; chipping in towards a crowdfunded scholarship; as well as going for a girls' run on October 11 and donating a pair of shoes.
* * *
"No written word, no spoken plea / can teach our youth what they should be, / nor all the books on all the shelves, / it's what the teachers are themselves."
- Anonymous, as quoted by John Wooden
The example we set is the most significant lesson we create. Back-to-school season reminds us that we all have a lot to learn.