Writing about the small, vest-clad stuffed animal Coach Wooden called the Self-Esteem Ape brought back many wonderful memories, but little did I know how many new ones it would create as well.
"When our self-esteem is a little low, we all need to be picked up a little," Coach told my older sister Dallas and me during our magical afternoon together 15 years ago.
His parting words certainly lifted our self-esteem high enough to soar: "Never forget how special you are."
Hours after my article "The Self-Esteem Wizard" was published here on The Huffington Post Impact blog, I received this delightful email:
Greg:

I read your article published in The Huffington Post on October 16: "The Self Esteem Wizard."

It brought a smile to my face.

I worked for Coach Wooden at his basketball camps and he was a personal friend.

I was fortunate to have in my possession the gorilla... it was originally given to him by his daughter. It was left to me by Coach after his passing in June of 2010.

Many great stories are involved with Coach and the gorilla! I look at the gorilla daily and I am very thankful. The gorilla is a part of my family!

Please send me your email and I will send you a picture from my camera of the Gorilla.

Keep Give Running!

Bill Johnson

Dallas, Texas
Not believing my incredible fortune, I wrote back right away:
Hi Bill,

Thank you so much for your kind note and thoughtful offer to email me a picture of the gorilla!

I would love to hear more about your time working with Coach -- in fact, my dad attended Coach's camp at Cal Lutheran University in 1975 before later in life connecting with Coach as a sportswriter.

Wishing you and yours the very best, and your generosity is proof that you are carrying forward Coach's memory each day.

Thanks again,
Greg
The following morning I received pictures and audio files of my "not forgotten gorillan friend." And Bill's outpouring of generosity continued:
I spoke to Nan Wooden (Coach's daughter) after reading your article. She asked for me to print and send her the article.

I am very impressed with your organization and efforts to supply athletic shoes to those with needs. Keep up the good work!

"Make Each Day Your Masterpiece" -- Coach Wooden

Bill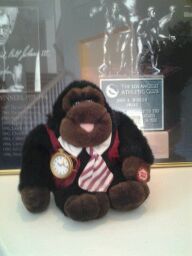 Scarcely more than 24 hours after my column went live, I had been reunited with my fancy friend the Self-Esteem Ape -- and made a caring new friend to boot. Bill's and Nan's actions quickly proved how insufficient are any words about Coach Wooden in demonstrating the true legacy of his loving memory on the lives of so many.
Our greatest possible tribute is following the example he set, which includes making friendship a fine art and making each day a masterpiece. I sought to do this by letting my new friends know the full depth of my gratitude and enthusiasm:
Hi Bill,

Seeing those pictures of the Self-Esteem Ape and hearing his voice, I cannot begin to tell you what a smile it all brings to my face! The rest of my family is equally delighted.

I remember the first Woodenism my dad shared with my sister and me was "Make each day your masterpiece," which remains our favorite and most sentimental one.

I am so honored that you are sharing my article with Nan! Please also send along my warmest wishes and deepest appreciation to Nan for giving her father a gift that has become a treasure to some many.
Our last correspondence -- for now:
Glad you enjoyed. I will pass on your comments to Nan.

Also, regarding basketball, the first fundamental Coach Wooden taught was how to put on one's socks and shoes...

Your gift of shoes allow an individual to begin making firmer steps in achieving one's goals...
In a loving home in Dallas, Texas, The Self-Esteem Ape is smiling. Up above, I think Coach is too.