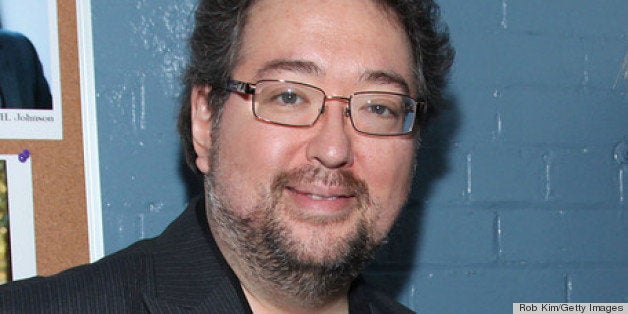 As we head into the month when the gay community celebrates pride, it is a great time for GAYFEST NYC to begin their festival of plays. Producers Bruce Robert Harris and Jack W. Batman share that it is their seventh season and fifth year of presenting the festival. One of the wonderful things about this festival is that all proceeds, from ticket sales to purchases at the concession stand, benefit the Harvey Milk High School, and what a worthy cause. The organization has presented 40 scholarships to graduating seniors and established an accredited elective playwriting program at the school.
And this group knows how to find playwrights.
I took in the opening weekend of the first play at the festival, Moonlight & Love Songs by Scott C. Sickles. Mr. Sickles has written a moving love story about a 45-year-old man who falls for a 20-year-old college student. The two bond over their love of film, which gives a foundation for this May/December romance.
I was very drawn to the piece because when I first moved to New York City at the young age of 18, I was in a relationship with a man many years my senior. I saw the relationship one way then, and I see it through different eyes with age. Now in my 40s and in a long, loving relationship with someone my own age, I feel like Joni Mitchell, having "looked at love from both sides now." Sickles nails the complexities in this relationship in such a powerful way without alienating an audience or making them judge the older man, and director Steven Petrillo has assembled a wonderful cast and worked out each nuance of this incredible story.
The two amazing actors playing Harry (the 45-year-old) and Jim (the 20-year-old) deserve much of the kudos in how they are portrayed. Television and film actor Gerald McCullouch shows Harry as a man who has not been able to find the right man. He is not looking for someone when Jim enters his life, but circumstances come into play. McCullouch's performance is rich with many levels. He appears shy and introverted as the show begins, and the aggressive and self-assured performance of Nick Bailey causes Jim to seize the challenge. Both actors show a wide range as we witness the shift in their relationship. McCullouch literally brought me to tears, sometimes by what Harry chooses not to say to Jim and what this fine actor can portray in a look, a pause or a catch in his voice. Bailey transforms in front of our eyes, an impressive feat for an actor of his age. They are but two in this wonderful ensemble of seven fine actors, with a special mention going to the two women who play the sister of one and the mother of the other. Kathryn Markey and Christine Verleny both bring vibrancy to their scenes and great insight into the "lost in love" couple.
When I asked actor Gerald McCullouch about the older/younger relationships that he has portrayed onstage and in film, he told me:
I've been rather submersed in this subject matter. However, I'm attracted to the larger themes of these stories, about self-acceptance, and hope, and finding love when you least expect it, as well as letting go of love when it's necessary, no matter how heartbreaking that can be. Those themes are universal, and aspects of these stories that I feel make them important ones to be told. Yes, they all investigate the trials and tribulations of cross-generational relationships, but they also all elucidate that love is love, and I think that's a powerful message to stand behind.
McCullouch is so right about universal themes, and that is what playwright Scott C. Sickles has done with Moonlight. There is something for everyone in the audience to draw from; whether you are gay or straight, it is very relatable. Thank you, GAYFEST NYC, for presenting such powerful pieces and allowing writers to take chances with subject matter in front of your audiences.
If you find yourself in New York City celebrating pride this coming month, make sure you treat yourself to the shows at GAYFEST NYC. Moonlight & Love Songs runs through June 2, 2013. The Loves of Mr. Lincoln, a play by David Brendan Hopes about the love letters between President Lincoln and his longtime friend Joshua Speed, runs June 6 to 16, 2013. They are also running in rep Gross Indecency: The Three Trials of Oscar Wilde, by Moisés Kaufman, May 30 to June 16, 2013, presented by the BASiC Theatre Project. For full information, visit gayfestnyc.com.