People believe one must go to New York to see the best live theater, but the country thrives on regional theaters across the U.S. New Jersey may have been known for The Sopranos, but until March 10 there is a tenor playing at the Paper Mill Playhouse in Milburn, N.J., and bringing audiences to laugh-out-loud hysterics.
Nominated for nine Tony Awards, winner of three Drama Desk Awards and the Olivier Award for best Comedy of the Year, Ken Ludwig's farce Lend Me a Tenor first appeared on Broadway in the late '80s and then a revival a few years back with Anthony LaPaglia and Tony Shalhoub.
The show, set in the '30s, centers around a Cleveland opera company anticipating the arrival of the great Italian opera tenor Tito Merelli to perform the title role in their production of Otello. After arriving with his hot-tempered wife, the womanizing singer ends up passed out and the company impresario Saunders and his lowly assistant Max come up with a crazy idea of how to continue the production without their star. Naturally this leads to mistaken identity, lots of actors running around the stage, scantily-clad women, and plenty of hijinks. The play definitely has the feel of witnessing something from years gone by, when famous comedic teams head-lined the stage and screen and physical humor was the rage. It is no wonder theater companies turn to this show instead of pulling out an old chestnut when looking to add a farce to their line-up. Ludwig tips his hat to those gems of yesteryear, but adds a fresh spin on it.
The Paper Mill Playhouse is not far across the river from New York City, so they utilize professional actors and rehearse in New York before settling down in their beautiful 1,200 seat state-of-the art facility. And what an amazing team of performers they have in this show.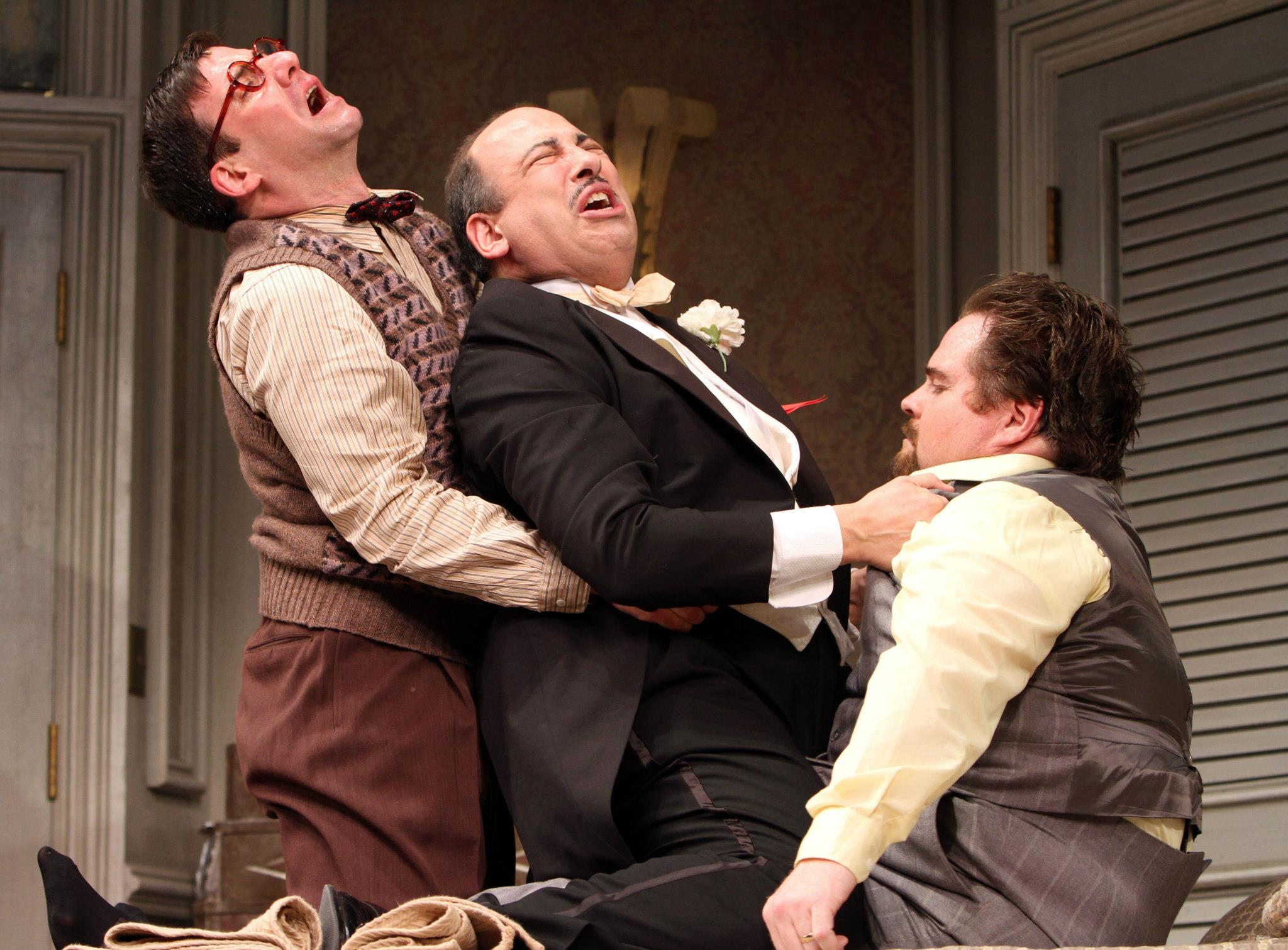 The set-up is done deftly as Michael Kostroff as Saunders gets the evening rolling with his energy, pacing, and highly stressed-out expressions. He works out the plan of the event with his daughter Maggie played by a wonderfully charming and wide-eyed Jill Paice and his go-to assistant Max -- the incredible David Josefsberg. It is up to these three to represent the heart of this story and they do it with a pounding gusto that one expects from a well-oiled machine of performers. It is Max's love of opera and his love for Maggie that leads him down the crazy road and Mr. Josefsberg is a delightful Max. His mild-mannered yet anxious Max is allowed to bloom into the star he was meant to be -- if only for one night which all aids in wooing the love of his life. Josefsberg's comic chops is evident in each well-planned choice he makes, but he is also gifted with an amazing voice to shine when it is time for Max to 'show-off' his love of the art form.
John Treacy Egan is a commanding presence when he enters the stage as Merelli. The character is based on all the opera stars that we may know, and Egan has rolled them into one over-blown virtuoso while showing his master of comedy degree. I've always known he has an incredible voice, but it is the level of comedy that he displays in this role that is most impressive. His resume of past work from Broadway shows such as The Producers and Sister Act is evident as he understands nuance of highs and lows in comedy and working off of Broadway powerhouse Judy Blazer as his wife Maria is sheer gold on stage. Blazer owns the stage each time she arrives as the feisty, out-for-blood type of wife that knows of her husband's philandering ways and attempts to keep him in line. Blazer is goes full-throttle and yet restrained enough to appreciate the give and take of what good comedic ensemble works means. She and Egan have worked out a wonderful rhythm as husband and wife and represent the outsiders of the core group brilliantly. (Blazer also serves as the dialect coach and the Italian in this show was spot on.)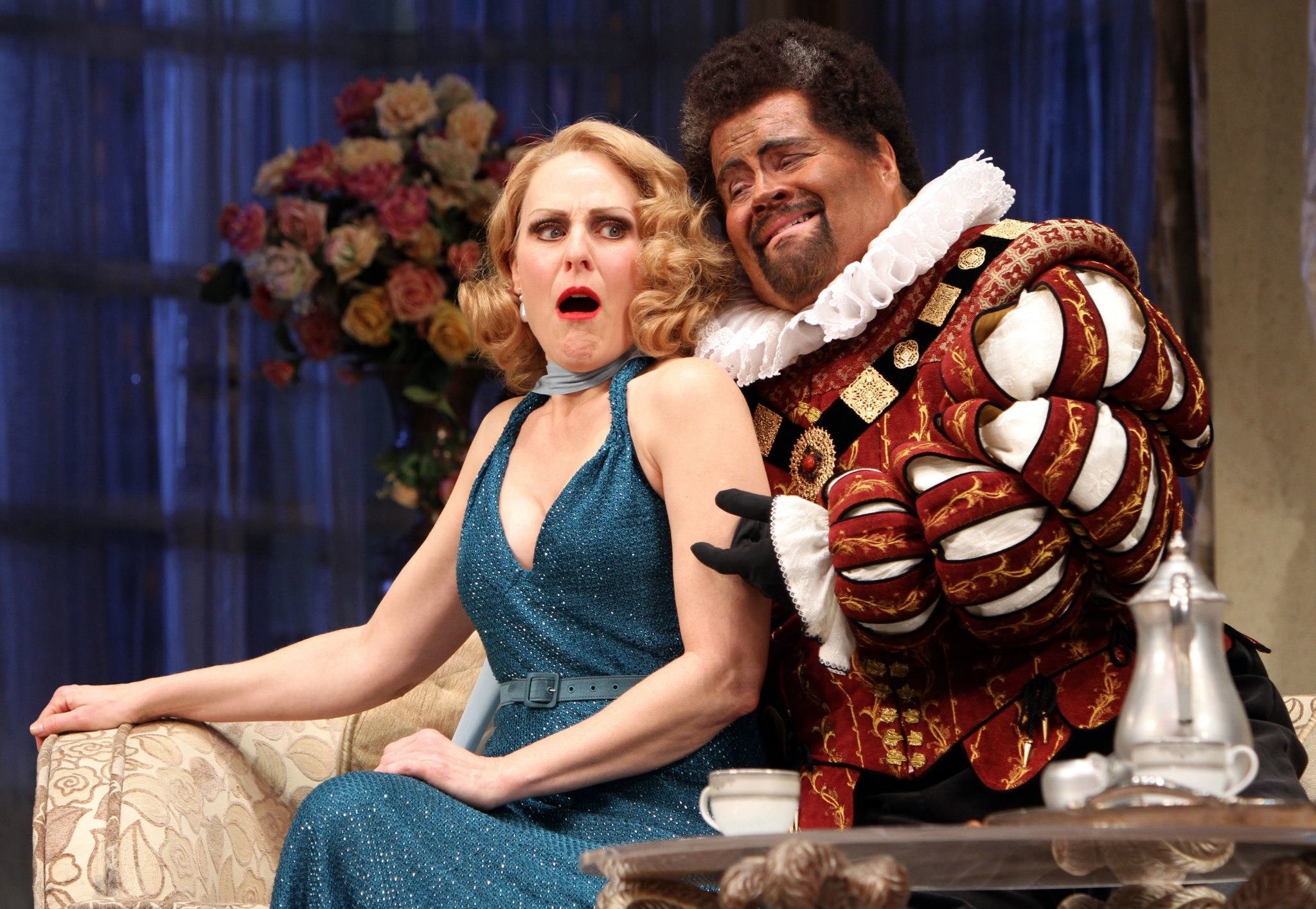 A farce would be nothing if there were not more characters to add to the confusion of 'who is who' when it steps into high gear and this tenor delivers: the leading lady of the Cleveland Opera House -- Donna English -- who wowed me years ago Off-Broadway in Ruthless! and is still just as delicious to witness on stage today; Nancy Johnston as the matriarchal leader of the opera guild who has one of the best sight gags aided by costumer Wade Laboissonniere and garners plenty of laughs on her own; and the hotel bellhop who is obsessed with meeting Merelli and shines brightly each time Mark Price makes another entrance. I've seen other productions of this show (including the original on Broadway) and I don't always walk away feeling that everyone has risen to the same level of comedic chops set by the main players. That is certainly not true at the Paper Mill. Each member of this savvy cast adds much to the overall enjoyment felt by the audience.
Don Stephenson may be directing for the first time at Paper Mill, but it is obvious he is by no means a first-time director. What a wonderful addition for New Jersey to witness his magic. He has worked the rhythm of this piece with his actors down to every timed-out slamming door to the pauses that are so important to farce. I was especially taken with his ability to allow the piece to breathe and not constantly drive it at the same pace and tone. He knows how to make each member of his ensemble shine while still keeping them moving forward on a conveyor belt of farcical genius. All of the mayhem occurring within the confines of a luxury suite created beautifully by John Lee Beatty with five doors (I counted) to add the percussion to the musicality of this show.
If you are in the Garden State, do yourself a favor and check out this show. Or look in your local paper and see what regional theaters are presenting closer to home. You don't need to travel to the Big Apple to see wonderful live theater.
Lend Me a Tenor runs through March 10 and will be performed eight times a week, Wednesday through Sunday with matinee and evening performances. Tickets may be purchased by calling 973.376.4343 at the Paper Mill Playhouse Box Office at 22 Brookside Drive in Milburn, or online at www.papermill.org
Photos by Jerry Dalia, #1 From left to right: David Josefsberg, Michael Kostroff and John Treacy Egan
#2 From left to right: Donna English and John Treacy Egan