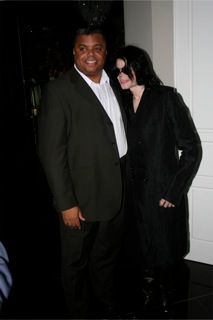 II Samuel 12:23
"But now he is dead, wherefore should I fast? can I bring him back again? I shall go to him, but he shall not return to me."
These are the words of King David after the death of his infant son.
I use them for Michael Jackson because he indeed was the eternal child. Always curious. Always playful. Always believing that the best was still to come.
I remember playing with Michael's children as he looked on. We shared a laugh that big kids laugh when they watch the unlearned joy of little ones playing -- oblivious to headlines, paparazzi and muckrakers.
My time spent with Michael always brought about a host of questions from my friends and colleagues who were also fans: "Does he really have that skin disease? (yes)", "Is his voice really that high? (most of the time until he would go straight GI (Gary, Indiana) on you)", "Yo, G, you think he's a pedophile? (No. Just a showbiz juggernaut who was always trying to recapture his childhood)."
Now of course for an infinite number of days Michael's life will be analyzed, scrutinized, demonized and canonized. Like Elvis and Tupac, he will be seen darting through supermarket parking lots and wearing his trademark disguises while watching a summer blockbuster.
However from my faith tradition the words of King David tell the real story: The Thriller, the manchild who lived among us for fifty years won't be coming back to do a Redemption Tour. Ed, Farrah and Michael a strange trinity who ruled pop culture won't, of course, be coming back, but we all one day, my friends, shall go to them. Love ya Mike. See ya in the bye and bye...