Dreamlike. Yes, that's the word for it. In the middle of an L.A. February Monday best described as "sunblasted," suddenly global chanteuse-extraordinaire Ellie Goulding wafts in amongst the (wait for it!) lights of the Los Angeles County Museum of Art -- a.k.a. LACMA -- specifically performing from within artist Chris Burden's "Urban Light" sculpture: the iconic collection of 202 antique street lamps jutting up prominently along Wilshire Boulevard's stretch aptly called Miracle Mile.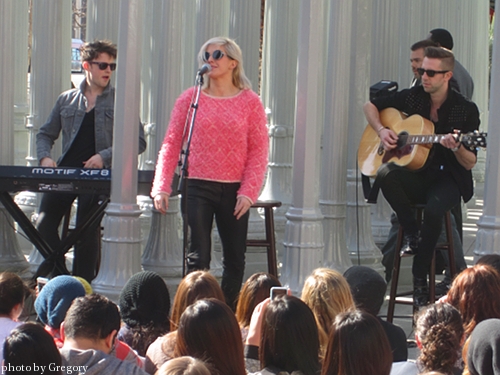 As with most things in our current age, it began with a tweet: "If you're in LA and on your lunch break near LACMA I definitely won't be there doing some songs around 2pm..." hinted the cheeky songstress. Well, she had me at spelling "you're," "your" and "definitely" correctly (rather rare, on the Internet!) -- thus joining her minions I knew I'd be!
And oh, is it ever worth it.
I used to attend terrific concerts in the Tower Records parking lot. This is approximately the vibe -- but newer, sleeker, may I say "more 21st century"? Although Monday's concert is a brief acoustic set (with Ms. Goulding attended by Max Cooke and Chris Ketley), and allegedly the singer has one of those popular colds going around, the energy is lively and hip without being merely hipster -- for Ms. Goulding is very, very good at what she does -- and her fans get it.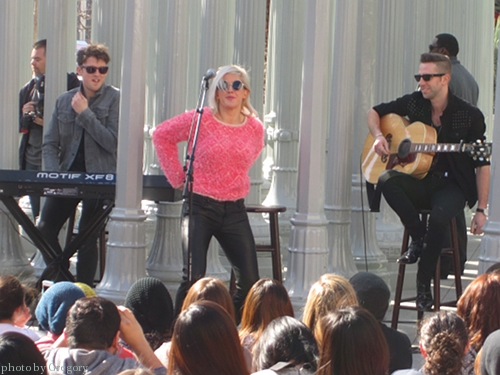 Ellie enters sans pretense in a fuzzy pink jumper (sweater) plus pantaloons she describes as "so low-cut, it's really annoying," and launches straight into a passionate recital of "My Blood" -- poignantly nudging at the anchor Kate Bush long ago lodged in my heart (she's entering that echelon). "Before I came on, I was like, 'Is anybody there?'" she smiles -- as if the Sunday (Wiltern) and Tuesday (Palladium) L.A. concerts bookending this petite gig (and concluding this tour) weren't hella sold-out well in advance. "Is anybody there"!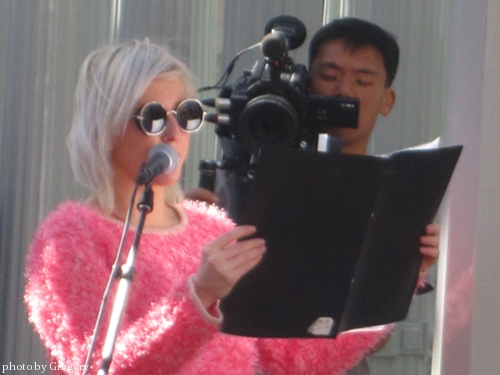 Then comes an equally moving "Starry Eyed" (which she describes as the "chill, lounge-version"), followed by the trendy admission of being a geek (consulting lyric book), and then a shimmering take on "I Know You Care" -- summoning heartfelt cheers from the cozy crowd (who don't seem to mind the guarantee of sunburn; a small price to pay).

Okay, so I'm a fellow who is decidedly not in the predominant demographic of women in their mid-20s, but at this point I'm going: "Ellie, be more amazing" -- uh, and Ms. Goulding appears to hear my prayer, for she and her fine bandmates suddenly essay a truly wondrous "Anything Could Happen" -- acoustic, "unplugged," if you will, right there on Wilshire in the midday sun -- and it is glorious. No diss to Gotye, and I bow to the weirdness of PSY, but Ms. Goulding, "Anything Could Happen" is a masterpiece. I'd say Record of the Year, in the running for Record of the Forever. And here at the Chinese New Year, it feels like a benediction.
Goodness, that girl can sing.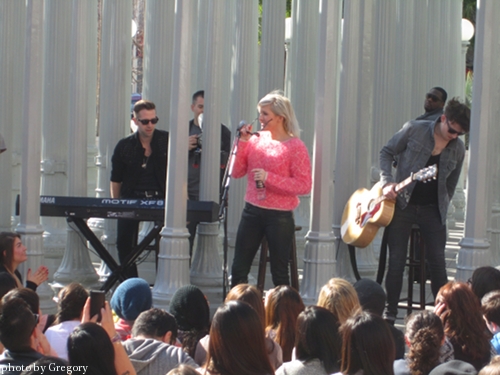 And she wraps up, of course (given the setting), with "Lights" -- "Okay, you can definitely sing along with this one," Ellie cajoles. And we do. And it is good.
Ms. Goulding closes with a reminder (to some) that we're not in the grotty Tower parking lot anymore: "All right, much love to you guys! Big hug, everyone!" In a mere 20 minutes, under her helm, something wonderful has occurred. Something, like, emotional. Happy Valentine's Day (or something), and rock on!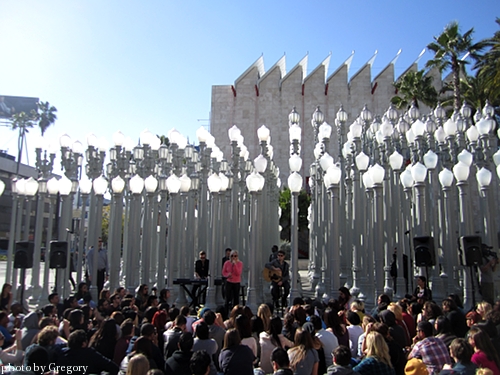 Ellie Goulding at LACMA was produced for Yahoo! Music's "Crash Concerts" series of surprise one-off shows by popular artists. Below is a link to the first in the series, featuring rapper 50 Cent performing for children at the Madison Square Boys & Girls Club in Brooklyn. This Ellie Goulding performance, I have the assurance of the producer, will be up for viewing in about three weeks. But if you're my friend, you can totally watch my low-res video of it.