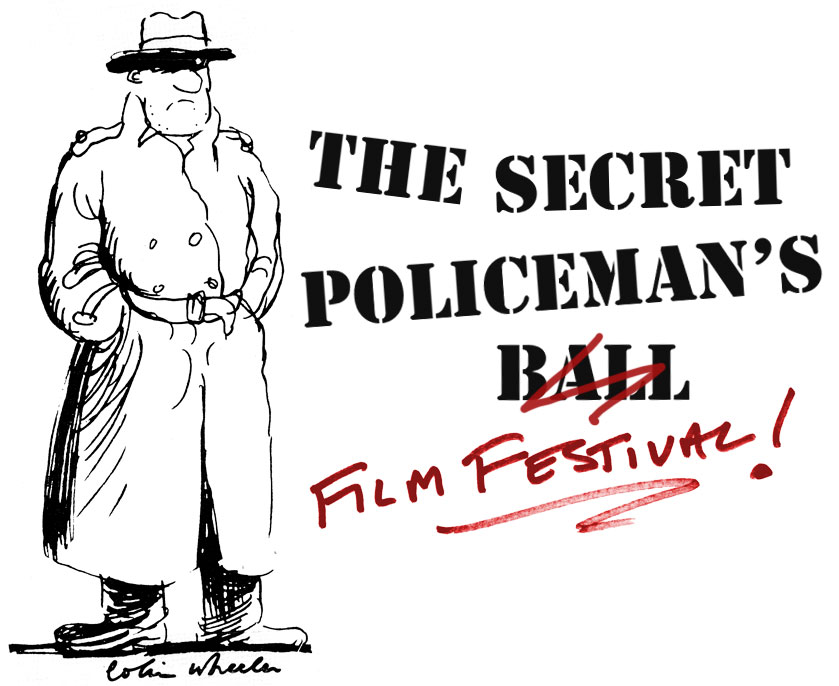 June 2009 marks the 30th anniversary of the pioneering Secret Policeman's Ball series of benefit shows for Amnesty International. The anniversary is being saluted with a major film festival in Los Angeles and New York: June 11 - July 31. Huffington Post bloggers are providing extensive coverage of the festival.
THE FILM FESTIVAL OPENS AT LINCOLN CENTER IN NEW YORK TOMORROW! (Friday June 26)
Discovery and re-discovery dovetailed most enchantingly for me as I zoomed into Hollywood's Egyptian Theatre for the U.S. Premiere screenings of The Secret Policeman's Third Ball and The Secret Policeman's Biggest Ball - two in a long and rich series of Amnesty benefit shows, staged and lensed in 1987 and 1989, respectively.
Although almost everyone in these films proved familiar (and happily so) -- musicians Peter Gabriel, Bob Geldof, Duran Duran; comedians John Cleese, Michael Palin, Adrian Edmondson (The Young Ones), French & Saunders; etc. -- as an American riding the periphery of the Secret Policeman phenomenon, I was wholly unfamiliar with these performances, which bring into focus a fresh, exciting angle on some tried-and-true faves. For me, this experience was like some sort of scintillating pop-culture Rashomon. I loved it.
The Third Ball in particular merges some absolutely essential '80s talent in a manner that nostalgic, '90s-beleaguered folk (my hand is up) may find verges on the ecstatic. Taking its comedy cues from the previous Amnesty benefits but also revved-up with rock stars inspired by the 1981 predecessor show The Secret Policeman's Other Ball and Amnesty's massively successful 1986 Conspiracy of Hope music tour in the US, this event was separated into two nights of comedy and two nights of music -- all brought together here under this title.
Peter Gabriel lamenting the murdered Stephen Biko in the 1987 show
Musical standouts include Bob Geldof's "This Is the World Calling," that he described as originating from standing backstage at a previous event during Peter Gabriel's "Biko" -- feeling only the heavy thump of the drums and building a new song upon that ("Biko" is here, too; judge for yourself) and a truly gorgeous pairing of guitar deities Mark Knopfler and Chet Atkins, whose shared "Imagine" will haunt you with its gentle, intricate beauty long after the screening. I grinned through Lou Reed's passionate-yet-shockingly-flat "Tell It to Your Heart" (How the hell did this apparently tone-deaf man ever do the soaring "Perfect Day"?), and smiled sincerely through Duran Duran's lush, unplugged "Save a Prayer." Joan Armatrading, Jackson Browne and even Nik Kershaw turn up - oh, and I could revisit the rare live performance of Kate Bush (accompanied by her Pink Floyd mentor David Gilmour on guitar and backing vocals) of "Running Up That Hill" every day until our little yellow sun goes nova.
The comedy end of the spectrum proves a bit lighter in the Third Ball, but it's nonetheless lovely to encounter (as if for the first time) the aforementioned Dawn French & Jennifer Saunders, plus some of their brilliant peers such as Lenny Henry, Ben Elton, Hagrid-himself Robbie Coltrane and even Emo Phillips ("...speaking of dignity, there is nothing like Amnesty International; the worst thing in the world is being locked up when you're innocent: Once I was driving down the highway, and I was swerving all over, trying to change the radio - and just as I get the old one taken out, a police officer pulls me over..."), and the remarkably rubberfaced Phil Cool (who actually visited my university during my glory days in Old Blighty - check him out; hilarious).
One of the more telling two-handers turns into a bizarre three-hander as up-and-comers Hugh Laurie (yes, a pre-med House) and Stephen Fry usher in a new generation of comedians and then are suddenly visited by the old guard in the form of John Cleese. Almost as though deigning to share the stage with the venerable funnyman, the two mischievous youngsters gloss over Fawlty Towers - as if perhaps a few more episodes beyond the initial twelve and maybe it might have developed into something (!), eventually bringing Cleese literally to the floor in tears. There's something here between hilarity and pathos which is not quite funny, per se, but which must be seen to be comprehended, in the great annals of British Comedy.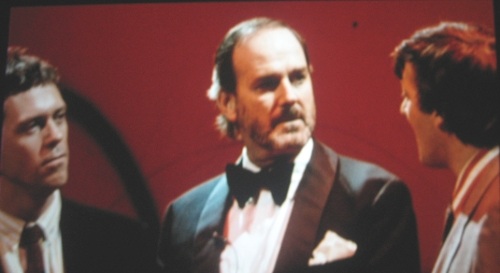 The very young Hugh Laurie and Stephen Fry present John Cleese with the "Silver Dick" Award at the "Secret Policeman's Third Ball"
Speaking of which, the torch is well and truly passed in The Secret Policeman's Biggest Ball, which reunites legends Peter Cook and Dudley Moore, plus Cleese and Palin hilariously returning to weld the birdcage closed one final time (as if) on the "Dead Parrot Sketch" (and, improbably enough, finding a solitary silver lining to the dark cloud that Thatcherism cast over the British Isles and countless Billy Elliot-type families through the English '80s).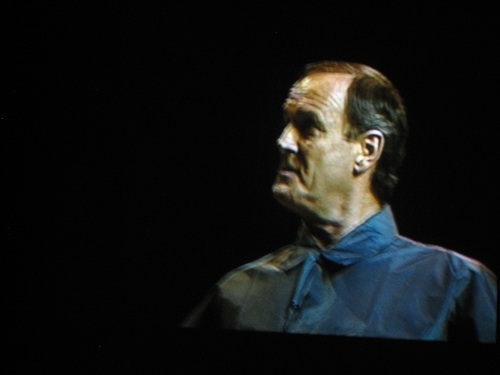 John Cleese after 10 years under Margaret Thatcher
Cleese shares directing credit here with Jennifer Saunders, and the program -- all comedy, no music (per se) -- reflects a distinct Footlights character, appropriately staged at London's Cambridge Theatre in late summer, 1989. Lenny Henry ushers in the proceedings with his zany "Bad Jokes" hip-hop (in plaid?!), and before we know it we're immersed in routines new and old, with a particular taste for Frog (i.e.: "Crunchy," with Robbie Coltrane and company revisiting that Python classic; and "à la Peche," with Cook [as Arthur Streeb-Greebling] and Moore unleashing their shared magic anew).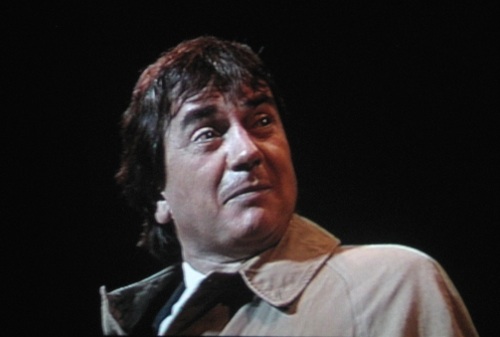 Dudley Moore at his very welcome reunion with Peter Cook
While some of the energy is a bit weird -- a bit like cover bands, there are some "cover comedians" in the house -- nonetheless material such as Pope John (Cleese) revisiting the "Last Supper" routine with the Young One's Adrian Edmondson as Michelangelo will surely sate the cross-generational comedy connoisseur. And while he may not be to all tastes, I had my socks well and truly knocked off by Ben Elton's mile-a-minute politically-charged gender-frenzy in this particular Ball, which makes the substance-enhanced Robin Williams of yesteryear seem as plodding and catatonic as Steven Wright. (As festival programmer Martin Lewis puts it, "Ben Elton drew blood from Thatcher.") Perhaps Yanks weren't ready for such jet-fueled wit two decades ago - but it is my sincere hope that they are now. Treat yourself. See these.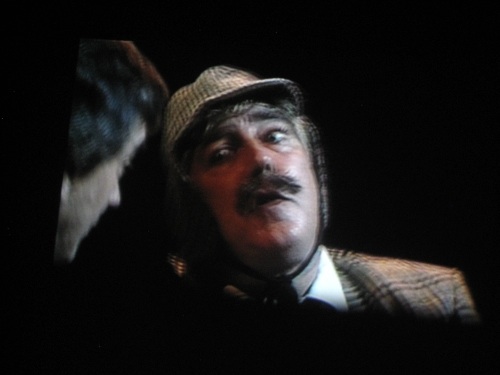 "The only thing more disgusting than Frog a la Peche is Peche a la Frog..."
MORE ON HUFFINGTON POST ABOUT THE FILM FESTIVAL
• Having A Ball For Amnesty (includes ultra-rare film clips)

• Smile and Say "Cleese!" - How the Secret Policeman Mocks, Rocks and Shocks

• The Secret Policeman's Film Festival: Be There -- With Balls On!

• 30 Years of Mocking and Rocking

• Having a Secret Policeman's Ball

• And Now For Something Completely Different: The Secret Policeman's Film Festival

• Monty Python & The Holy Grail... of Human Rights
OFFICIAL FESTIVAL WEBSITE
• The Secret Policeman's Film Festival -- Official Website