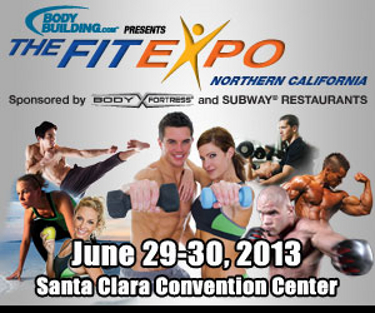 This weekend thousands attended the huge TheFitExpo convention in San Clara, Calif. -- Saturday the 29th and Sunday the 30th -- just as I attended the impressive Los Angeles TheFitExpo back in January. (I went to meet the incredible Lou Ferrigno, and he's turned into an article unto himself!) TheFitExpo is a massive show, packed with exhibitions and competitions, including bodybuilding, Olympic lifting, sculpting of just about every part you can imagine, workout fashions, designer supplements, exercise seminars, dance, gymnastics, loads of free samples, and even jiu jitsu and new Parkour Olympics.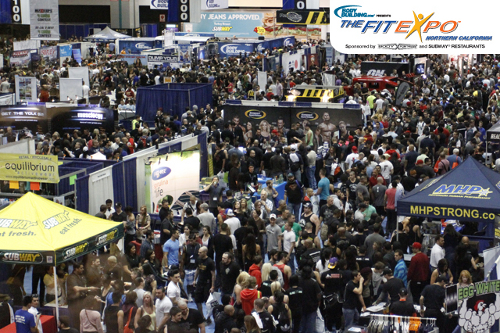 TheFitExpo: It's big.
Permit me one warm-up act for this piece. As a prime example of TheFitExpo fun, I had a blast chatting with L.A.-based global dance guru Milo Levell -- dubbed the King of Hip Hop -- who has taught funky moves to Jessica Alba, Sandra Bullock and Julia Roberts. Mr. Levell jovially reflected of his career path's origin in a Hollywood fitness studio: "I didn't have any students for two weeks, and then all of a sudden I had a student, and everybody was excited, because it was some woman named Julia Roberts! Next thing you know, Julia and I turned around, and we had a full class." Mr. Levell even trained Diana Ross with some "old-school funk" and -- get this -- danced for Pope John Paul II during Jubilee 2000. Milo Levell has put Hip Hop dance in the Vatican and in over 30 countries. Props! (And big thanks for the jams.)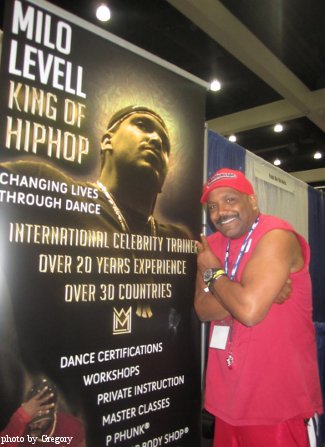 Milo Levell brings da funk, teaches stars to dance
This weekend, TheFitExpo attendees were in for some huge treats, with perhaps the hugest being superstar bodybuilder and current two-time Mr. Olympia Phil Heath. I spoke with Mr. Heath this week from his Colorado eyrie, and opened with some casual curiosity about the effects of altitude on his training. "I think it gives me a little bit of an advantage, to be honest," the Seattle-raised, former University of Denver basketball champ good-naturedly offers, also citing the nearby Olympic Training Center, 6,000 feet up in Colorado Springs. "Anything I do on sea level, the recovery time is much, much faster." Mr. Heath focuses on endurance, as well as strength. He really knows his stuff. I ask about his youth.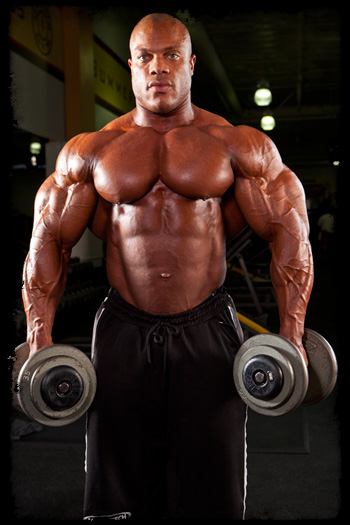 Mr. Olympia: Phil Heath
"I think I was one of those kids that, at the age of 13, start filling out a little bit: I was the kid that had the chest, the arms, the calves, especially, with these big legs like an adult. I didn't think I'd be this big, because I didn't lift weights -- I was playing hoops and running track. But I remember running track and field, and wearing short shorts and a tank top, and I remember the gasps: 'Holy crap, look at this kid: he's really built!' Thank God for genetics, right, but I can say that in high school, I was always one of the most athletic guys around."
Still, Phil has worked hard and earned every accolade. What are the challenges he's encountering at 33? He laughs cheerfully.
"Well, gosh, little nicks and bruises, small injuries. The recovery time is harder. When you're in your early 20s, you don't even have to warm up. Now I have to warm up, I have to cool down, I have to ice ... ultrasound, acupuncture, massage, chiropractic." He chuckles over a litany of small mishaps, then firmly adds: "Frankly I realized that I need to take a more serious approach -- not just in my weight-training and diet and cardiovascular health, but in the recovery side, which is usually not talked about in our sport.
"Everybody that wants to work out wants to feel good and look better, but I think one of the biggest problems people have is they don't want to work out with a personal trainer, someone like myself, or even a couple of buddies, because they think, 'Gosh, if I work out too hard, I'm not going to be able to get up the next day!'" Phil listened to his fans, and learned -- and produces some of the highest-quality workout videos around -- and as a result he's highly comprehensive and competitive both his workouts and his recovery, practicing what he preaches, so that he excels (as he routinely illustrates), "to the nth degree."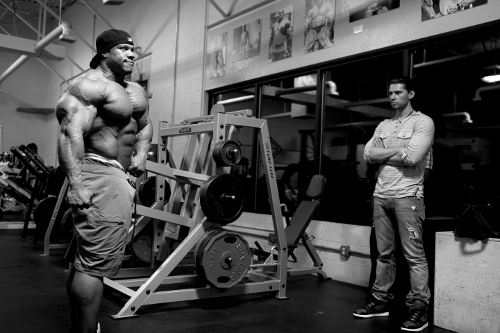 Phil Heath (uh: Left) w/ Generation Iron director Vlad Yudin
Although some training is solo, attending the TheFitExpo is highly social. What does Mr. Phillip "The Gift" Heath experience amongst the many he inspires? (Later in our conversation he laughs about having or being a "gift," but says his nickname is also about giving to others.)
"Really, my goal is to understand how they were able to overcome obstacles. I try to draw parallels to what I've done, and go: 'Hey, you're not alone.' We all go through things in life, and it's just how you deal with it. Try to stay positive throughout the worst." He speaks of making a choice to work out, to improve, so no sympathy: Instead, find what works and stick with it.
"You know, when I walk into the Expo, and see that there's a line three or four hours deep, I can't help but to feel special, and fortunate, that my hard work and dedication -- well, obviously I like to interact, and I think that gives people a sigh of relief, like, 'Wow, I waited all this time to meet him, and I wasn't disappointed.' I think this comes from being a former basketball player, in college: Even after a tough loss, a couple of the guys and I would sign little kids' autographs and basketballs -- and you may not want to do it: You want to go grab a beer or talk trash with your buddies or just go sulk, but you have to stay professional, you have to realize this isn't just about you anymore; it's about the people that you could help. And I'm in a great position to do that, and I'm very, very fortunate that I get to represent the sport."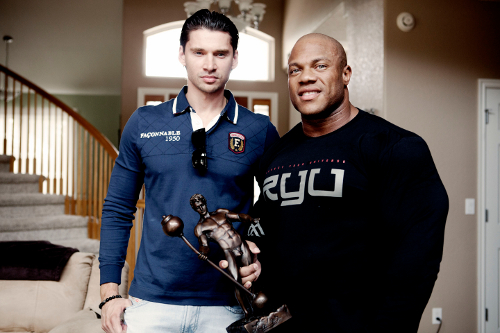 Generation Iron director Vlad Yudin; Mr. Olympia Phil Heath
Phil reminds those who choose physical improvement that there's no whining, and real work is required: "You're doing this because you wanted to be great," he firmly states as living proof -- and speaks of being lucky not for the significant work he's put in for his honors, but lucky because he found a niche which well suits him. "I do understand that I'm here for a purpose," says Mr. Olympia, inspiring people around the world, "and it brings a lot of joy to my heart."
Proving that he truly walks his talk, Mr. Heath is dealing with some family health issues -- blessings -- yet he's also choosing to do TheFitExpo this weekend. The man is all about balance.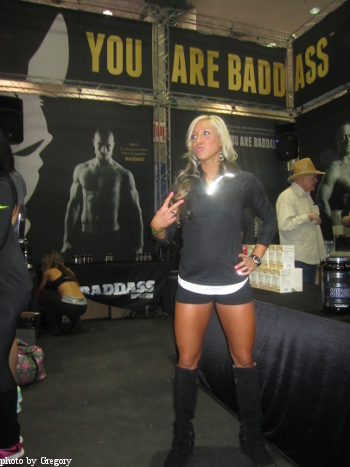 As a man of the pen, I accept (and agree with) this salute.
In closing, words of inspiration from TheFitExpo's VP Marc Missioreck, who took a moment from organizing such a gigantic event to share this insight: "Most of the people in this room didn't join this industry because they saw dollar signs. These people joined the fitness industry because something in their life transpired that it benefited them to be involved in some sort of health and fitness." He adds, "I think you'll find that the people in this industry are a very sincere group who have life experiences to share, and it's very rewarding. We go home tonight, and we sit back and go, 'Wow, think of all the people whose lives benefited from what we did this weekend.'"
Photos courtesy of Chris Sorensen/The Vladar Company and National Fitness Productions, unless otherwise noted.