Victoria Smurfit and Lauren Bowles rave it up in Homecoming
Smarter than the average indie and more emotionally engaging than a multiplex of studio movies, brand-new feature film Homecoming screened for the very first time this week, to a packed and very enthusiastic house at Laemmle's Music Hall in Beverly Hills. Dubbed "Mean Girls for adults" (it's that and more), Homecoming stars Lauren Bowles (Holly Cleary on True Blood) and Victoria Smurfit (Cruella De Vil on Once Upon a Time) as, respectively, a doting wife and mother new in town, and the saucy suburban seductress bent on being beautifully bad. But, oh - it's good!
Leading ladies Lauren Bowles and Victoria Smurfit flank Homecoming director Paul Kampf
Written by fabulous first-time screenwriters Sarah Hehman and Christi Sperry, Homecoming delivers an ingenious blend of wit, whimsy, and wisdom, confidently helmed by director-producer Paul Kampf, who transforms the Portland environs of executive producer Holly Levow into a poignant portrait of modern, upper-middle-class ennui. The fabulous, female, fortysomething leads prove smashing as they struggle with domestic devotion versus downright deviousness, the impressive supporting cast topped off with Suleka Mathew (Da Vinci's Inquest) as an enabling friend, and Max Ryan (Death Race) as the tempted husband.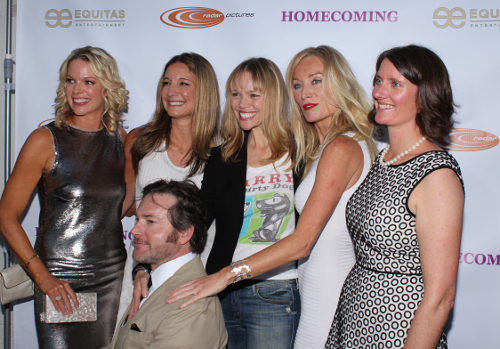 Homecoming executive producer Holly Levow, screenwriter Christi Sperry, lead Lauren Bowles, lead and producer Victoria Smurfit, screenwriter Sarah Hehman -- plus some guy pulling a "Dinklage"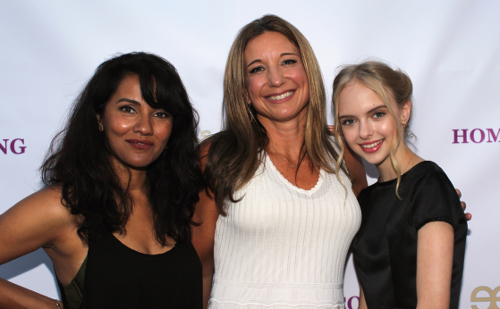 Co-screenwriter Christi Sperry flanked by cast members Suleka Mathews and Jessica Belkin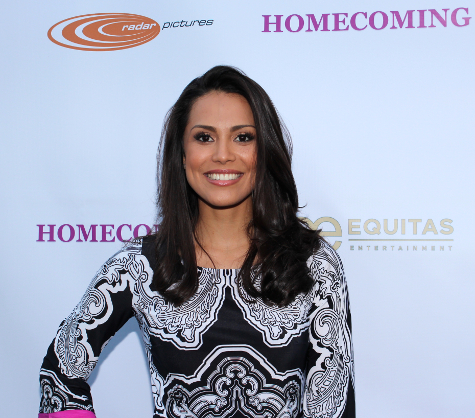 Multihyphenate and Playmate of the Year Raquel Pomplun
Model Carissa Rosario and the New Orleans Saints' James Anderson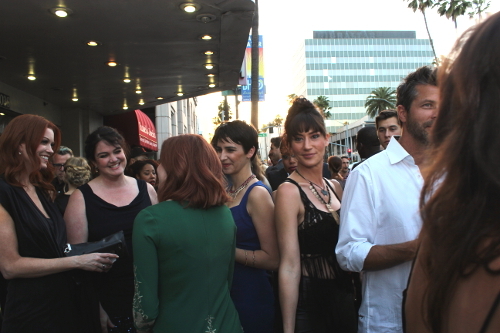 Pre-screening, things got plenty fancy.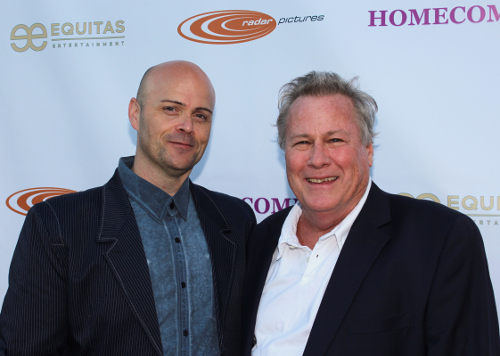 Homecoming director Paul Kampf, and actor John Heard
In the midst of an audience peppered with members of the superb cast (Michelle Arthur, Kiowa Gordon, fine young actress Jessica Belkin, many more) and gifted crew (cinematographer René Jung), it was my pleasure to interview the aforementioned movie people in the screening's afterglow, and here's a bit of how it went:
There's so much going on in this script - it's got amazing amounts of comedy, but also really poignant moments that are kind of hard to blend with laughs. Please tell me about the origins, and how you two blended it together as a writing team.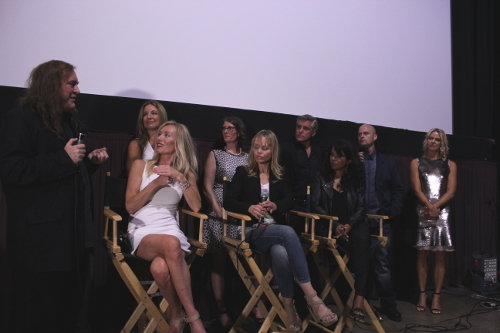 Sarah Hehman:
Well, the origins, I would say, really came out of a desire to write a story that's about women - women that are our age: 40s. So that was really the inspiration. We don't live in the same city, first of all, so we wrote separately, and then would share our writing back and forth, and then edit each other's work. So the script is really co-written, entirely. There's not a section of the script that one of us owns. We touched every part of it.
Christi Sperry:
I think the advent of the story just came from us talking about what we were witnessing happening to our peer group. We would hear stories, or do some observations. This is not autobiographical in any way (laughs) - I'd just like to make that very clear. Joy [lead played by Ms. Bowles] is sort of an amalgam of a bunch of women - maybe all of us - that go through this place of: How do we stay relevant? And how do we feel needed? - while our kids are growing and getting older and not needing us as much, and our partners are moving on in their career.
How do you find your "Inner Nikki" [lead played by Ms. Smurfit]?
Christi Sperry:
I don't have an Inner Nicki.
[Mild uproar]
Victoria Smurfit:
Oh, come on!
Christi Sperry:
Just kidding!
Victoria Smurfit:
We all have an Inner Nikki!
Christi Sperry:
I know. If I deny it, that might be bad. She is also observed, she is also an amalgam, I would say. We started talking about silly stories that we were hearing in our neighborhoods, and then we started talking to some friends, and it seems like everybody knows a "Nikki."
Sarah Hehman:
I think she was also the easier character to write. Joy was much more difficult to create: somebody who's making mistakes, but you still want to care about the character.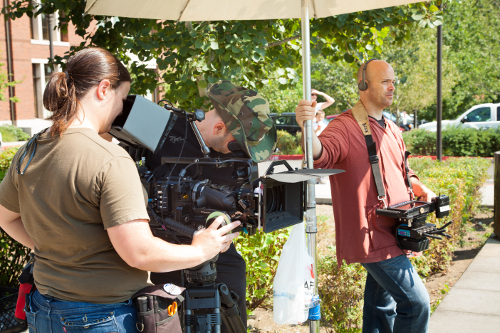 On location: Paul Kampf with D.P. René Jung
Very good. Now, Paul, directing a women's script - written by women who are women - and you're not one, you know? It must come as a challenge to your chromosomes, to some extent.
Paul Kampf:
I like women. (laughs) I don't know if it's a challenge, as much, as just trying to be open to what the story is, and who these people are. I would say that, honestly, working with the writers, and moving this into casting, the cast is so great, and I wanted to give them a lot of room to find relationships, because that's something I'm not going to know the nuance of: those little interstitial things that women say to each other. It's a universal story, but as a man I wanted to find a way to be pulled into their world, and feel what it could be like to be in that.
That's excellent. Of course, Paul runs an acting school, and some of you I'm sure are familiar with it, so he knows a thing or two about directing actors. Specifically, Paul, in unifying these two main characters of Joy and Nikki, how did you find that balance with them, and how did you rehearse?
Paul Kampf:
The biggest risk was figuring out the tone. Because it's not a comedy, and it's not a drama - it's truly that thing that everybody hates saying: it's a dramedy! Because it really is two tones. And the hope with the blending of the nuances and the acting and the storytelling, and also the music and visuals, is that we find the way to tell a reminiscent story, of something that's familiar. But really the relationships that the actors brought really started teaching me as we started shooting.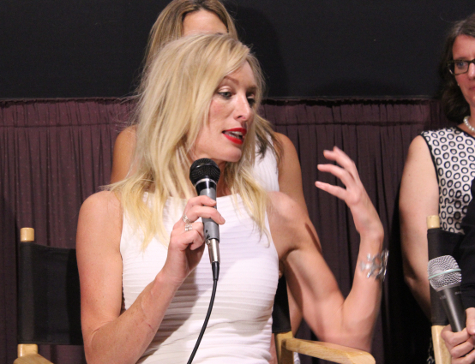 Victoria Smurfit:
Well, one of the things I'm most proud of with this film is the fact that I got to have a hand in the casting. And, as far as I'm concerned, the mad bitches - that we all got together to create these extraordinary relationships - I was so excited about it every day on set, because you just never knew what was going to happen, and where we were going to go, and who was going to do what to whom. There's hours of footage of us all muckin' around the place, messin' with the girls' lines, having a fantastic time! (turns to Christi and Sarah) And you guys were so good about giving us freedom within that, to then get back to your lines - to be able to push too far to come back to where the story was. And I loved every single second of working with the ladies there. I highly recommend them as humans - but don't ever let them cook for you. Just saying. Actually, they're great cooks.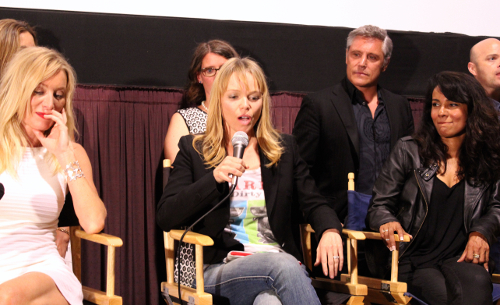 Lauren Bowles:
I think, for me, this movie was sort of made behind the fire pit. There was this fire pit - and that's sort of where, to me, we found this movie, because what was interesting to me about it was it was about their relationships. And I was more interested in how they came together in support, and what they got out of each other, because I feel like that's what we don't see a lot [in movies]. The way that they're pitted against each other was of course an important part of the story, but they came together for a reason, I think, and that, to me, was what I was most interested in.
Victoria Smurfit:
And you got me for life, babe.
Lauren Bowles:
Forever. You're mine. Your ass is mine.
Victoria Smurfit:
You betcha.
Paul Kampf:
This is kind of what went on on set, all the time.
Do you find that you're comfortable being diabolical, and earnest, in your natural lives? (to Victoria -- ahem: "Darling Nikki"? -- and Lauren)
Victoria Smurfit:
My ex-husband would agree entirely.
[big laughs of pure understanding]
(At this point, I ask supporting cast members Max Ryan and Suleka Mathew some sort of question about playing against temptation - a resounding theme with Ms. Smurfit perched inches away - and they sense that I'm stretching, but they're nice about it.)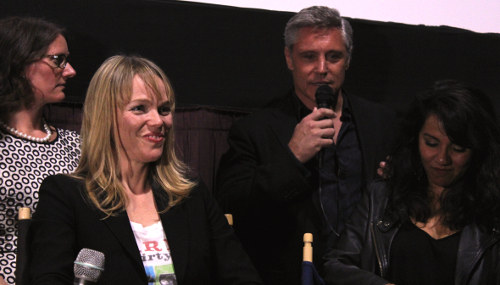 Max Ryan:
I just thought about letting her [Ms. Bowles' Joy] get on with it, and letting her find her own kind of well to fall down.
Nikki refers to your character in the film as "James Bond" - and he would not have restrained himself. So where's the line, as an actor, where you realize you could be James Bond - but you're going to be the good guy?
Max Ryan:
I could've put her in a stranglehold at any given time, actually, but-- [laughs] Sorry. [more laughs] No! It's the first time I've seen the movie, and it's incredible, because there were a lot of people laughing, and it really is a special film. I knew the girls were working really, really hard - but having seen the film now, it's beyond hard. 'Joy,' you're fantastic. Everybody was fantastic!
And Suleka, I'm sure you had to draw upon some real-life experience, but also follow the script.
Suleka Mathew:
Just for the record, I had to YouTube how to do a line of coke. [laughs] We all did. We were like, how does this work? What nostril?
Lauren Bowles:
Yeah, right, you didn't know.
Suleka Mathew:
I didn't! Really, I didn't. Some of the other things - how to do a margarita, I've got that down cold. This is such a lovely opportunity for me, because I didn't have to - in any regard - further the story. I just got to be part of the Greek chorus. Me and Michelle [Arthur] [applause] just got to enjoy watching these two jangrods [fairly certain she said "jangrods" - meaning Lauren and Victoria] fly, and just stand back and applaud that. So there's a tremendous freedom in not having any responsibility - in just getting to go to work and have the best time ever. It was amazing.
(I listened to The Dead Milkmen as a kid, thus with my anti-obvious punk ethos I've only ever driven through Portland, where Homecoming was made. However, seeking understanding and flashing my old-school Star Wars cred, I ask executive producer about whether the city conceals a "hive of scum and villainy.")
Holly Levow:
You know, this happens everywhere. [nods of agreement] This is not a single-location phenomenon. We were not attempting to show the underbelly of Portland. We had to find a universal way to tell the story, and it just happened to take place in Portland.
We all heap well-deserved praise upon the production, with Paul calling out the individual crew who rocked it, concluding thusly:
Paul Kampf:
I really am proud of all we shot, single-camera, in that short amount of time [23 days!] - that we were able to get this tone pretty right. I think 50 people here were involved in the movie, so it's a team effort.
[Applause! This time, with whistles!]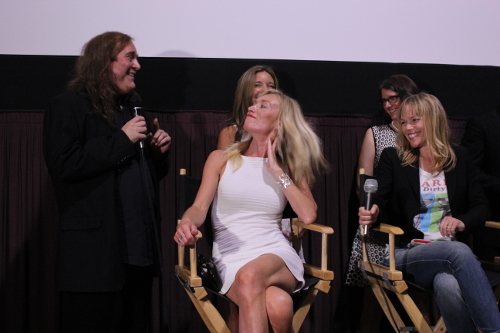 Brava and bravo, cast and crew of Homecoming!
photos by Ozzy Torres
production stills courtesy of Equitas Entertainment
Paul Kampf Studios: Official Website
Sarah Hehman & Christi Sperry: on Twitter