So I'm chatting with Freddie Wong, producer of the wildly popular online series Video Game High School, whose company Rocket Jump is launching a new series this year with Hulu and Lionsgate. I'm an Atari 2600 guy who learned to edit with VHS, and teeny-tiny bits of film plus Scotch tape, so I dive headlong for our common ground: USC's School of Cinematic Arts. It turns out that Mr. Wong also cut actual film there -- in 2008, their penultimate class to do so -- but he offers further practical insight:
"When you break it down," says Freddie, "I think the fundamentals of filmmaking, of storytelling, haven't changed -- since, arguably, 1905. But in terms of the side of it that I think film schools are a little bit lagging behind is the idea of audience engagement; it's the idea of film as a populist medium. But the idea of film online, and video, is more populist than I think anybody could have ever conceived of. And this sort of world where building an audience is a very important thing, and it enables you to do a lot of stuff creatively, and enables you to get viewership for your projects. That's something that we've found, having left school, that we sort of figured out on our own."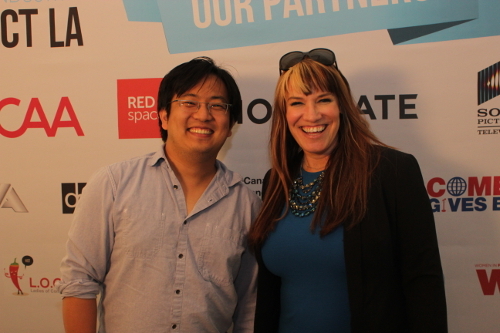 Freddie Wong and Amber J. Lawson
photo by Oscar Torres
The context is CONNECT L.A., last week's storytellers market that connected content producers, broadcasters, distributors and executives. The event featured face-to-face meetings for attendees with development executives from ABC, Disney, BET, CBS, CW, Sony, TNT and others. Forgathering within West Hollywood's London Hotel were writers and business folk aplenty, including Community creator Dan Harmon, speaking with Yahoo's head of programming Ian Moffitt, and Sony's VP of Development Max Aronson, about moving his show (formerly at NBC) to a new audience at Yahoo. Similarly, Mr. Wong spoke with Beatrice Springborn of Hulu, and Jordan Gilbert of Lionsgate. CONNECT L.A.. serves as a SoCal lead-in to the huge annual Banff World Media Festival, way up in the Canadian Rockies, spearheaded by Robert Montgomery and Amber J. Lawson, CEO and Executive Producer with Achilles Media, respectively.
"It's really about deals," says Toronto-based entrepreneur Mr. Montgomery. "And one of the key focuses of Connect L.A. is in the meeting rooms, where we facilitate tons of relationships. One of the key deliverables that we see -- which emanated from the Banff World Media Festival, which is the biggest dedicated production and development market in the world -- the whole purpose and function of that is to profile key people who are making a difference in the industry, and connect them." Robert adds that, while they have developed a software platform, it's the face-to-face meetings (especially in the mountains, 90 minutes from an airport) that make their market work. "It's incredibly successful, and it's perfect for the future of entertainment."
Ms. Lawson, a mega-multihyphenate who is comedy-based and serious about it (she's CEO of charitable organization Comedy Gives Back) further opines about how new media and old studios are mixing it up:
"It's interesting," Amber J. states. "One of my friends is running the digital division at Warner Bros., and their whole goal is to create short-form content, leveraging the Warner Bros. library -- so their partnerships they're creating are with Google, and with the various platforms that are out there. It's something that I don't think they took very seriously, until now. It's happening. And they're aware of it. Because they can't be left out. They have to evolve, just like everybody else.
"I would say that this year we've seen a major uptick in that: in studios, this is a huge acquisition year! I know that Freddie Wong wasn't 'acquired' by Lionsgate, but huge pacts are forming, with production companies, with studios, with influencers: that's a big trend happening." Amber J. further suggests a win-win approach: "These are major media companies that are coming together, and they're not -- we don't live in a time where they're necessarily competitors, although there is competition, of course, there always will be. But it is more about collaboration, and that is more the ideal attitude of the business today."
The point, of course, is that these days, non-traditional distribution methods are taking off big time. Using two words rarely employed in polite parlance, I ask Freddie if he can cite a Gestalt behind his Internet success, or if he and his crew simply planned from the beginning to "pwn" it (pronounced "pone," he assures fledgling-hipster me).
"It was in 2010 that we started with YouTube," Freddie notes. "I was working on direct-to-TV, direct-to-DVD feature films [including Bear: which he kindly informs me features not insane CGI but a real grizzly bear], and at that time it was very clear: YouTube is a place where people are watching stuff; and YouTube is a place where you can build and grow an audience. And we had looked at guys like Kevin Smith, and these directors who -- hey, they can do whatever they want! They have an audience, and the audience will go and see their stuff! And so, for us, the goal was: Let's build an audience. Let's create cool content. Let's get people behind us as creators -- and behind the content itself. And then continue to serve the audience and grow the audience from there."
It was this "if a tree falls in the forest" perception of media (as he puts it: "If a show launches without an audience, will anybody stick around to watch it?") which turned Freddie's company Rocket Jump's germ of an idea with Video Game High School into a hit, and he's comfortable with the basic formula:
"The fundamental time-length formats -- and what I mean by that is a television show being 22 minutes long, or in that range; or a movie being in that 80-90-minute range -- we've experimented with that, in Video Game High School season one -- and what we eventually arrived at, with seasons two and three, is doing things television-length. There's a lot of reasons for it. It's about the right amount of time to be able to tell a longer-form story. I think 11 minutes, and 22 and 44, and 90-minute features are a thing, and they're a thing that works: they work on a script level; they work on a story level. It gives you time to engage with characters -- and that doesn't change." Internet sensation Freddie adds knowingly: "What does change is where you see things."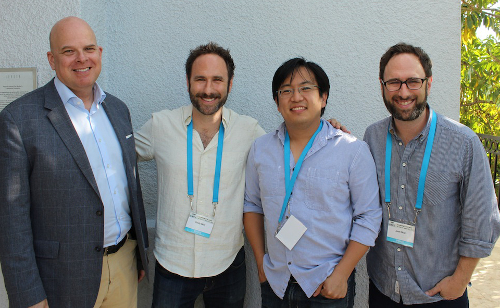 Robert Montgomery, Randy Sklar, Freddie Wong, and Jason Sklar
photo by Oscar Torres
Mr. Montgomery elaborates, with a note on "monetization": "To the extent that digital storytellers are telling stories on video, there is no difference. All television is video, but not all video is television. I think a key take-away is that there's an honesty around that, that consumers are accepting of: no longer are people going, 'Oh, that's sponsored content.' If it has legitimacy, if it adds value to the experience of the consumer, they're good."
Adds Amber J.: "Being a digital native myself, I've seen the evolution of content: from short-form content, to broadcast-quality content, just starting on a different platform. Really it's just a matter of where the content is premiering. And as you can tell, by the numbers, it can cost little amounts of money, and that could be a licensed show around the globe. Or it could be a hundred million dollars, with House of Cards, on Netflix. It's been a democratization of content, in my opinion."
In closing, I poignantly reference the South Park episode, "Guitar Queer-O," wherein Stan's dad vainly (in both senses of the word) attempts to distract his son and friends from playing Guitar Hero with a real guitar, capably delivering "Carry On Wayward Son" (sans comma, alas; musicians) to the gaggle of stone-faced, apathetic gamers. Even some top musicians, accustomed to the old ways, are getting pissed off at digital royalties (or lack thereof). I ask Freddie how he thinks artists can better meet the new frontiers.
"I think if you were to track one trend that kind of comes throughout the history of art itself -- in terms of music, of film, especially music," replies Freddie, "it's the idea of authenticity. You see that come and go in waves throughout the entire history of music, be it jazz, be it pop music, or what-have-you. And I think we're due for another go-round, certainly on the music side -- of the idea of authenticity, and true musicianship, and instrumentation. But I think that's where everyone is! I think that art is a search for the representation of truth in this world. And that approach I don't think changes.
"I think that the way that you engage with the audience member, and the way that it comes into your eyeballs, and your brain, may be different, and it may change. But from an artistic perspective, I think that that pursuit has been the same since the beginning. And that never changes. What does change is the methodology, and the means -- and the craft itself maybe has the addition of technology to it; but technology has always aided an ease or clarity towards that search for truth -- and I think that if it doesn't, then it's very quickly discarded."
Official Site: Content Industry CONNECT L.A.
Official Site: Banff World Media Festival