I love a great movie. Skyfall is a great movie. It's nuanced, complex and truly thrilling. Plus it's a James Bond film to its core: featuring a slamming opening like Spielberg or Greengrass (or Terence Young!) at their best, grand opening titles as true overture/fantasia (plus tip-top Adele song), and then loads of Bond iconography fans crave, writ at once satisfyingly classic and refreshingly progressive.
At the Los Angeles press conference for Skyfall, long-term producers Barbara Broccoli and Michael G. Wilson, director Sam Mendes, Bond women Naomie Harris and Bérénice Marlohe, plus of course a disarmingly at-ease Daniel Craig joined us to answer our questions. I ask about their magnificent marriage of Bond's lavish half-century cinematic tradition and the grittier recent reboot. Messers. Craig and Mendes field me regarding the nature of their pre-production creative discussions.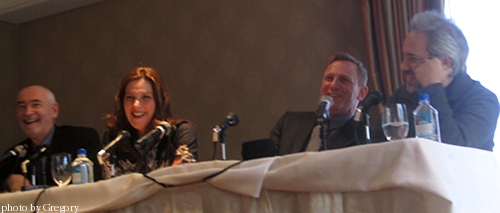 One of many light moments with Wilson, Broccoli, Craig and Mendes.
"Extensive," replies Mr. Craig. "Non-stop. In fact, non-stop throughout the whole filming process. We knew we wanted to do something along those lines -- but it's very easily said. But it's difficult to put into practice, and it takes a lot of talented people to get that right.
"You want to do it with a freshness, with a new eye, with something that satisfies -- "
And here's the funny bit: suddenly some guy's analog cassette recorder runs out of tape and loudly clicks off. James Bond himself retrieves the gadget from the table and with astounding deftness flips over the tape!
"I'm probably taping over somebody else's interview!" chuckles the onscreen superspy, to great mirth and laughter, for he is just mature enough to recall how audio-cassettes work. "This is much more exciting," he rejoins of the antiquated device, authoritatively gesturing to Mr. Mendes: "Take over."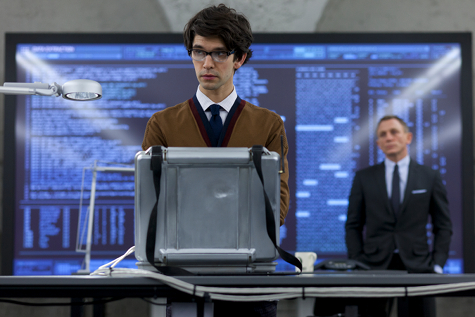 The new 'Q': chick-magnet.
Earlier in the corridor I had given Mr. Mendes a quick "thumbs-up" he seemed to appreciate, and this is not standard practice for me. Skyfall is gloriously directed, nigh-operatic. Its third act alone -- no, I'm not going to spoil it, saying only that Craig versus wild villain Javier Bardem in the presence of their elders is not to be missed -- elegantly packs more visceral and emotional energy than a dozen overblown "Nolans." Meanwhile, Mr. Mendes picks up the thread of weaving old and new:
"Everything has to be workshopped as an idea, you know: Would you consider having 'Q' back? 'Yes.' For a while he was an older man, and then the idea came up that he should be a younger man. 'Oh, that's interesting. Let's run with that, see what we get.'" (With the new Q's floppy "young Hugh Grant" hair and trendy-again horn-rims, what you get is a big cha-ching on the lucrative nerd-girl demographic!)
"It just becomes something we all discuss amongst ourselves," continues Mr. Mendes. "One of the people, who was in a way the most important, who is not sitting here, was (co-screenwriter) John Logan, who came in and was very clear-sighted, was very quick to get all our ideas, and get 'em all on paper. Because until they're on paper, they're meaningless. We can sit around just like a bunch of people sitting in a pub, talking about what kind of Bond movie we'd want to see -- "
"We did that as well, though," grins Mr. Craig.
"Luckily the tapes don't exist of those sessions," smiles Mr. Mendes. "But yeah, it needed that clarity of vision, and (Mr. Logan's contribution) really did help jell all those things."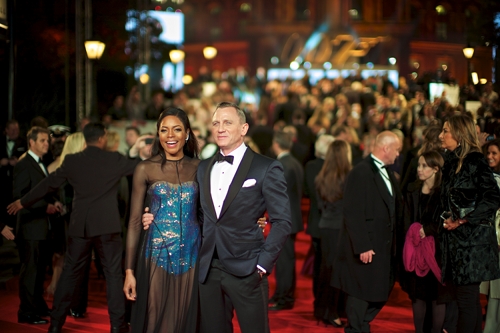 Naomie and Daniel rock London.
Just prior, we were hanging most illuminatingly with the new Bond women (who don't mind being called "Bond girls," by the way -- but I think that era is over).
Naomie Harris totally revivifies a charming and classic but prim and sedentary Bond character, and I think it's safe to say that the terrific actress (best known on these shores for Danny Boyle's 28 Days Later) will rock with the series awhile. Plus it's just kind of cool to know: she got to bring (coincidentally) 28 members of her family to the London premiere. However, considering the shocking and violent action her character visits upon Bond, early on in Skyfall, her notion of "therapy" is tongue-in-cheek hilarious.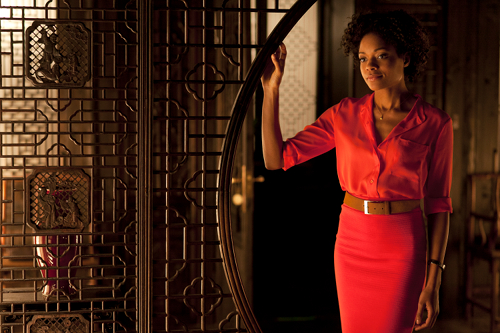 Naomie Harris: all about Eve.
"He's a Bond with issues," Ms. Harris opines of her co-star Craig. "He needs a bit of therapy before he's able to make these meaningful attachments. But I think what's great about him and that exploration of his relationships with women now, is that you're seeing women who are an equal to him. It's a much more interesting journey than just having women that are arm-candy."
While Ms. Harris knowingly brings both the "hot" and the "smart," for this adventure, Cambodian-French actress Bérénice Marlohe brings the exotica and mystique that became stock-in-trade for Bond-creator Ian Fleming's somewhat adolescent espionage fantasies. In person, her onscreen glamour is fortified by innate worldliness and intelligence.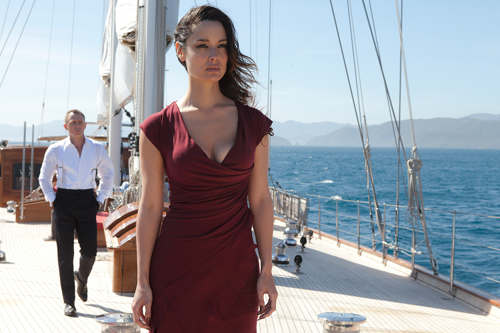 Bond falls for the mysterious Severine. Who wouldn't?
"So many metaphysical revelations," reveals Ms. Marlohe of her filmmaking adventure. "I really wanted to create a real human being, and digging in me, and what moves me, and questioning myself about my ancestors, and people I didn't get to know. Researching for that character just had me become even more aware of the conditions of the world, and mainly in Cambodia -- my country -- I always wanted to be a voice to fight against the injustice. But I could never do that. But now I have a voice to be heard.
"I just learned that, in Cambodia now, there is a very important trial, to judge the leaders of Pol Pot's genocide, that happened 37 years ago -- and this is what I connected with. I know that I want to be a voice for that. So I made a petition on Facebook for that. Everything I got, from the movie, too, the connections of me as a human being, and revelations I had on the set, and the possibility -- thanks to this movie now -- to be heard today and do something for human rights, starting with Cambodia."
Love it: Fantasy in the cinema; substance on the street.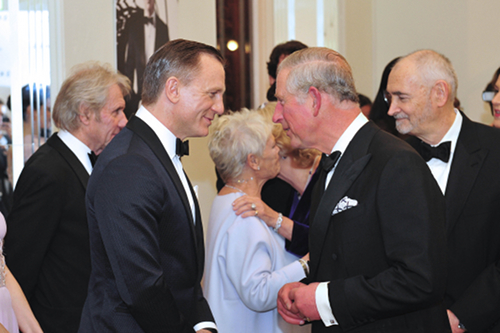 "I say, old chap! Aren't you Bond-James-Bond?"
And despite some alleged controversy, will Mr. Craig return in more Bond films? Someone asks if he dreads the inevitable shut-off call.
"He can't wait! Are you kidding?" enthuses Mr. Mendes.
"He'll be waiting a long time for that call," smiles Ms. Broccoli.
"We do feel a certain responsibility to audiences, not to let them down," chimes in Mr. Wilson. "That's part of the challenge; you want to give them something they expect, but also surprise them in a way they didn't expect."
Hear-hear on Skyfall. Ms. Broccoli sums it up nicely:
"We keep the flame together, Michael and I," she explains. "I always say we're like two halves of the same brain. It's first and foremost for Cubby," (classic Bond producer Albert R. "Cubby" Broccoli; and Barbara's father) "who was our mentor. And for the audiences, because they're the people who have kept these movies going for 50 years."
On that note, I close in an unorthodox manner. Powers that be, hear my plea: Here at the very impressive half-century mark, could we please have a great big James Bond convention -- featuring all of the men who've played Bond (and their many friends; and foes!) -- since this is indeed possible? Just imagine getting Messrs. Connery, Lazenby, Moore, Dalton, Brosnan and Craig together under one huge roof for a long weekend. Pop culture knows few entities of such magnitude.
And currently, Skyfall brilliantly brings back Bond. Consider!
Photos courtesy of Sony Pictures unless otherwise noted.