Mike Scott of The Waterboys is back in the U.S.A., with a marvelous new album (An Appointment With Mr Yeats) and a fresh, well-received autobiography (Adventures of a Waterboy). In anticipation of a U.S. tour this autumn, the globetrotting Scot is playing the Prince tribute charity concert at Carnegie Hall tonight (March 7), South by Southwest on the 13th, and he's back in New York on the 20th at the Town Hall. Between rehearsals with his excellent new American band, I caught up with him for a few great minutes.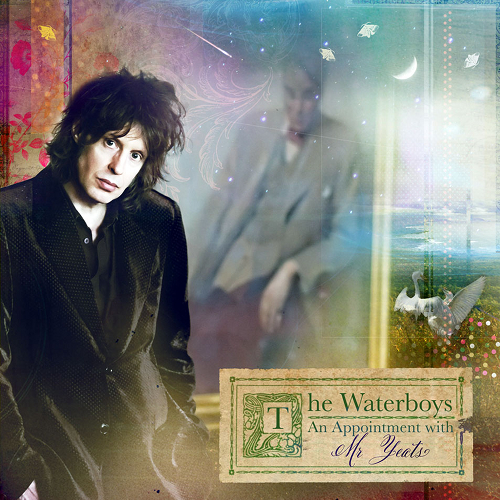 Some interviewers ask Mr. Scott about his dapper wardrobe, so I decide to launch in the opposite direction and probe the concept of rock concert as ritual -- about his remarkable passion, and the elements a band-leader summons to guide an audience on an emotional journey. He is kind in handling my attempt.
"You know, I've been doing it for so long, I don't think of any of that," concedes the spry veteran rock star.
I just go out and do it. I was playing a show last night, at City Winery in New York. It was a warm-up for the Carnegie Hall thing we're doing tonight, that's a tribute to Prince. It's about twenty different artists, all being backed by this great band I'm sure you've heard of, called The Roots.
"I was at side-stage just before we went on, with Steve Wickham," Mike says, name-checking his tireless fiddle/violin maestro, "and we were the first act.
The concert was delayed for some reason, and we were standing there for ten minutes, and I was thinking, 'It is so incongruous, standing in this tiny little narrow passageway for ten minutes, with people hustling past us, and a sort of atmosphere of stress, and yet when we walk out on that stage, we're going to sing "Purple Rain" -- we're going to have to nail it!' And we did.

In fact, we walked out, and my amplifier wasn't switched on, and there was no lead in it, and still, somehow, we held it together. The moment I play the first chord, I'm in the zone. And I don't know how that happens, and how I maintain it, but it seems to be so.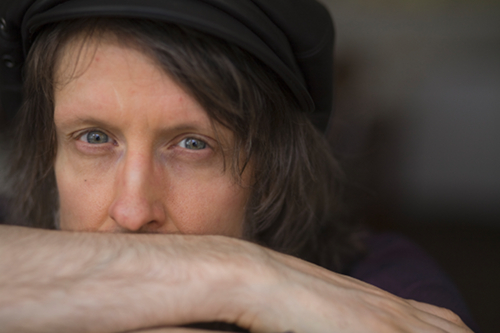 Mr. Scott's catalogue, both solo and with various incarnations of The Waterboys, is wonderfully diverse and often quite poetic. His latest offering, An Appointment With Mr Yeats, is literally based on poetry, as he's taken the poems of William Butler Yeats and set them to music. Yeats was rather prolific, so I ask Mr. Scott about the process of selection and adaptation.
I have this complete book of Yeats' poems, everything he ever wrote, and I put it on the piano, and I worked through it from the first page to the last. I look at each poem, and I read the first verse in my mind, and if it suggests a melody, then I sing that melody at the piano, and continue to work on that poem. If it doesn't suggest a melody, I pass on to the next one. So in that way I've been very completist about it. I haven't gone through and picked out my favorites and thought, 'Oh, I'll put this to music.' I've just worked through methodically, one at a time.

There are 660 poems in the book, and I think I've set maybe three dozen of them to music. So the ones that suggest a tune are rare, I suppose.
I ask about adapting Yeats' century-old poetry -- the stuff of Mr. Scott's upbringing -- to the idiom of modern pop/rock/folk/blues.
Well, I think most of his poems are pretty timeless. And certainly the feelings and emotions in them are timeless. Occasionally I would have difficulty with a bit of language that might be obsolete, in which case I would just change it to the nearest modern equivalent. As long as it didn't change the poet's meaning, I felt that was cool.
I select three tracks from the impressive album, and ask their origins as songs, starting with the lovely "Sweet Dancer":
I liked the poem, but, gosh -- well, this was one which bucked the trend. I didn't hear the music in my head for it, so I sent it to a friend of mine, (singer-songwriter) Freddie Stevenson, who's British but lives in New York. Before I sent it to Freddie, I edited the lyrics slightly, and I wove in extracts from two other poems, to create a bridge. So I sent this off to him by email, and about a week later, I got an mp3 back in the post, of a beautiful demo in Freddie's gorgeous voice, with the music as you hear it pretty much on the record. It was solo acoustic, but all the main elements were there.
The immortal "Song of Wandering Aengus":
"That was one where the poem itself suggested the melody, and I tried not to get in the way, and just get it down like I was hearing it in my head. A very simple one, really."
"The Faery's Last Song":
The music for that was written a long time ago. I wrote that in 1991, it was one of my earlier Yeats adaptations. And again, the lyric suggested the music, and in the arrangement of the song, I wanted to capture a sort of sunset-on-the-faerie-kingdom sound, a real lament. To me, it's not just a lament for the faerie kingdom, it's a lament for humanity's innocence, as well.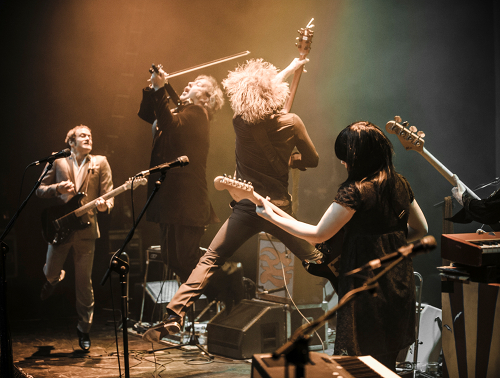 Big themes (to accompany his "Big Music" and beyond) provide hearty terrain for Mr. Scott's sonic and spiritual adventures, so, for the benefit of recent comers, I suggest covering the diverse chapters of his career in broad swatches -- to which he agrees. We begin with the first three albums: The Waterboys; A Pagan Place; and This Is the Sea (~'81-'85):
I was living in London, and didn't do much social life. I spent a lot of time on my own, and I was working with Ensign Records, and I was kind of being nurtured by them, in a way that doesn't really happen to artists now. They stuck with me for many years, and really helped me find my direction. I would spend a lot of time doing demos in small studios. In fact, a lot of the demos turned out to be the best versions of those particular songs, and they'd come out on the records. I was very intensely focused on my work: writing songs, demoing them, doing overdubs, discovering how to create a studio soundscape.
Fisherman's Blues and Room to Roam (~1988-1990):
Well, I moved to Ireland, which is the main thing. Steve Wickham, the fiddler, joined the band, and invited me to come and stay with him for a couple of weeks in Dublin. So I went, and I loved it so much I stayed for six years. In fact, I've even gone back there, and I live most of the time there now. And those days were very different from my life in London. I was in a circle of musical friends, enjoying myself, having a very social life, instead of working. And instead of working painstakingly, mostly on my own -- as I had done with the London records -- I was playing with an ensemble all the time, that included mandolin, fiddle, and other acoustic instruments. It was much more of a troubadour-type existence. And I think the records reflect that.
Relatedly, I ask if anyone knew that the pretty girl with the accordion sitting on the windowsill in a photograph in the Room to Roam booklet would go on to become the internationally-acclaimed Sharon Shannon. "Anyone who knew Sharon back in those days, the late '80s" reveals Mike, "knew that she was destined for greatness."
Also relatedly (hey, be comprehensive if possible), I inquire about the state of the rather exciting new collection Mike has been diligently mastering: Fisherman's Box. "It's six CDs," he states, "and I love it. It's beautiful. It finally tells the whole tale of the Fisherman's Blues sessions." (It includes 121 tracks, he tells me, and laughs when I say, "Oh, that's all.") He adds, "Every CD is about 78, 79 minutes long, it's like six double albums." To be released in October, "as close as we can get to the 25th anniversary."
I ask about how Mr. Scott perceived the pop-culturally topsy-turvy decade of the '90s.
"The '90s were, oh--" he sighs.
I was focused in the '90s on educating myself, spiritually, and I lived for some of that time at the Findhorn community, in Scotland. I was signed to Geffen Records in the early '90s, and the label manager, he was a smart guy called Robert Smith--" (sorry, pop-Goths, not that one) "he sussed out, 'the center of Mike Scott's life is the Findhorn community,' and at that time, it was. Really, all I was seriously interested in was learning how to grow spiritually, and expand my consciousness -- in natural ways, not using any chemical additives, or anything like that. And my life during that decade reflected that. I look back at it now, and I see it as a period of inner exploration. The records that I made, those three albums, I suppose they reflect that. Most of the songs are about those topics.
Between A Rock in the Weary Land and Book of Lightning (~2001-2007):
Well, that's the return of The Waterboys. My second solo album, Still Burning, had been a commercial, um, failure, in the U.K. And I had lost so much ground, so much status as an artist, and I was really stung by that. I wanted the size of my audience back; I wanted my edge back--" (sorry, arena-peeps, not that guitarist with the weird nickname) "I realized I'd lost edge, I'd got out of touch. It'd been so long since I'd listened to contemporary rock music. Really, once I moved to Ireland, I listened to folk music, country music, older, rootsier music. And I realized I was so out of touch with rock, I had to make myself current again.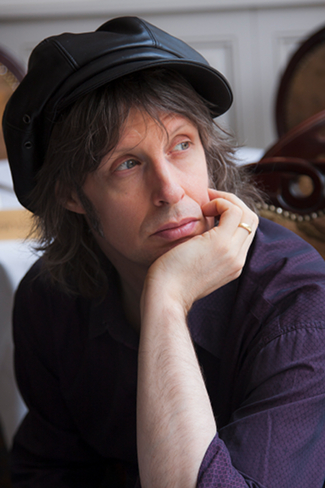 And here we are with The Waterboys anew, amalgamated from many of the best bits from the past, primed for the future. Mr. Scott is an engaging and worldly man. In closing I ask him what he'd like to see changing in the world. Comes a resounding laugh, followed by a refreshing and surprising response:
"Well, it's only one thing to change in the world, and that's people's consciousness -- that's what everything arises from: our perceptions and our understandings. So I guess I'd like to see less ignorance and more understanding."
And the surprise:
"I don't think humanity's doing as bad as some people think. If you look back a hundred years ago, we didn't have spiritual freedom: we had to belong to a particular religion, or our community would shun us. And we didn't have political freedom: women didn't have the vote, black people didn't have the vote -- there have been incredible personal freedoms in the last century. And I think those will continue. It's just on a longer scale than perhaps makes it easy to recognize."
Photos by Paul MacManus; album cover designed by Nina Hunter
Mike Scott and The Waterboys play tonight, along with The Roots, Bettye LaVette, Talib Kweli, Sandra Bernhard, Elvis Costello, and many more, at the Prince Tribute Charity Concert