Music saves us. We whistle in the dark. I love the darkness of a starry night -- but the darkness of the tragedy last December in Newtown, Connecticut is nearly beyond words. Here, however, we can consider the music which followed it. Via a mutual friend, I spoke with seasoned musician Chris Frantz, who, with his equally-awesome musician wife Tina Weymouth, donated their time, energy, expertise and studio -- to allow some Sandy Hook Elementary children to raise spirits with their version of "Over the Rainbow," released just last week.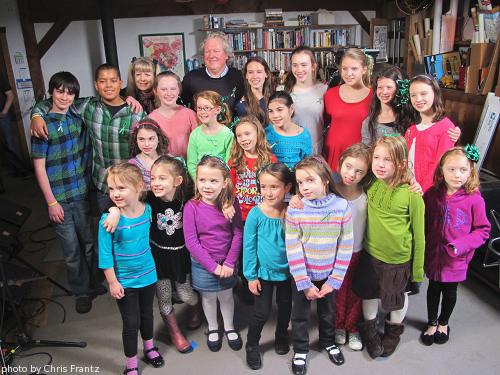 It began with a call from Louise Staley," reveals the kindly Mr. Frantz. "We've known Louise for many years. She was the manager at [legendary NYC nightclub] CBGB, and she sat across the desk from [club founder] Hilly Kristal for many years. Tina and I would frequently go back to CBGB, and just drop in, you know, see what was going on. So we remained friends with Louise. She gave us a call -- she said that [CBGB brand owner] Tim Hayes was trying to organize a recording of the children of Sandy Hook, and would we care to be involved? I immediately wrote back that, 'Well, we have a recording studio, we know how to make a good record -- what can we do to help?'

About a week later, the children arrived at our studio. And I must tell you, I had some fears the day before, that: 'Oh, God, what if this doesn't work out?' You know: 'What if the kids are too sad or whatever to get this done well?' But then, when the kids arrived [with vocal coach, Sabrina Post], they were just brimming with enthusiasm.

I could see a lot more trepidation in the eyes of the parents than I could in the eyes of the children -- and I think that's probably fairly natural. These kids are very resilient, and I would say they've come a long way in a short time. They're definitely aware of what went on, but I think -- as kids do -- they just try to have a positive outlook, and try to generate some good feelings about the future. I didn't hear any of the children refer to the actual shooting at Sandy Hook, unless they were asked by the people from Good Morning America. Otherwise, I think they just wanted to get on with their lives.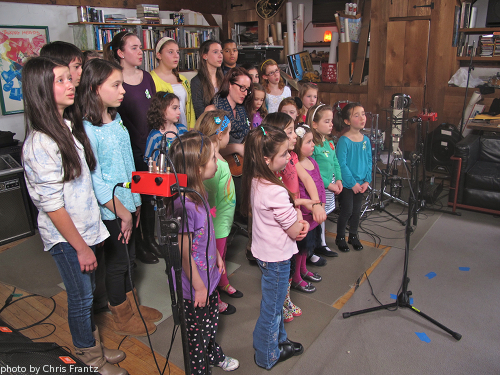 Mr. Frantz dismisses negative speculation about the production:
I'm a person who looks at the Internet a lot, and I've seen some really weird conspiracy theories about the whole Newtown thing. One of the things that these misinformed conspiracy people think is that the children were manipulated -- and that we, the people who organized the recording, were practicing mind-control over the children?!
He laughs good-naturedly. I'm baffled.
Yeah, really crazy stuff like that. And I would just like to say that that is bullshit. The kids were totally into it. Nobody twisted their arm to be here. And in fact I could tell that they were sort of sorry to leave, at the end of the day. I think they were really enjoying themselves. And also, if I could practice mind-control, it wouldn't be over little children. It would be over some grownups I know.
Chris likewise shrugs off rude comments that their gesture involved self-promotion ("Hogwash").
We're just very happy we were able to do it and be helpful. Artists always talk about being helpful, and how art and music can help heal. But very rarely do you actually get a chance to do something about it, and to see it -- to see the healing aspect of music in action. This time we really were able to help, and we really saw the results, and the results were very good.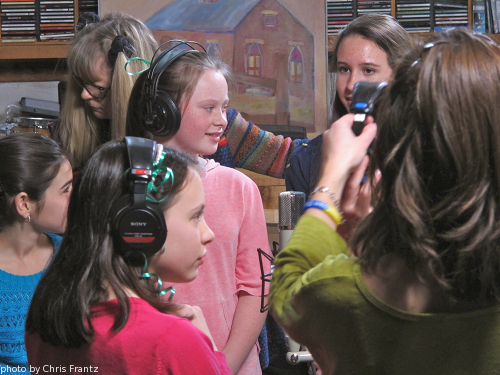 I ask about responding locally to the tragedy.
It was something that was kind of in our backyard. And it was really shocking -- more shocking to us than when it happened, say, in Colorado. And then it also meant that the kids could just come here to a sort of very informal and friendly environment -- rather than a big recording studio in New York City, which would have been a whole different vibe for them.
I mention the kids playing in the snow in the video clip -- and that they definitely did not appear to be "mind-controlled."
"No, they weren't. And the parents were not 'mind-controlled,' either."
We turn to the big, divisive matter: gun-control laws. We address the new and growing group, One Million Moms for Gun Control, and Chris offers his views on the issue.
I grew up in the military -- I mean, I was not in the army, but my father was, and Tina's father was in the navy -- we're both from military backgrounds. I went to camp where you learned to shoot a gun at a target, under very strict control from the counselors. I don't have a problem with sportsmen, but I do really believe -- and I know Tina does, too -- that very strict gun-control laws are apropos -- the stricter, the better. And why do people really need any kind of gun these days? Unless they're out in the country, and hunting their own food?
I cite nations where gun-bans provably work and reduce gun-deaths to double or even single digits per annum: Australia, Great Britain, Japan...
I know. It's embarrassing, the situation that we have here. I have some friends that live in the city, that I believe probably have a gun. But I just think that strict laws are a good thing, when it comes to guns. Tina was quoted as saying that in America we fetishize our children and our guns, but we really love our children more than our guns.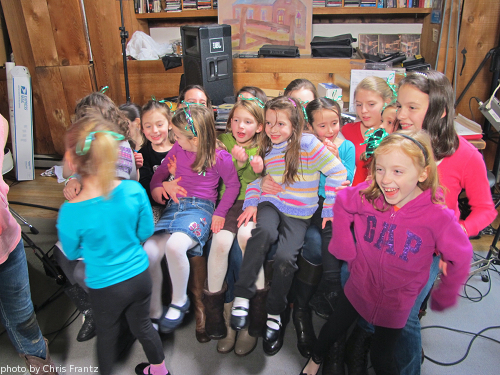 Since it's pretty much impossible to listen to "Over the Rainbow" and not be moved, I ask Mr. Frantz about his first memory of the song. A man of music, he adds a note of show-biz lore:
You may remember that they used to always show The Wizard of Oz on television at Thanksgiving. I'm sure that was my first time I heard the song. My feeling is that it's one of the most beautiful songs ever written. And I love the story that [MGM honcho] Louis B. Mayer said that the song had to be cut from the movie. Of course, the song went on to win an Academy Award, and also to become one of the most cherished popular hits of all time.
"(Somewhere) Over the Rainbow" by the Children of Newtown, featuring Ingrid Michaelson, is available here.