Pete Townshend.
Three syllables, and your synapses are already tingling, aren't they?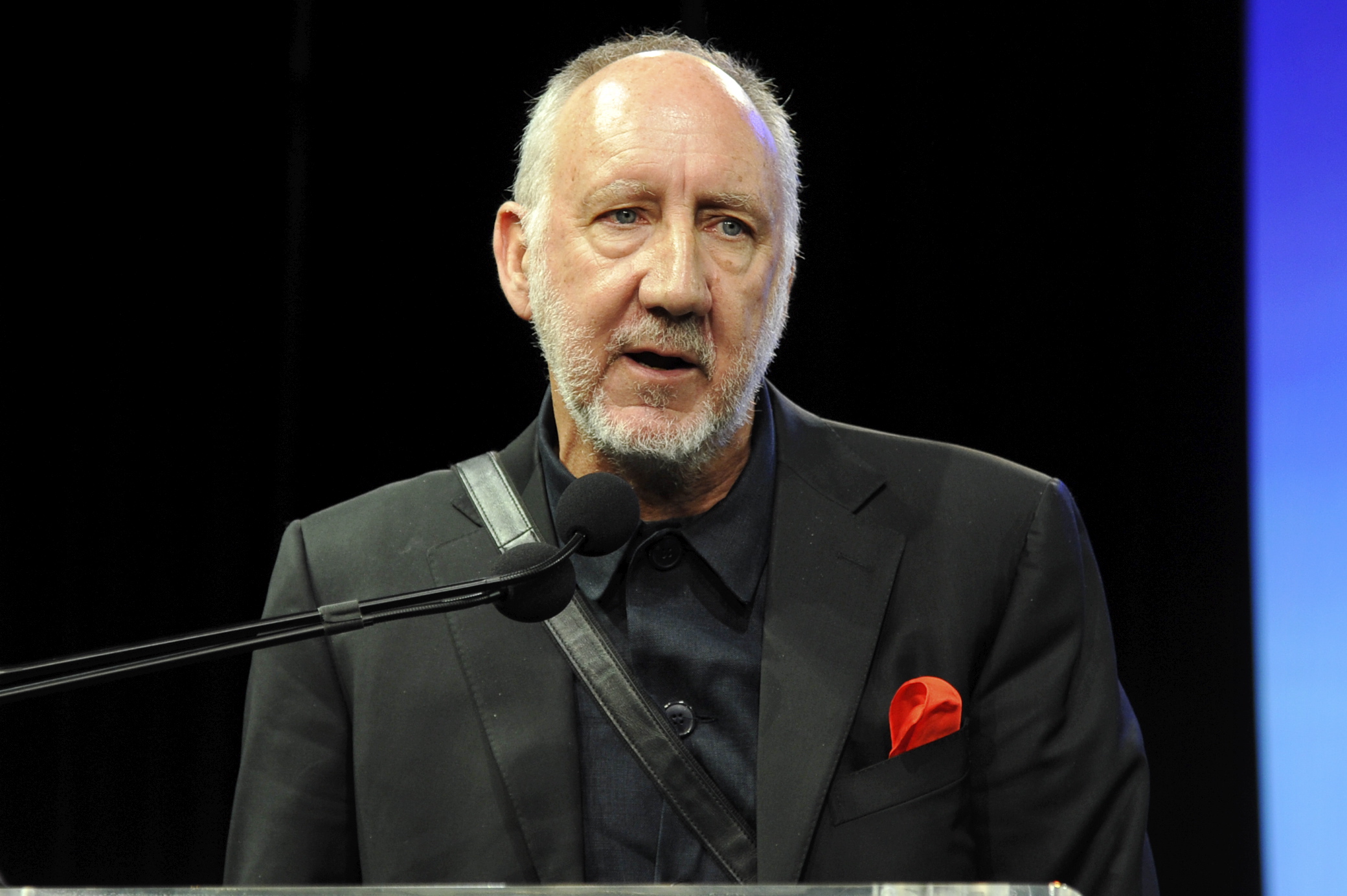 To know Pete Townshend a little (say, hearing "Let My Love Open the Door" on the radio) is to love him. And to know Pete Townshend a lot (as guitarist, singer, rocker, lyricist, poet, author, producer, philanthropist and, objectively-speaking, visionary) is to love him even more. But let us also consider Pete Townshend the brilliant technical innovator.
This was precisely the focal point at this year's 28th Annual TEC Awards (Technical Excellence and Creativity), at which Rock and Roll Hall of Famer and Kennedy Center Honoree Mr. Townshend found himself the recipient of the 22nd Annual Les Paul Award -- a major honor celebrating "individuals or institutions that have set the highest standards of excellence in the creative application of audio technology."
The gala event brightened a rainy night in Anaheim, where the legendary figure and co-founder of the best-named rock band ever -- The Who -- was not at all "Exquisitely Bored in California" (to quote from one of his many exemplary solo compositions) but rather very warmly celebrated by 1,000 top audio-industry professionals as well as a host of his well-established peers, in a lively evening hosted by John Sebastian, formerly of The Lovin' Spoonful.
Video of Highlights from the Award Ceremony
The Les Paul Award being one of those accolades such as a "Lifetime Achievement" award in which the recipient is known well ahead of time, the organizers of the event traditionally extend the winner of that specific award the courtesy of being able to suggest who he/she might like to have present the trophy with accompanying remarks. Townshend selected for his primary award-presenter the producer, humorist and pop-culture historian, Martin Lewis.
Messrs. Townshend and Lewis go back some 40 years. It was Lewis, a long-term master of mixing philanthropy with entertainment, who coaxed Townshend to join the successful Secret Policeman's Ball benefit series, in support of Amnesty International, in 1979. There, some say, as Townshend stripped down rock 'n' roll's then-typically-incendiary pageantry for raw, rootsy, acoustic takes on his classics "Pinball Wizard", "Won't Get Fooled Again" and more, the "Unplugged" performance phenomenon was born. Legend has it! For this, and for the many rock stars motivated thereafter by example to play for social and political causes in the 1980s and beyond, Mr. Lewis designated Mr. Townshend, "an inspiration."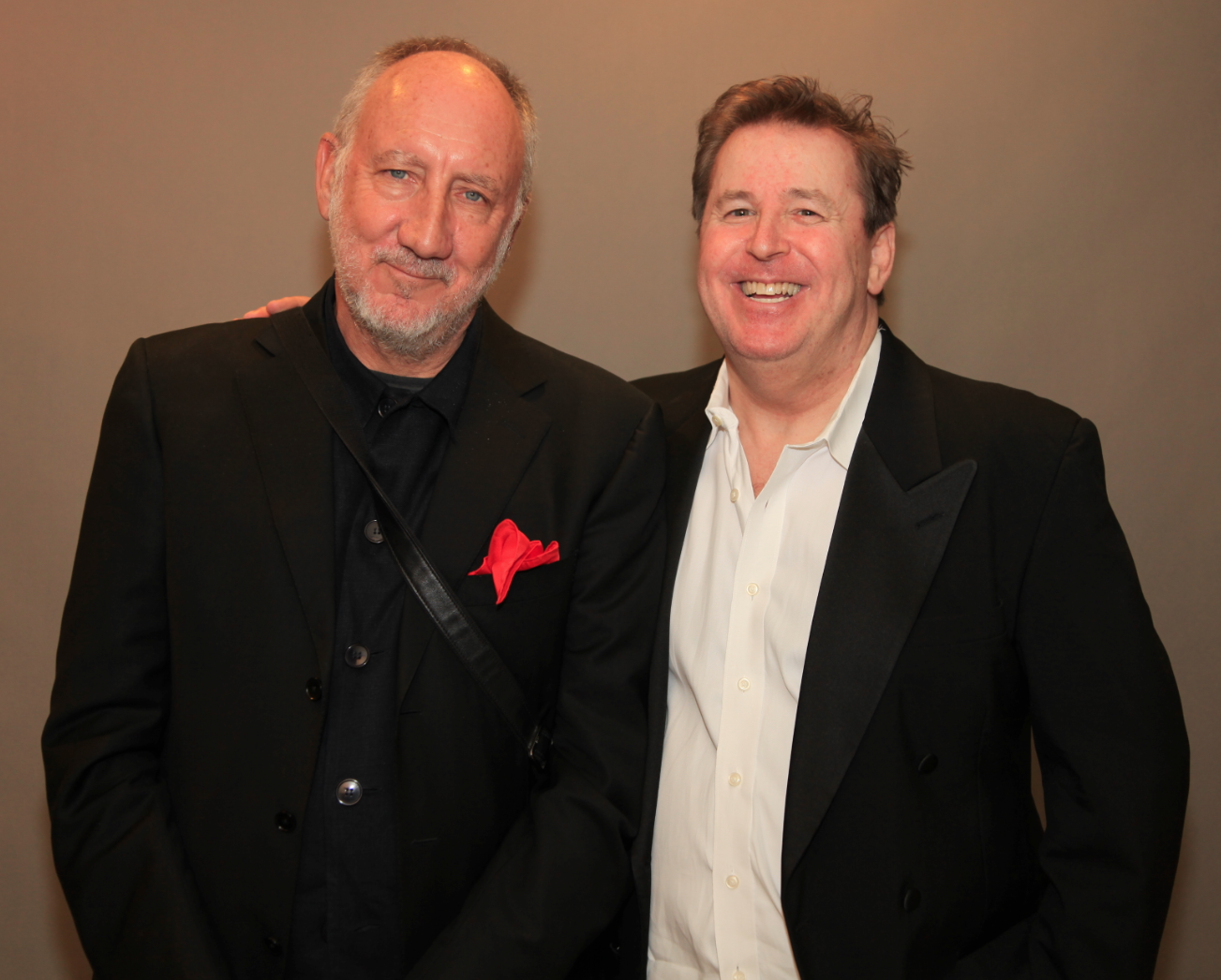 Old pals Pete Townshend and Martin Lewis
You may have heard of a few of these other guys who saluted their "fretboard-wizard" friend, as brought aboard for the evening's salute by Mr. Lewis. Alphabetically here, by band.
From The Animals -- the blues-rock band who were friendly rivals to The Who in the British Invasion era -- appeared, in person, the electrifying Eric Burdon. No stranger to Southern California (where he's lived for decades), Mr. Burdon not only found his way to Anaheim, but to the stage, where he ripped through a blistering rendition of the Who's "The Seeker," in tribute to his peer and fellow-explorer. 26-year-old Australian bass prodigy Tal Wilkenfeld (who currently plays with Jeff Beck) joined the legend to fête another legend.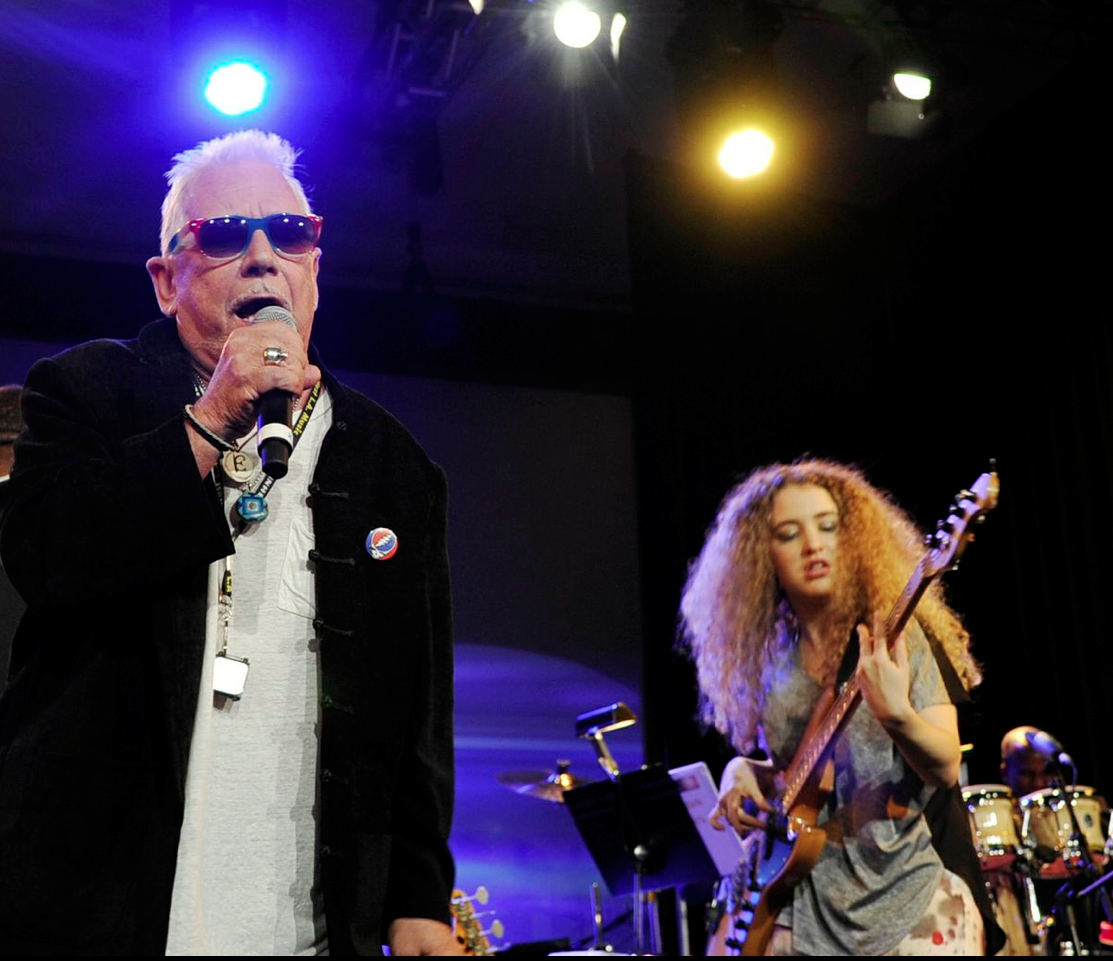 Eric Burdon -- with bassist Tal Wilkenfeld
In addition to passionately delivering Townshend's powerful 1970 paean to the quest for spiritual enlightenment to the TEC faithful, Eric has crossed cultural paths with Pete on several occasions, including efforts in a literary vein. Mr. Townshend commissioned and edited Mr. Burdon's 1986 autobiography, I Used to Be an Animal But I'm All Right Now, for British book publishers Faber & Faber. Onstage, the spry, septuagenarian former Animal proved his self-appraisal to be quite true.
(Incidentally, Burdon's just released new album 'Til Your River Runs Dry is rich, diverse, soulful and nuanced. It is, to paraphrase the man, unlikely to be misunderstood.)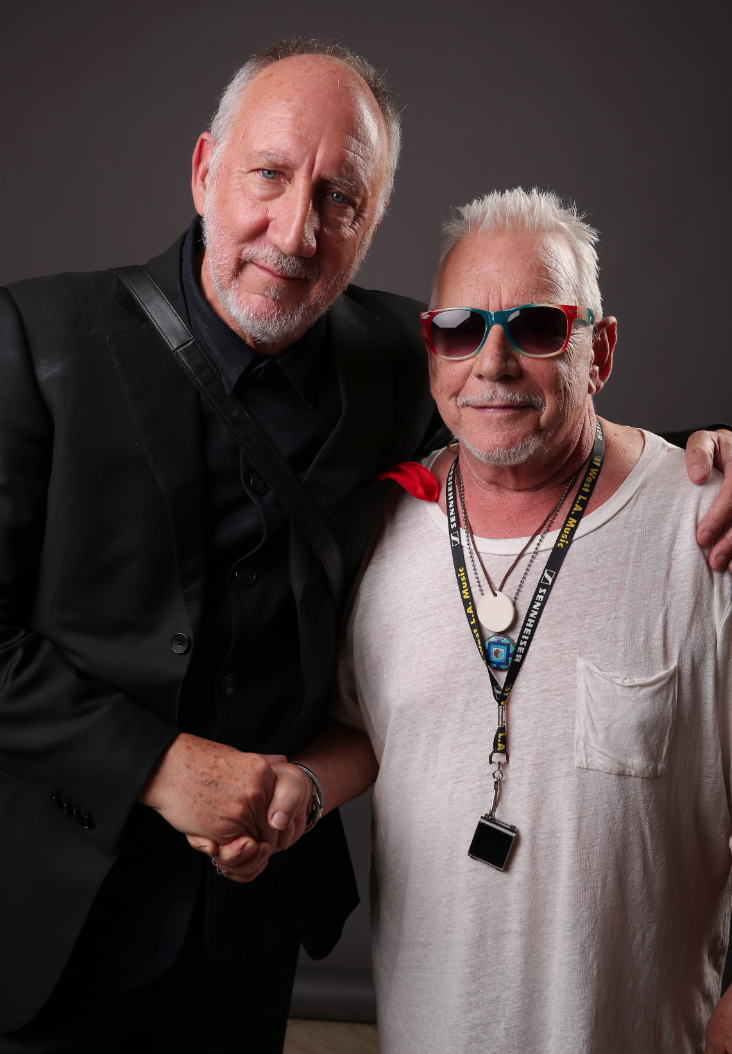 Book editor and author reunited
From The Beatles -- whom I understand to be another popular beat music combo that emerged from England in the '60s -- came puckish Paul McCartney -- well, virtually! Sir Paul was in Blighty and couldn't make the event, but did send a lovely hi-def video message, notably in which he appears to be aging backwards, having recently reached somewhere in his early 30s.
Quoth Sir Paul: "Hey, there! Hey, Pete! How ya doin'?! Listen, congratulations on getting this fabulous award, the Les Paul Award. And we all know you deserve it, because, man... we go back! And I have so many great memories of you and the band... your music... seeing you on TV doing "My Generation"... seeing you live, playing! To this day, you're just great. So, isn't it funny: I've never had a chance to really just stand opposite you and tell you. I'd probably be too embarrassed.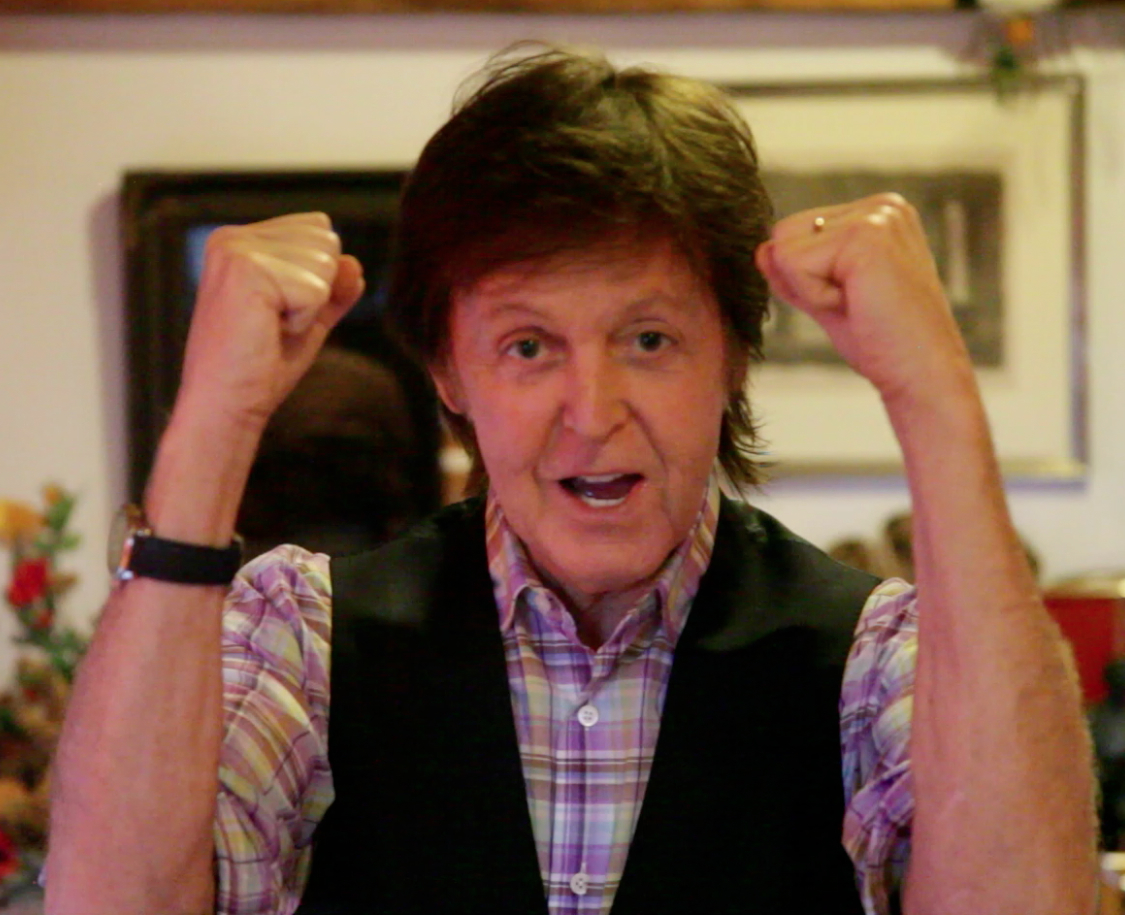 Paul McCartney seen in his video greeting to Pete Townshend
"But here's the ideal occasion for me to just say what I think everyone in the room is bound to be thinking, which is that you are just a great monster, man! The way you play that guitar...the way you write. It's fantastic! Always has been, hopefully always will be. So congratulations getting the Les Paul Award. How cool is that?! We love Les -- another great musical monster! -- we love Les, we love you, and congratulations!"
At this point, as if purposefully defying some cosmic law restricting how charming and sweet one sentient entity can become, Sir Paul blew kisses to Mr. Townshend, adding with a flourish (as only he can): "Yeah! Oh, yeah!"
And Mr. Lewis summoned one more member of the senior class of British Rock & Roll. Ladies and gentlemen, from The Rolling Stones: Sir Michael Philip Jagger! Sir Mick was also in England -- and caught in a snowstorm without access to a video crew he nonetheless penned and exported a signed missive for his old pal.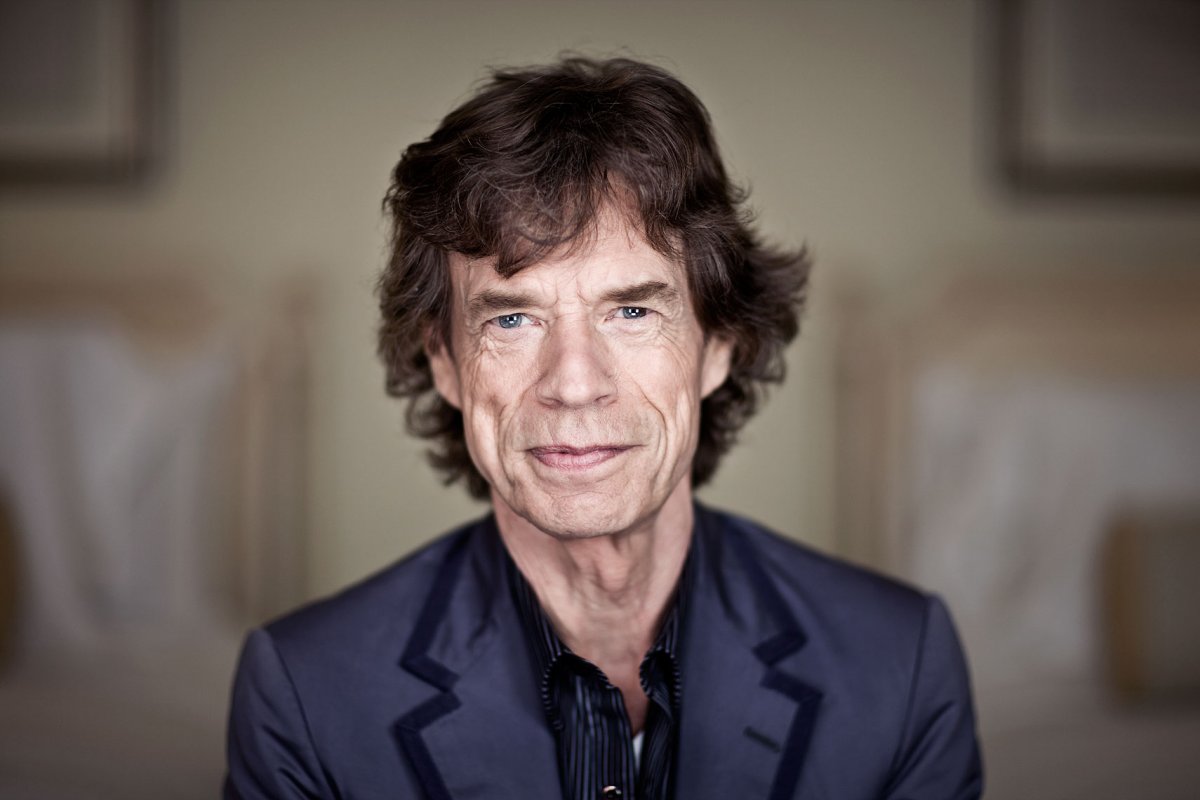 Mick Jagger [Photo © James Petrozzello]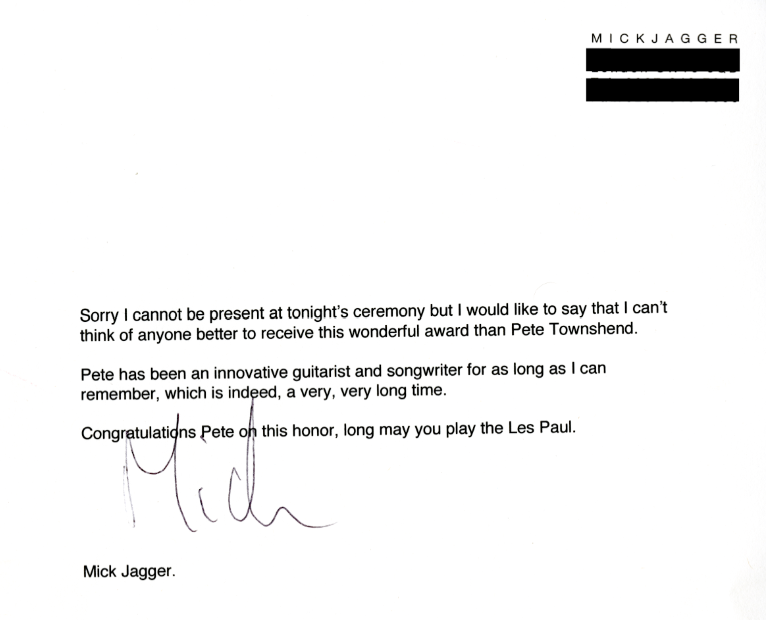 Mick Jagger's message to Pete Townshend
All this and much more, just as The Who have launched the North American leg of a very special tour, playing their 1973 masterpiece Quadrophenia in its entirety, on the brink of its 40th anniversary! (If you're a Who fan -- and if you're not, how is that possible? -- this is very good news.)
Yep: a Pete Townshend love-fest. Mr. Sebastian opened the evening by reading a passage from Townshend's recently-published autobiography, Who I Am, about himself and his back-then-girlfriend Catherine: "a stunning blonde with penetrating eyes and an amazing mouth, always smiling; she seemed too young for him." Sebastian then good-naturedly chided Townshend: "You know, Pete: she's still got the same lips, and the same eyes -- and she's still too young for me!"
Immediately there followed a career-retrospective montage of many incarnations of Pete playing with The Who ("the original Mod band" and "a true force of nature" and, hard to argue, "one of the best bands in the world") -- a dynamic reminder of his prowess. From tiny clubs in London to the Monterey Pop and Woodstock festivals in America, to becoming global icons, it's an amazing journey to behold, even in a tight awards-show edit. "If The Who were successful, it was against all fucking odds," Pete gruffly declares therein. The montage fairly explodes with Pete's continuing solo and collaborative achievements, and suddenly here we are back with The Who again, in 2013!
Brief video portrait of Pete Townshend shown during the ceremony
Spake the clip's narrator: "For his enduring work with the Who, his musical innovations at too many levels to quantify, and his generosity to benefit so many worthy causes, the TEC Foundation for Excellence in Audio is proud to present this year's Les Paul Award recipient, Pete Townshend!"
Thereafter, Mr. Lewis and Les Paul Foundation trustee Jeff Salmon took the stage, the latter being heard to say "That's when I realized, at twelve years old, that I really loved rock and roll" -- in reflection of The Who's chaotic experience opening for The Doors in Flushing Meadows' Singer Bowl in August, 1968.
Mr. Lewis is a master of public speaking. Not just at high-profile events but even at local cultural soirees. (A while back a pal invited me to attend an evening at Santa Monica High School -- where that school's orchestra was tackling the Beatles canon. And they had enlisted Mr. Lewis to emcee the concert. Lewis' observations between songs elevated what was a local school concert into a "You Are There" night of Fab Four lore.) At the TEC Awards, Martin warmly addressed his friend:
"It's now forty years, Pete, since you and I first became acquainted, and in all those forty years of friendship, nothing has given me more pleasure, and is a greater honor, than to be able to be here tonight to say a few words about you.
Mr. Lewis then presented the tributes from Mr. Townshend's peers, as noted above, and continued.
"In preparing my remarks for tonight, I was thinking about that old journalistic media cliche -- it's a completely ridiculous one -- but they always refer to the fact that when you were 20 years old, you wrote a song including the lyric, 'hope I die before I get old,' and they mention, 'Oh, what is that nonsense?' -- because here you are now approaching your 93rd birthday -- in 25 years' time! And they say, 'Oh, what did that lyric mean?' I think there's another lyric that's perhaps cause for some concern, because I don't think it does express you very well. And that was the title of your very first hit: 'I Can't Explain.'
"That's nonsense, Pete! You can explain, and you do explain, all the time! Brilliantly and wonderfully, and you have done, all your career! You've explained everything: teen angst; alienation; identity crisis; mid-life stress; relationships; struggles in the world; the socio-political nexus of pop-culture; auto-destruction." After this litany Lewis paused a beat -- and then added, much to the amusement of Townshend and the entire crowd: "and that was just in the second single!"
The speeches introducing Pete Townshend
"But seriously, you have explained yourself and your personal feelings, and you have articulated feelings that those of us who couldn't express it in song and music could do -- and that's what you've done all through your working career."
Mr. Lewis soon brought the evening to its focus: "This award is named in honor of the great Les Paul. And it recognizes in you personally some of the wonderful traits that we recognize in Les Paul: your originality as a songwriter; your creativity as a musician; your skills in the recording studio; and indeed as a producer...your work in technology, especially in advancing audio and sonic quality."
And then he got to the visionary thing: "Others had a vision of the future that was just to do with The Jetsons. Your vision of the future? In 1971 you wrote a piece wherein you envisioned the entire world joined up by computers. You called that The Grid. Now of course we call that the Internet. But what I call your vision in 1971 was visionary, and prescient!" (Whereupon this chronicler pauses to wonder if Mr. Townshend ever read his fellow Briton H.G. Wells' 1937 essay, "The World Brain." Pretty cool, either way.)
A crackerjack with a rock and roll anecdote, Mr. Lewis then recounted his intimate -- and very, very LOUD -- association with Marshall cabinet speakers at the 1969 premiere performance of The Who's rock opera, Tommy: "on Thursday, the first of May, 1969, at Ronnie Scott's Jazz Club, in Soho, in the West End of London. In attendance were 199 British music journalists -- and one 16-year-old Who fan who gate-crashed!
"The music journalists were very smart: as soon as they got inside, they went straight to the bar. The 16-year-old, not knowing what he was doing, went straight to the front of the stage, and sat down where Mr. Townshend was going to be playing, and he had this big box in front of where he was going to be, and it said: 'Marshall.'
"And the 16-year-old thought, 'Well, that's probably something from America -- Marshall aid, or something.' He had no idea what it was, and sat there for the entire 90 minutes that the whole of Tommy was played -- with full explanations what each song meant, in between -- and it was just a brilliant experience.
"Of course, that 16-year-old would tell you what he actually heard that night -- but his ears are still ringing!"
Messrs. Lewis and Salmon then welcomed Mr. Townshend to the stage. He started by joking "When I accepted this award, I had no idea what kind of event it would be... I had no idea how far Anaheim is from civilization on a Friday night!" After the quips, Townshend became serious -- expressing his deep passion for the audio technology world in which his techie audience works.
"I accepted to say one thing," declared the honoree earnestly. "When I was 17 or 18 I got a couple of tape machines at home, and in the tradition of the great, great, great Les Paul, and a couple of other people that did the same thing, I took them into my home, and I started to use these machines to write music. And from that moment on, I waited and waited and waited, and in every single idea that I ever had, every hope that I every had for a device that would do something that I wanted it to do, you fabulous people made it for me. And I want to thank you for that."
Pete Townshend's acceptance speech
Mr. Townshend relished a moment for modern mirth: "Out on the road now, with an iPad and a few bits and pieces, I'm very capable of those things as well. I just have a roadie to carry my guitars, my keyboards, my cables, my mic-stands -- and I've got it all on my iPhone!"
He closed by waxing appreciative: "Right away across the board I'm so hip to what you guys do... hip to the amount of time that you spend. And as a musician and a composer, I sincerely, sincerely, sincerely want to thank you."
Note that the TEC Awards and the Les Paul Award are no small potatoes! Past winners of the Les Paul Award include (there he is again) Sir Paul, and also such luminaries as Lindsey Buckingham, David Byrne, Peter Gabriel, Al Kooper, Steve Miller, Robbie Robertson, Bruce Springsteen, Sting, Brian Wilson, Stevie Wonder (who received his award directly from Les Paul himself!), Neil Young, and Steve Vai. It's a big deal.
And the TEC Awards -- executive-produced by TEC Foundation founders David Schwartz and Hillel Resner, and held annually during the NAMM show (the world's largest music-products trade fair) in Anaheim -- grow increasingly prestigious, including a Hall of Fame both for the world's audio innovators, but also for their innovations. Often referred to as the "backstage Grammys," and now 28 years strong, these awards recognize excellence in the professional audio world -- without which, just about everybody would go unsung!
And sing they did. The night burst into a celebration of Townshend-in-song, starting with the Who's first hit, from 1965, "I Can't Explain," delivered by 19-year-old L.A. newcomer Bree Kennedy, Kennedy was backed by the event's very capable house band The 2Cold Chilibone TEC Band under the leadership of the event's Music Director, Larry Batiste. Sitting in with the band on this song was bass player Phil Chen (originally of London's ska-soul band Jimmy James & The Vagabonds -- who supported the Who in the mid-'60s!) a noted session/stage player with Jeff Beck, Rod Stewart, The Doors and of course Pete Townshend.
Bree Kennedy sings "I Can't Explain"
Multiple-Grammy-winning guitarist Laurence Juber fingerpicked an amazing rendition of Townshend's 1971 "Won't Get Fooled Again". (Talk about intertwined history: Juber and Townshend shared a Grammy for their guitar work on Paul McCartney's "Rockestra"). After Juber's stunning solo, the indefatigable Mr. Burdon threw down "The Seeker" as aforementioned
Laurence Juber performs "Won't Get Fooled Again"
Eric Burdon sings "The Seeker"
Then came something inspired, a medley conceived by Mr. Lewis drawing together two related songs from Mr. Townshend's famously abandoned -then- revived-30-years-later project Lifehouse -- originally intended as the successor to his Tommy rock opera. L.A.-based British chanteuse Julia Fordham brought Mr. Townshend to his feet to applaud her interpretation of the coupling of "The Song Is Over" and "Pure and Easy" -- admirably arranged by Lewis and Batiste.
Julia Fordham performs "The Lifehouse Medley"
The celebration closed with a truly glorious rendition of Townshend's 1980 Top Ten solo hit, "Let My Love Open the Door," led by David Pack, formerly of Ambrosia, and featuring Burdon, Fordham and Kennedy on backing vocals and noted producer/drummer Narada Michael Walden providing thunderous drumming. And surprise-surprise! Pete Townshend leapt from table to stage and joined in on the chorus, then took a verse or two, deriving wry pleasure in the tongue-in-cheek line, "You're so lucky I'm around!" All to great cheers. Helluva night!
The grand finale: "Let My Love Open The Door" - featuring a cameo appearance by the honoree
Chatting backstage with Lewis prior to the award show, in an interview being taped for the TEC Foundation, Mr. Townshend discussed his admiration for Les Paul: "I'm not as young as I look! Les and I were working at the same time to refine studio techniques. When I was working in my home studio, I would've only known Les for his work as a guitar-designer."
Mr. Townshend went on to describe his early home multi-tracking experiences, and then brought the whole thing round to today: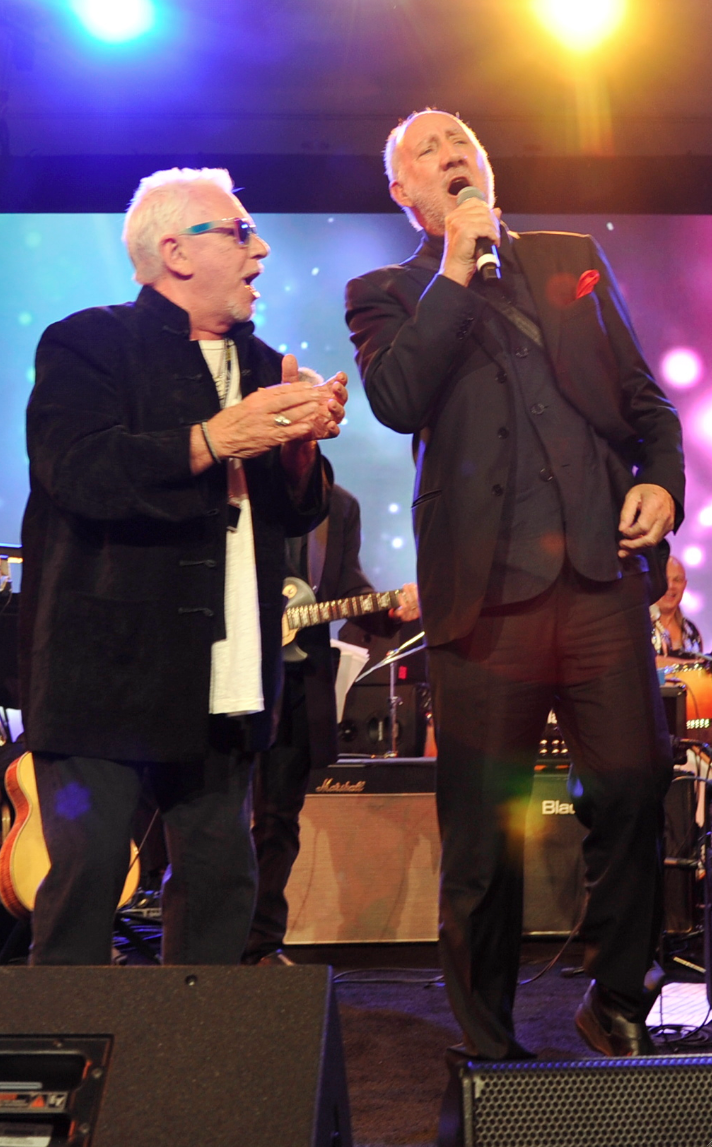 Two rock icons performing together
"For me, multi-track was an incredible leap forward. Probably the most significant leap forward was with Quadrophenia, where I was recording 8-track at home, and a lot of those 8-track backing tracks with synthesizers, many guitars, piano, keyboards, and things like that, were actually used on The Who's album. And we all have Les Paul to thank for that."
You can catch Pete Townshend and Roger Daltrey performing Quadrophenia live on The Who's 2013 tour.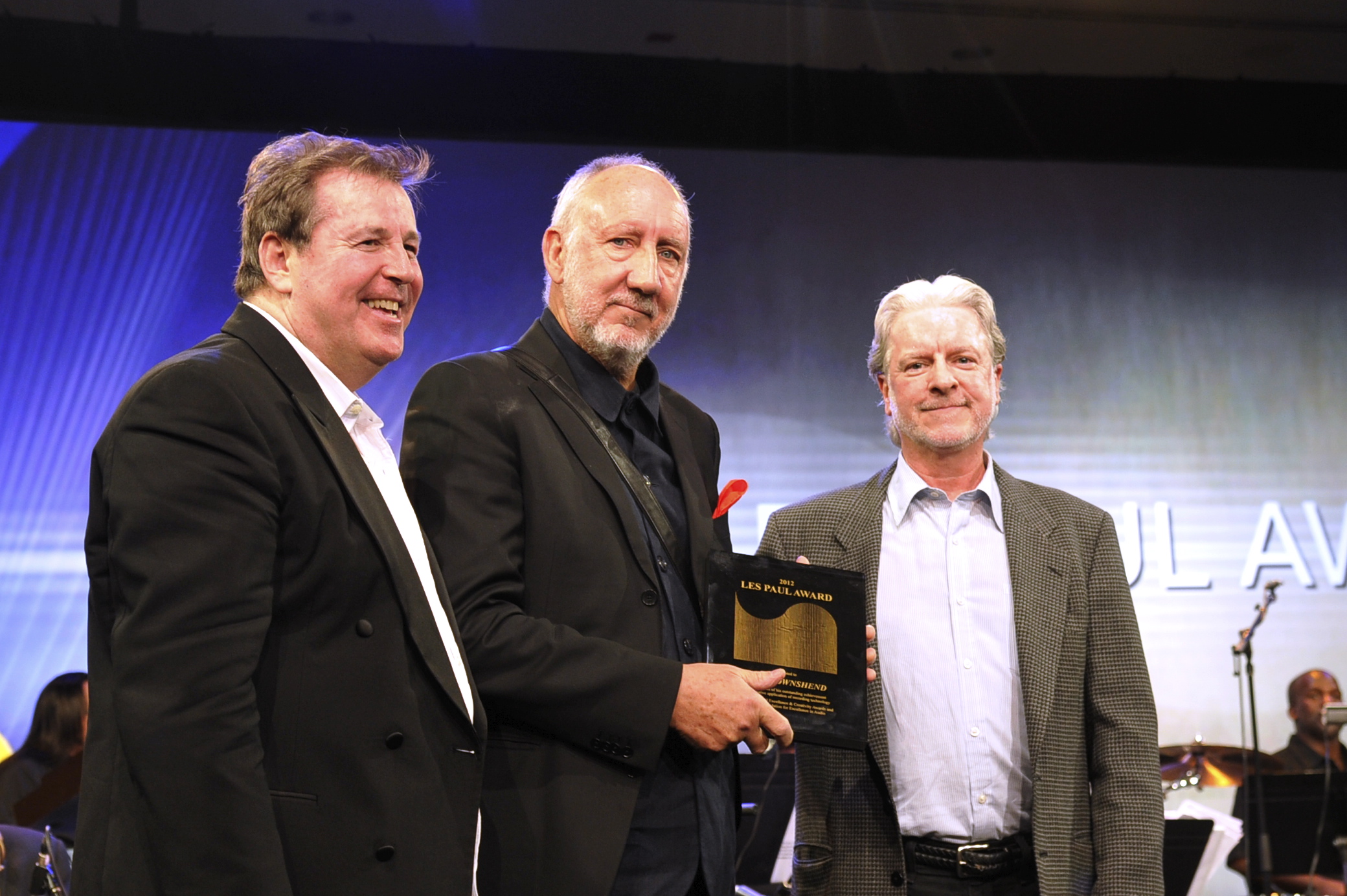 Pete Townshend with (left) Martin Lewis and (right) the Les Paul Foundation's Jeff Salmon