Okay, so I'm sitting with a legend. Nichelle Nichols is the coolest sentient being in the universe. Yep, Lieutenant Uhura from the original Star Trek. Singer, dancer, actor, author, recruiter for NASA, proud mother and, I come to learn, glorious domestic designer. Oh, and: revolutionary! Her iconic character's name well suits her: "Nyota" is "star" in Swahili, and "uhuru" (sic) is "freedom." "Star of Freedom," indeed. She walks in beauty, and wows me -- and I know I'm not alone.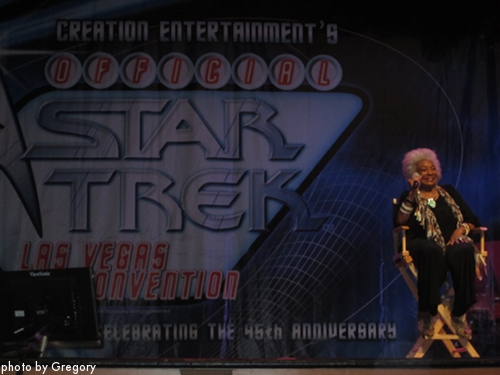 The occasion is to rave up Creation Entertainment's truly stellar Star Trek: Las Vegas convention, which commences this Thursday, August 9 (when Ms. Nichols appears), and runs through Sunday the 12th. (Links below.) Music, film, costumes, interviews, photo-ops, sci-fi gear galore. I have experienced it, and it's all "Warp 10." If you have the space-time, boldly go!
From Chicago supper clubs in the early '50s to celebrating the Mars rover Curiosity at Jet Propulsion Labs a few days ago, Nichelle scintillates. We begin where it begins: with the creators -- and the fans.
"They almost didn't buy Star Trek," Nichelle says and smiles, reflecting on confused studio executives. "They didn't like the idea of this 'science fiction' stuff: What is that? Who's gonna watch that?" She laughs. "Well, this is 40-some years later, and it's still everywhere!"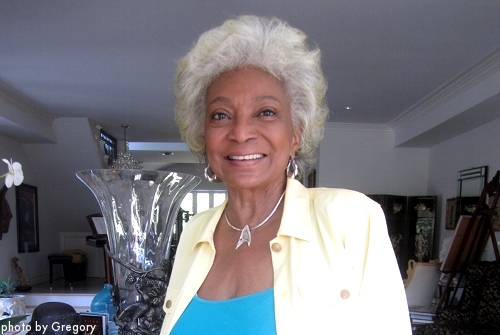 The original Star Trek lasted a mere three years ('66 to '69) and 79 episodes (albeit awesome ones). "When they cancelled that show, the fans went bananas. They decided to have a 'gathering' in New York City." She sighs at the phenomenon's humble yet hugely enthusiastic beginnings -- 1972, the Statler Hilton Hotel. "It's just grown exponentially since then." She beams about her starship Enterprise crewmates: "We all talked to each other, and said, 'Isn't that cool! Let's go!" Then came the challenge of getting Star Trek creator Gene Roddenberry, and his wife Majel Barrett, to attend: "'No that's impossible!'" Nichelle adds a jolly note of Vaudeville: "'It wouldn't hoit to ask!'"
She tells me a funny story about first meeting Gene, via her first guest-star billing, in his 1963 series, The Lieutenant. He wore a tweed overcoat and false nose, pestering her until she guessed his identity. Firm friends ever after, they made media history.
Ms. Nichols sang a song ("Gene") for Mr. Roddenberry at the 1991 grand opening of the Roddenberry Building on the Paramount lot -- I'm proud to have been there that day -- and she's very proud of Gene. "He changed the face of television, and by extension, the world. It was the first television series with an interracial cast. And as a matter of fact, it was so long ago that most people didn't have color TV, so they had it in black and white, and Paramount kept getting letters." She recalls the sleek eyeliner around her almond eyes, and grins mischievously about her days on the ship's bridge with George Takei as Sulu. "They couldn't figure out why they kept getting these letters congratulating them for having two Asians on the show!"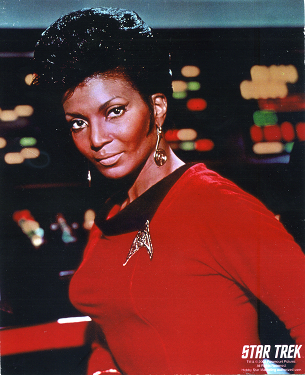 Nichelle Nichols as "the other Asian." Hilarious, but significant. Star Trek dovetailed with NASA, and, "I decided to take NASA to task, for not having women astronauts, and no people of color. So I told them they were missing out, that the next Einstein wore a skirt, or was black, or Asian. That quality didn't come in all-white." Ms. Nichols' enormous enthusiasm has blessed NASA ever since, including her tireless outreach as a recruiter -- she brought in female space pioneer Sally Ride; and Dr. Mae Jemison claims her as a major inspiration.
Although Ms. Nichols broke huge new ground on television -- a female African-American officer, fourth-in-command in 1966! -- her limited appearances on early Trek disillusioned her, and with her gorgeous four-octave-plus voice, she intended to leave for a singing career after the first year. The story of why she continued is well known, but I request the specifics.
At an NAACP fundraiser in Beverly Hills, Nichelle had just seated herself at the dais when the evening's producer approached her. "'Ms. Nichols, excuse me, but there's someone who says he's your greatest fan, and he'd like to meet you.' And I'm thinking it's somebody's young kid. I said I'd be delighted, and I turned around to get up, and I looked across the room, where walking toward me, smiling, was Dr. Martin Luther King. And I thought, whoever that little fan is, they're going to have to wait, because I want to meet Dr. King!
"And Dr. King walked over to me, and said, 'Yes, Ms. Nichols, I am your greatest fan.'" In their discussion, he praised her acting and particularly her character, "and I said, 'I thank you so much, Dr. King. I really am going to miss my co-stars.' And I never got to 'hopefully Broadway is interested in me,' and he said, 'What do you mean?' His face changed. He said, 'What are you talking about?'" And she went on to explain that the previous day she had presented Roddenberry with her notice to quit.
"And he said, 'You cannot,'" she recalls of Dr. King. Then she spices it up with an anachronistic Diff'rent Strokes reference: "And I said, 'Whatchoo talkin' 'bout, Dr. Martin Luther King?' If that expression had been out then, if that little boy had said it, I would have said it!"
Nichelle absolutely cracks up, then swiftly returns to the poignancy of the moment: "He said, 'Don't you know who you are? Don't you know what this man has given the world?' And I'm going, 'Yeah, it's a wonderful show,' and he said, 'It is not just that. While we are out there every night--" I said, 'I want to come and march with you!' He said, 'No. No! That's not what we need you for. We need you in that chair: Hailing frequencies open, Captain -- communicating with the universe! We need that picture!'"
Nichelle notes that, previously in television and film, you didn't see a black person who wasn't "acting Uncle Tom." And that, years later, when Martin Luther King Jr. came to visit her, the grown man lit up like a child at the memory of his father allowing him to stay up late to watch Star Trek, "where we could see ourselves. 'Ooh, Daddy!'" she echoes him, "'you met Lieutenant Uhura?!' The elder Dr. King said, 'We watch your show all the time, because it's proof positive of what equality looks like.'"
That Monday morning, Ms. Nichols found herself back in Roddenberry's office, he behind his big desk, smoking a cigar, she still feeling uncertain, "and I found myself saying, 'if you want me to stay, I'll be very happy to stay.' And Gene looked up at me, and he said, 'God bless Dr. Martin Luther King -- somebody knows what I'm trying to achieve.' And a tear rolled down his face." And then apparently he returned her resignation letter, which he'd already torn up. "That was a great moment in my life. A turning point. And I never looked back."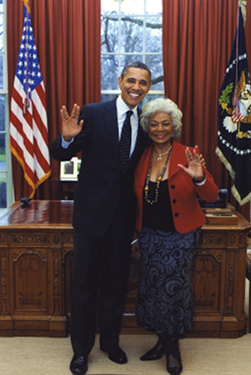 Flash forward a bit, and we see that the intersections of reality, media and politics are busier than ever. I mention Nichelle's iconic 2012 photo with President Obama, and she leaps up to show me an official 8x10. She recalls her visit to the White House (via another NASA associate, Christine Johnson) and the Oval Office: "On the other side of the room are great double-doors, and he opens those great doors, and says, 'I've had a crush on you since I was in college!' And I said, 'I had heard that, Mr. President, but the one reason I wanted to meet you so badly is to find out from you in person if that was true!'
"So here I am, taking up 10 minutes of the President's time -- which stretched into 20." She brought him a photo of herself as Uhura, complimented him in the inscription, on understanding the hard road to success, and closed it with, 'You go, Obama!' "This terrific smile came -- he's trying to be presidential, you know -- he looked at it, and read every word. Then he said, 'Will you come and take a picture with me, in front of the desk?' -- and I realized: I'm in the Oval Office with the President of the United States -- and one that I had the greatest pleasure in voting for. And I told him that I wanted to know if there's anything that I can do to assist in his reelection; because it's vital to me."
Of their shared Vulcan "Live Long and Prosper" salute, she said she was sort of "sneaking it in on the side," when the president (a Star Trek fan) noticed, and said, "Oh, no, no -- let's do this together!" Ms. Nichols says of the extremely popular image: "It's the most beautiful thing I've ever seen." Boldly go, indeed.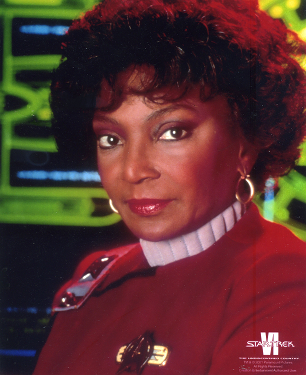 And boldly Nichelle continues to go -- she figures for at least another 50 years. Her latest project is Omaha Street, an American drama set in Atlanta, concerning an upscale African-American family whose son is accidentally killed (hit-and-run) by an abused, disadvantaged, Caucasian teen -- whom they opt to adopt, in an attempt to heal all concerned. Says producer Gilbert Bell, "It basically deals with alternative sentencing, redemption, second chances, and really finding out what love is all about." As the family copes with grief and the new boy overcomes his reluctance, a story of enormous emotional potential unfolds. The project is still assembling and seeking financing, with executive producer Nichelle to co-star as a smart, sympathetic judge who sees potential for new life in the highly complex arrangement. "There aren't any limitations," offers Ms. Nichols as a general life philosophy, "just limited thinking."
Her ace on Omaha Street is Dennis Haysbert, the popular star of the Major League movies and the TV series The Unit, whom she wants to play Jackson, the adoptive father. She's exuberant as she tells me, "At the Essence Awards I ran into Dennis, and he was walking over, smiling, and before he could speak, I grabbed him and said, 'You're my Jackson!' And he said, 'Well, I guess I don't have to introduce myself.' He's always struck me as unique. He's just a wonderful actor."
Blasting off to the Creation Star Trek: Las Vegas convention, Nichelle reveres the intelligence of Trekkers. "I have a good time with the fans, because we come from the same place, or we want to travel in that direction. And when you talk with them on that level, something wonderful happens. It's more than just a celebrity being a celebrity. I want to talk about the life we live, and what we owe it, and how we're gonna get there, and why we should!"
Photos courtesy of Nichelle Nichols unless noted.
Creation Entertainment's Star Trek: Las Vegas Convention