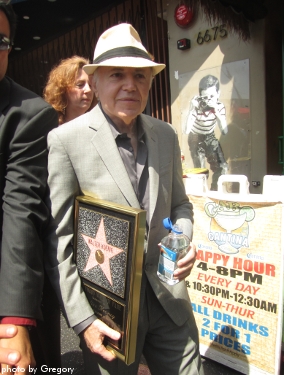 The Walter Koenig
Walter Koenig is a great man. This is my opinion, based on his many contributions to popular culture (his new graphic novel, Things to Come, is presently peaking; link below) as well as a few inspiring personal encounters over the years. But it is a shared and strong opinion, as revealed in Planet Xpo's recent three-day celebration all over L.A. and culminating in the hot heart of Hollywood, where, on Monday the 10th, to great fanfare, Mr. Koenig received his long-overdue star on Hollywood's Walk of Fame. People love Walter. He summons, let us say, hearty conviviality.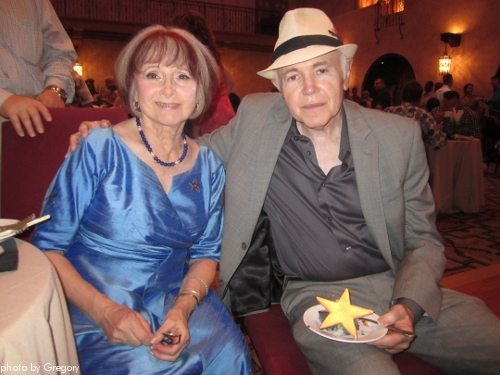 Judy & Walter: Greatness
And now it's his birthday weekend (which he's spending at Con X in Kansas City). Happy birthday and many more, Mr. Koenig!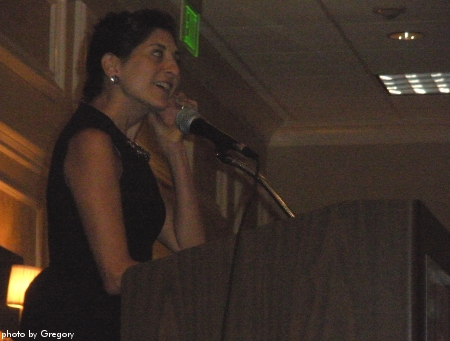 Danielle Koenig: Sooo funny!
Of course, while there is an adorable side to Walter (he notes that his mop-topped navigator character, Ensign Pavel Chekov -- no 'h' -- was added to the original Star Trek to draw in Monkees fans, i.e. '60s teenyboppers), he's an artist because he's complex. Nowhere was this more apparent than at his banquet/roast/tribute in Universal City, during which family, friends and co-creators poured out their mirthfully mixed feelings directly to the humble, beaming visage of the science-fiction legend (and good sport).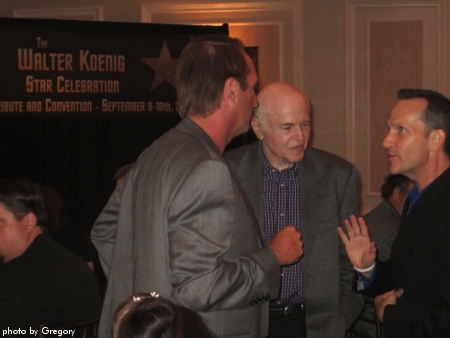 Jimmy Pardo (right): Running the show
With his wife of nearly five decades, Judy Levitt, at his side (as well as at the podium, hilariously sharing showbiz reflections of the tricky "Mr. Keening-ing-ing"), Mr. Koenig lowered shields and openly invited tactical strikes. ("I've been getting it from 80-year-olds, long before you guys got into the picture!" he laughed.) The profoundly-petulant Harlan Ellison gave Don Rickles a run for his money, informing us, "Folks, you didn't have to come here -- I had to come here," and opining, "on Star Trek you were like a fifth wheel," adding, "Walter, you know that we go back a long ways -- and I've never liked you!" -- but in truth the evening was a full-on love-fest.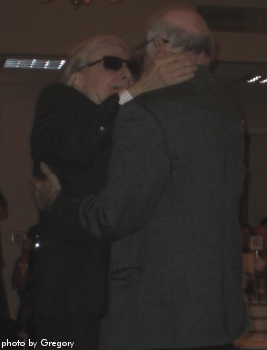 Harlan hugs Walter -- by the neck
Busy co-star Nichelle Nichols (already off to Houston for this weekend's Space City Con) shared her glorious smile and enchanting singing to raise the room to a happy height. She also diplomatically told the guest of honor, "When I met you, I knew there was something very funny about you," noting that he was smart enough to marry "the smartest woman on the planet" (Wait? He married Arianna? Hey!) -- thus bearing the great humor of "really, really wonderful offspring." Respect.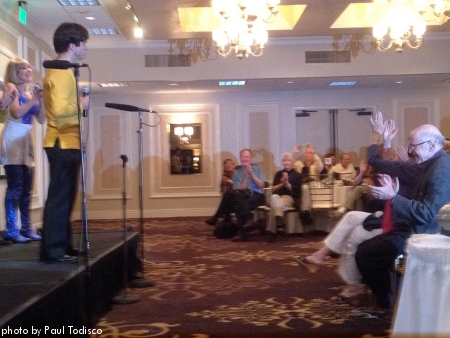 Will the real Chekov please sit down?
Indeed, everyone adored daughter Danielle Koenig, whose true tales of her dad's spicy flare-ups (say, raging at bewildered employees in a pizza joint where he didn't phone in an order) had everyone roaring. She pulled no punches in her affectionate lambasting, but simply grabbed the room and owned it. (She's sharp! Wrote for Invader Zim.) Meanwhile comedy veteran Jimmy Pardo emceed with geek-finesse (is that a term?), opening with his list of credits (currently on Team Coco) plus the kicker, "all that, plus the fact that I married Walter's daughter is why I was hand-picked to host this evening!"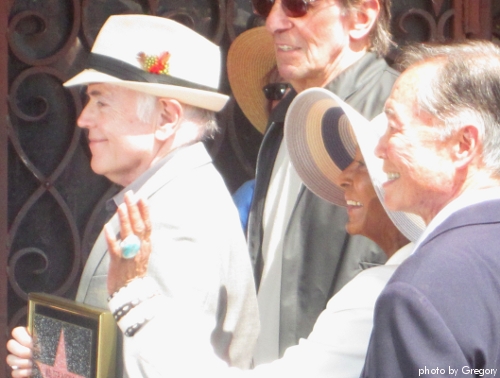 Basking in the light: Classic Trekkers!
It was a fascinating event. From story to story, Mr. Koenig morphed from an "absolutely stellar" thespian (via Tim Russ, director of unofficial-but-cool Star Trek: Of Gods and Men), to trickster-god Loki (via scholar John Kerrigan), to song-and-dance man, to purveyor of weirdness in British holy places, to ribald manipulator of other people's action figures, and, of course, to good friend.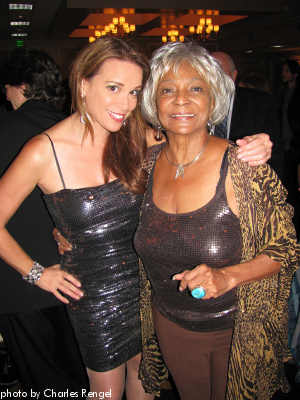 Sirens of Trek: Chase Masterson and Nichelle Nichols
Great actors like Jamie Farr, Allan Hunt, Wil Wheaton and Gary Graham stood to salute. Babylon 5's Tracy Scoggins also pretended to give it to Jerry Doyle from behind, and I have a photo but I'm awaiting offers from their respective agents.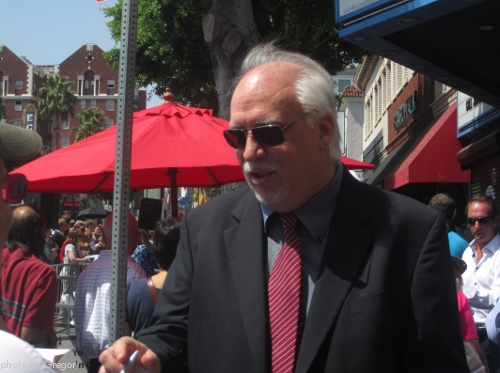 J. Michael Straczynski signs stuff
The gorgeous and effervescent Chase Masterson of Deep Space Nine also took to the mic, serenading Walter with a poignant rendition of "Pure Imagination," dedicating it by kindly explaining, "because you get it."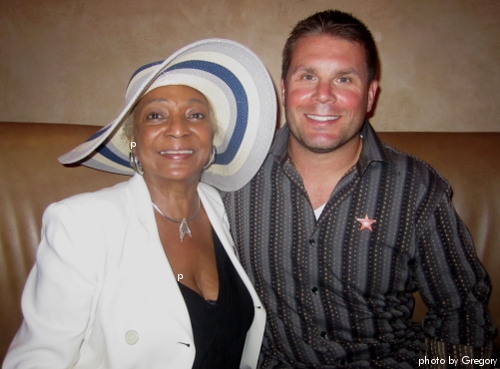 An officer, and a gentleman: Nichelle Nichols and Rod Roddenberry
On the previous day, Walter took over Hollywood's Egyptian Theatre, screening his fave Trek episode "Spectre of the Gun" (dir: Vincent McEveety) his fave Trek film Star Trek II: The Wrath of Khan (dir: Nicholas Meyer), and the amusing short "Roddenberry on Patrol" (dir: Tim Russ). I wasn't there that day. But I was there a few months back, when Walter spoke between Star Treks IV and V (dirs: Nimoy and Shatner, respectively). Here's the thing: Walter came tearing down the right-aisle stairs and hit the floor too fast, resulting in a rather stunning face-plant. I cite the incident not to mock, but to praise: That man got up, dusted himself off, and led a totally energetic Q&A for a half-full house on an otherwise dull, drizzly evening. Love him.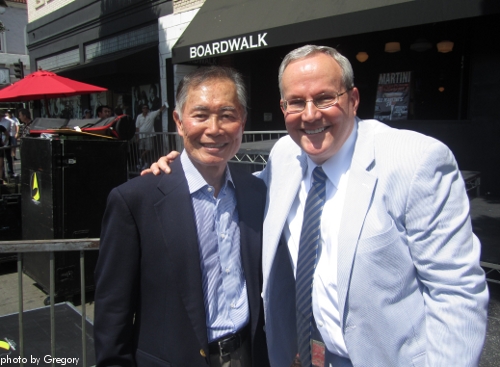 Under the Boardwalk: George Takei & Brad Altman
Conversely, hot-and-humid was the order of the day for Walter's ceremony to receive his star on the Hollywood Walk of Fame. Fans aplenty! Classic-Trek legends aplenty, too: Mr. Nimoy, Ms. Nichols, Mr. Takei, standing with their friend and crew-mate. It was awesome. Sweaty, but awesome. When you see that many happy faces, celebrating a shared pop-culture affection through an icon as affable as Mr. Koenig, you just know that the guy did a few things right. Congratulations!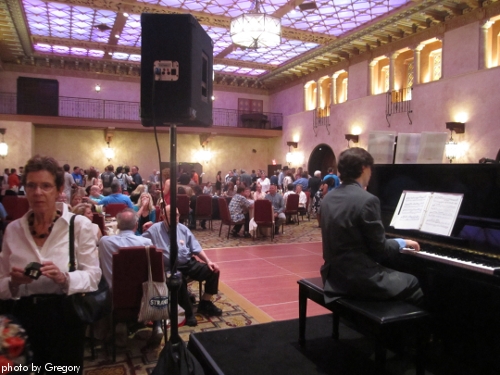 Composer-performer Deniz Cordell rocks the Trek hits
And then it was on to the reception, in the swank Roosevelt Hotel. I've been to some parties there. But this was so cool, it was like... uh, let's see, what was the last official Trek movie Walter did? Oh, right: It was like leaping into the "Nexus" or something. Total energy-ribbon! The astoundingly talented musician and composer Deniz Cordell grandly delivered terrific Trek themes at the piano (his standout was the jaunty material from Voyage Home). Then Brooke Lundy and The Hollywoodland Band wowed us with one gorgeous standard after another. On Woody Guthrie's "This Land Is Your Land," Walter got up and owned the dance floor. Soon enough Judy joined him, swaying to Billy Joel's lovely "New York State of Mind."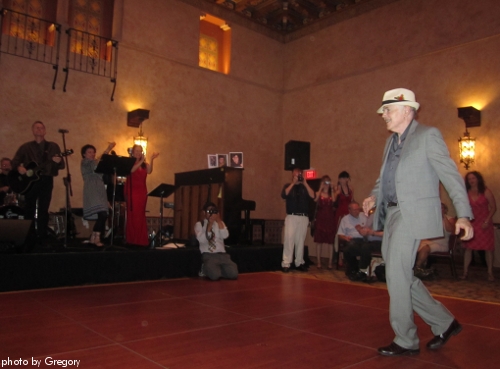 Walter tears it up!
The seven primary stars of Star Trek all have their stars now (eight if you count series creator Gene Roddenberry), and thus did the party conclude on a perfect note of achievement: a resonant cover of Queen's "We Are the Champions." Being there was at once epic and very human, grounded but soaring, and I'll never forget it. Cheers and Live Long and Prosper, Walter!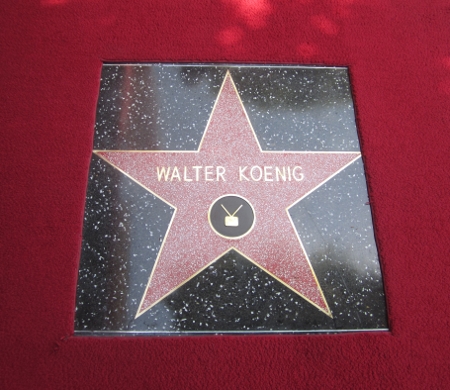 With great thanks to Sky Conway.
Walter Koenig's Things to Come