Secretary of State John Kerry has his hands more than full in dealing with multiple crises in Ukraine and Gaza at this time. But he and Secretary of Commerce Penny Pritzker traveled to India last week ostensibly for the fifth edition of the U.S.-India Strategic Dialogue. Not much has changed in the strategic positions of both countries since the last such dialogue.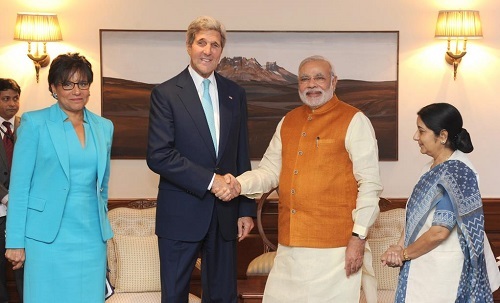 Secretary of State Kerry shakes hands with Indian Prime Minister Modi
The two real reasons for the trip are to prepare for Narendra Modi's first visit to Washington as India's Prime Minister and to accelerate U.S.-India trade. So it was no surprise that Secretary Kerry welcomed India's recently raised foreign-investment ceilings in several sectors of the Indian economy, including defense, railways, e-commerce and insurance.
When President Obama launched his National Export Initiative with the aim of doubling U.S. exports from $1 trillion, I made a prediction that U.S.-India trade would need to more than double for this to work. True enough, the bilateral trade between the two countries has increased from $20 billion to $96 billion in a decade. Last year my firm lauded Vice President Joe Biden's target of $500 billion in annual trade with India over the next five years. With the new business-friendly government in New Delhi, it seems that the Indian economy might just be able to grow quickly enough to support such a radical expansion of goods and services exchange between the world's two largest democracies.
History of Success
Boeing exports C-17 military transport aircraft and Dreamliner jets to India. General Electric sells large turbines to help generate electricity in Andhra Pradesh. The Walt Disney Company produces local and global movies for Indian audiences. My own client, Paramount Farms, grows the healthy pistachio nuts in the San Joaquin valley to satisfy the palates of middle-class Indians and provide a safe alternative to Iranian-grown products. In 2013 over 850,000 Indians visited the United States, and over 1 million Americans visited India, the largest group of foreign arrivals.
The Ford Motor Company is spending $1 billion to turn its new auto plant in Gujarat into a regional manufacturing and export hub, and both IBM and Hewlett Packard employ more than 100,00 Indians each. American brands loom large in service businesses such as hospitality and fast food, with names such as KFC, Subway, Sheraton and Hyatt hotels being prized in India.
Team America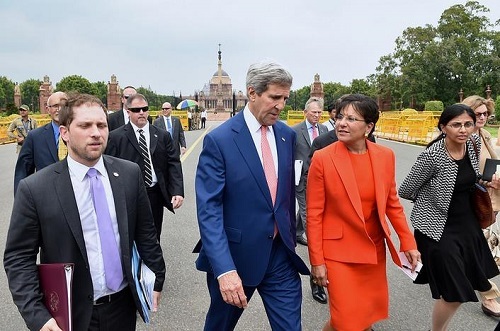 Team America in Delhi, with the presidential palace in background
Talking about Hyatt brings us back to Commerce Secretary Penny Prizker. The 55-year-old billionaire and campaign supporter of President Obama comes from the family that founded the famous hotel chain and has 20 properties in India. This Harvard and Stanford graduate also built thriving businesses in real estate and financial services before moving on to public service last year. Pritzker, not Kerry, may be the most important American visitor to the Modi government so far.
Accompanying the Commerce Secretary to India were two key Indian-American deputies:
Assistant Secretary Arun Kumar, a former member of the board of the U.S. India Business Council and a holder of an M.B.A. from the MIT Sloan School. Kumar now runs the U.S. Commercial Service, and his agency has seven posts in India -- New Delhi, Chennai, Ahmedabad, Bangalore, Hyderabad, Kolkata, and Mumbai -- which gives it the largest footprint by office count in any overseas location.
Ambassador Vinai Thummalapally who leads SelectUSA, the first-ever U.S. government effort to promote, attract, retain, and expand business investment to the United States.
Back in 1979 "Barry" Obama was a student at Occidental College, not far from where I now live. That is when he found his liking for Indian food such as dal, and perhaps his alleged lucky charm of Hanuman, the Hindu demigod. But more importantly, he acquired an Indian-American friend and roommate who would be appointed U.S. Ambassador to Belize when Obama became president of the United States.
The same Obama friend is now back in India asking Indians to invest in America. SelectUSA and Yaduvendra Mathur, Managing Director of the Export-Import Bank of India, cemented a partnership on July 30. Both organizations will work together to assist Indian companies and entrepreneurs as they seek to invest and create jobs in the United States. This is not outlandish; Indian citizens already account for 5 percent of real estate bought in America, some of it as a way to secure EB1 immigrant visas for their kin. Indian companies own the Pierre Hotel on Park Avenue in New York City, significant chunks of the Marcellus oil shale deposits in Appalachia, and a good chunk of Steven Spielberg's Dreamworks movie studios in Hollywood and are investing billions to mine iron ore from the Mesabi Range in Minnesota.
Signs of Progress
In Delhi, Pritzker said major areas where American companies can help are infrastructure, manufacturing and business investment. By infrastructure, she meant roads, power, ports, rail, airports, water and sewage, not just electric power generation. India plans to spend over $1 trillion on improving its infrastructure and seeks not only products and technology but American debt capital.
During discussions, India's Minister of Petroleum and Natural Gas, Dharmendra Pradhan, highlighted the importance of a high level of import dependence in crude oil by India and invited participation from U.S. oil and gas companies in India's exploration efforts and requested America to consider commencement of exports of American crude oil to India. The American side also offered to assist in development technology for storage of crude oil in salt caverns.
Using American nuclear energy technology from Westinghouse and possibly General Electric, there is hope that India will be able to produce 10,000 megawatts of power at Mithi Vardi in Gujarat in the west and Kowada in Andhra Pradesh in the south. India's nuclear liability law has some clauses that have caused American and French companies to hesitate in moving forward to address this huge market opportunity. America produces far more nuclear energy than any other country in the world today, and I am hopeful that this stalemate will get resolved in a reasonable time.
India's Commerce Minister Nirmala Sitharaman apprised Secretary Pritzker of India's administrative simplifications, government facilitation measures and manufacturing initiatives such as Special Economic Zones. Sitharaman also provided an overview of India's plan for 100 new smart cities to support its urbanization.
What's Next?
Secretary Kerry will get back to the current crises in Europe and the Middle East, and I don't expect much progress on the political front in the immediate future. But the commercial discussions between Pritzker's team and India's minister and bureaucrats could yield rapid and tangible progress by the time Narendra Modi sets foot in Washington next month.
It will also help if a credible high-profile U.S. ambassador to India can be appointed very soon. The short tenures of Ambassadors Tim Roemer and Nancy Powell have created the sense that the Obama administration is perhaps not as serious about India as it claims to be. (Flubs like this one by Congressman Curt Clawson at the House Foreign Affairs Committee hearing on the Kerry-Pritzker visit don't help either.) President Kennedy sent John Galbraith, and Nixon sent Daniel Patrick Moynihan. These towering figures were loved by Indians; in fact Galbraith was even awarded the Padma Vibhsuhana, India's second-highest civilian commendation.
I am hopeful that India will rise from being the U.S.'s 11th-largest trading partner to among the top seven in the next decade. This requires both governments to work diligently to reduce real and hidden trade barriers and let companies and entrepreneurs from each country interact and benefit from their counterparts.
(All photos taken from state.gov and pib.nic.in)