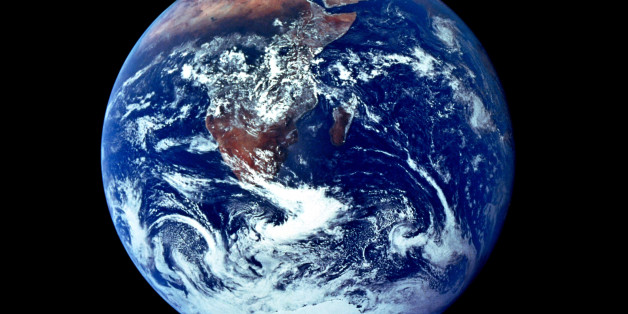 The science of climate change is robust enough to inform the world that the safe and stable planet, on which humanity has thrived for millennia, may be approaching the end of a very benign chapter in its history. It's an era that led a single species to alter global biophysical trends to the point of inaugurating Anthropocene -- the geological epoch of man.
As atmospheric greenhouse gas concentrations continue to rise at a rapid pace, known solutions have not reached the required level slow climatic disruption, bringing us ever closer to dangerous man-made climate change.
In many regions, changing rainfall patterns or melting snow and ice are impacting the availability of water; and countless terrestrial, freshwater and marine species are shifting their geographic ranges, reproductive behavior and migration patterns.
Given that landscapes are increasingly dominated by human activities, many natural paths for biogeographic accommodation are no longer available, aggravating an already serious global extinction crisis.
What's more, people everywhere are experiencing the consequences of ongoing change, ranging from more extreme events such as heat waves, droughts, floods, storms and wildfires, to reduced crop yields.
Although the global response to climate change has been slow until very recently, the crisis is now widely recognized.
This past weekend, more than 300,000 people marched in New York City, and similar events took place around the globe. As awareness of the gravity of this crisis deepens, the solutions space may also approach a tipping point triggered by the clamor from the streets. The small island state of Palau has banned commercial fisheries to maintain the ability of its coastal ecosystems to cope with climate change.
In Mexico, lawmakers have agreed to pass one of the strongest climate laws in 2012. Brazil is reining in rampant deforestation, reducing rates by 70 percent over the past 10 years. And in the developed world, the European Union's 2020 growth strategy encompasses an emission-reduction target of 20 percent below 1990 levels.
While most industrialized countries may be able to stem this challenge themselves, the developing world has frequently raised its voice on their need for financial support to implement low-carbon development models to avoid additional sources of greenhouse gases.
The Global Environment Facility (GEF) has been committed to this agenda. According to The Economist, GEF investments have already reduced global emissions by 2.3 billion tons of carbon dioxide equivalent, an amount similar to emissions released by U.S. power plants in 2010.
However, this is clearly not enough. The early wins and local solutions need to be scaled up. The GEF has therefore decided on a brand new strategy. Now we focus on the drivers of climate degradation, and we will help developing countries become part of global solution to climate change and other worldwide environmental issues.
To expand our impact, we will strengthen our collaboration with partner entities such as the World Bank's Climate Investment Funds and the recently established Green Climate Fund, following Ban Ki-moon's leadership to increase the volume, effectiveness and reach of climate finance.
UN Secretary General Ban Ki-moon will convene more than 100 Heads of State and other world leaders in New York City to develop a concrete climate action plan. GEF's commitment to international action is also being announced in New York. It includes promoting renewable energy, energy efficiency, sustainable land and forest management, ocean health and sustainable cities, as well as reducing short-lived climate forcers and removing deforestation from the global commodity supply chains.
Twenty-two years ago I attended a landmark gathering in Rio de Janeiro -- the Earth Summit -- which would be witness to the emergence of a whole new brand of ethics for the planet and set in motion actions that have forever changed the way we think about our responsibility to the Earth, to our fellow citizens and future generations.
I am still able to feel that thrill today. UN Secretary-General Ban Ki-moon's Climate Summit can become another very important stepping stone in the path of commitments, moving us ever closer to a more sustainable future.