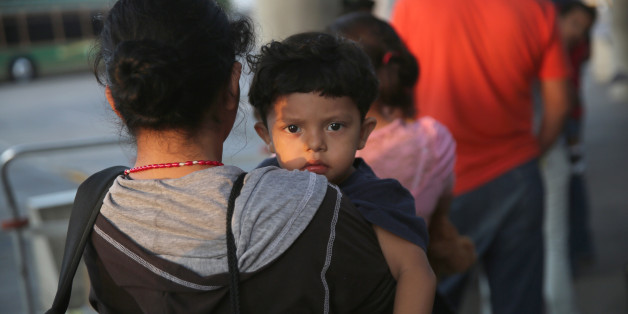 As a Mexican immigrant to the U.S., raised in the border town of Ciudad Juarez, I grew up witnessing the lure of America. As a father, I can understand the desperation that would compel a parent to risk his child's life for the promise of a better future.

Yet I am appalled and heartsick that 57,000 children have migrated with no parent or guardian, apprehended at the U.S. border since last October. Statistics surrounding this crisis are staggering. The number of minors crossing without a parent or a guardian has tripled in the last year. There has been a 117 percent increase in children 12 and younger crossing the border alone and a 140 percent increase in the number of girls making the journey. While public debate has centered on immigration, what hasn't been as much in the news -- and should be -- is the deep and intractable humanitarian crisis raging in the communities that most of these children have left behind and what can be done about it.

According to the 2013 United Nations Office for Drugs and Crime, Honduras tops the list of the most dangerous countries in the world, with a homicide rate of 90 per 100,000 residents. El Salvador has a rate of 41 and Guatemala follows with 39. By contrast, Russia is at 9.2 (in Eastern Europe), Mexico is 21 and the U.S. homicide rate is under five.

The sky-high murder rates are just one sign of the structural violence and complex social and economic challenges in the region. Another is joblessness. The World Bank reports that in the Central American countries of Honduras, El Salvador, and Guatemala, nearly one quarter of youth aged 15 to 19 are neither studying nor working. In Honduras, student dropout rates are alarming. Less than a third complete 9th grade.

Other social factors are also at play. Honduras and Guatemala are in the top four countries in the Western hemisphere with the highest teen pregnancy rates, which have shown little to no improvement in the last decade. Half of all Honduran families are single-parent families.

And there is the deeply entrenched problem of widespread extortion -- gang members and criminals threatening businesses for cash or equipment. The InSight Crime news portal reports that approximately 17,500 small businesses closed in Honduras during 2012 due to extortion, affecting the livelihoods of over 25,000 families.

Data can hardly depict what life is like in some communities. People learn to carry on but fear can be sensed in the air. Poverty is widespread and prospects are bleak due to the lack of employment, education, and basic services. But fear and crime are not found only in marginalized or poor communities. In Honduras, most everyone has a story about crime or violence, and victims range from desperate mothers visiting "Los Bordos" (riverfront slums) in San Pedro Sula to affluent families in Tegucigalpa.

Given these conditions, it is perhaps not surprising that families are willing to subject their children to a dangerous journey north for even a vague promise of a safer and more prosperous future. At home, many see daily violence, fear, and uncertainty.

To mitigate the influx of child migrants from Central America, we need to find ways to help improve conditions in the communities that are home to these families. The U.S. government, through its Agency for International Development (USAID), already funds numerous initiatives, from crime prevention and drug enforcement to community and youth development. These programs are making a difference.

The METAS project in Honduras is one example. Run by the U.S. nonprofit EDC and local partners, METAS provides alternative basic education, life skills, and labor competencies to 45,000 at-risk youth in La Ceiba, Tegucigalpa, and the cities of the Sula Valley. The goal is to build up resilience and assets in youth that can enhance their job opportunities and their role in society. Participants report gaining valuable work experience, and more than 80 percent of businesses say they would hire METAS-certified youth. Other U.S. government-supported programs are promoting violence prevention and community-based policing initiatives in Guatemala, and job creation through strengthening of micro and small enterprises in El Salvador.

Such programs are working and should be expanded. The cost is but a fraction of what President Obama recently requested of Congress to address the humanitarian crisis at the U.S. border. And these programs address the child migration problem at its roots by improving lives and mitigating the most pressing reasons to flee. Growing up amid daily danger and violence, I understand why families would send their children away. But it makes more sense to help give children a better life in the homes and communities where they live.