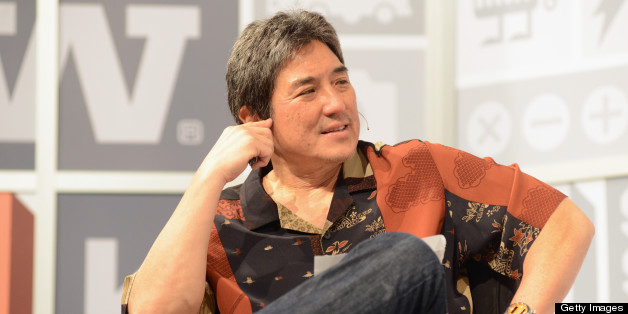 This post is part of the Global Mom Relay. Every time you share this blog, $5 will go to women and girls around the world. Scroll to the bottom to find out more.
Guy Kawasaki is a renowned author, speaker, technology advisor, entrepreneur, publisher and venture investor -- and a father of four. We caught up for a father-to-father conversation on parenting in a changing world. With his trademark frankness, Kawasaki shares a few key insights.
Caleb Tiller: What is the best advice your mother ever gave you?
Guy Kawasaki: My mother taught me not to take any crap from anyone and to stand up for my rights. You might not believe this lesson came from a tiny Japanese woman, but it's true.
What kind of world do you want your kids to inherit?
I would like my kids to inherit a world where people succeed because of merit and hard work, not entitlement, and where people accept others for what they are and not try to change them.
In what ways do you hope your kids' lives will be different from yours?
A simple summary of my life is that my parents worked very hard so that I could have a great education, and I took that education and worked very hard to get where I am. I would like my kids' lives to be exactly the same.
What kind of encouragement/support/advice did you receive as a boy that prepared you for your life?
As I said, my mother taught me not to take any crap. My father taught me the concept of noblesse oblige -- the idea that with opportunity comes obligation and responsibility. Both of them emphasized education and hard work. This was great preparation for life. There is nothing more I wish my parents would have provided me than what they did.
What have you learned from your kids?
What I learned from my kids is that the greatest joy in life is not from material trappings, power, or visibility. The greatest joy comes from your kids. Nothing is even close to my kids in terms of bringing me joy.
What would you like every child to have a shot at?
I hope that every child has a shot at having or adopting children, starting a business, and writing a book. I am so fortunate as to have done all three.
How has the tech advances over the last 20 years changed about how we think about the world?
Tech advances have democratized information. You no longer need to be a pope, king, or pharaoh to obtain information. Knowledge wants to be set free, and technology has fostered this change -- from Gutenberg to desktop publishing to the Internet. I adore this trend.
Share Guy's post forward to unlock a shot at life, and education and hard work, for another child.
Each time you share this Global Mom Relay piece on Facebook, Twitter, or Email via Huffington Post's sharing icons above, or through clicking on the above graphic, or donate $5 or more, a $5 donation (up to $500,000) will be donated by Johnson & Johnson and the Bill & Melinda Gates Foundation to Shot@Life.
$5 protects a child from polio and measles for his/her lifetime. Funds go to WHO, UNICEF and the GAVI Alliance who distribute them to the programs and countries with the greatest need at the time. Join us by sharing it forward and unlock the potential for women and children around the globe. For more information, visitwww.unfoundation.org/globalmomrelay. The United Nations Foundation, Johnson & Johnson, BabyCenter, The Huffington Post, and the Bill & Melinda Gates Foundation created the Global Mom Relay, a first-of-its-kind virtual relay with a goal of improving the lives of women and children around the globe.