Yesterday marked two significant milestones for me. It was three months to the day since we had to put Homer to sleep. It was also the day when Homer's Facebook page reached 100,000 "likes."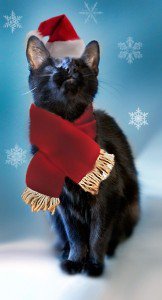 I started Homer's Facebook page three years ago, during the summer of 2010. At the time, it seemed a bit odd to have a Facebook page for a cat at all (although it seems decidedly less odd now). In the time between when I started Homer's Facebook page and when he died, it acquired around 14,000 likes and followers. This always struck me as a healthy following, and I grew to love and rely on the community of rescuers and Good Samaritans that sprang up around us. Homer may not have been the "sexiest" cat on the interwebs (he was no Grumpy Cat, after all), but the people who came to us were about something. Of course we shared more than our share of adorable kitty pics. Who among us can resist them? But we also helped facilitate the adoption of dozens of special-needs animals whose rescuers needed a bit of help in getting the word out and finding them loving forever homes. Our 14,000 online friends were a veritable army of good, not just saving lives but changing them for the better.
I always knew -- or thought I knew -- that when Homer died, his page would die with him. It was inexpressibly painful to think about losing both Homer and my community at the same time. But it seemed like a problem without a solution, and so whenever the thought came up, I'd push it to the back of my mind where we keep the things we never wanted to think about in the first place.
It wasn't the first time I'd underestimated Homer, and all the things a little blind cat could be capable of. But it would be the last.
Since Homer's passing, his Facebook community has swelled at an astonishing rate. At first, people came to offer their condolences and to tell us about the special-needs animals Homer had inspired them to adopt into their own homes. There were thousands -- thousands! -- of these people. Then more people came to share pictures and stories about the four-legged best friends who had enriched their own lives. They came, as they had come before, to ask for help in finding a home for a cat or dog in particularly dire straits, but they came in greater numbers than before -- and the number of people willing and ready to help them with foster care, transportation, and donations, grew to match.
Homer's Facebook page used to reach around 50,000 people a week. Now it reaches more than two million and counting. Many of these people probably never heard of Homer or knew who he was. It doesn't matter. They come for better reasons than the draw of a "famous kitty." They come to offer advice, to share funny and touching photos and stories, to grieve with the members of our community coping with the recent loss of a furry companion, to rejoice with those who've brought a new companion home.
And, most importantly, they come to help. They come because they know that when you help animals, you help people, too. They come to do both.
Many of the people who've come to Homer's page since he died have asked me to create something with a picture of Homer on it -- a poster, a mousepad, a tote bag -- that would allow them to keep a small piece of Homer's spirit with them. My husband and I aren't really up for jumping into the merchandising business.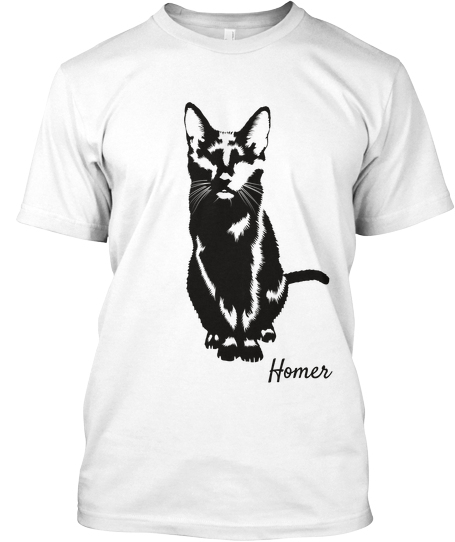 But, with the help of a wonderful print-on-demand t-shirt company called Teespring, we've created these limited-edition t-shirts with Homer's image. They're only available through December 4th, and 20 percent of the proceeds from the shirts will go to the International Fund for Animal Welfare, to aid the thousands of animals left injured and homeless in the Philippines after Typhoon Haiyan. They're available in a variety of sizes and colors -- and, again, this is something we're doing just for the holidays. They won't be around for long.
I often see people on Homer's Facebook page lamenting all the cruelty in the world -- to animals and people both -- and wishing that people could be as kind to each other as the animals we love are to us. I understand where they're coming from. When all the news on TV or online is bad, it's easy to believe that that's all there is.
But acts of destruction and abuse make the news because they're sudden, and shocking, and violent. They appall us with their swiftness and the pain they leave in their wake.
Acts of creation, on the other hand, happen slowly, over longer periods of time. They happen in quiet, out-of-the-way places where news cameras never go. They happen gently. Sometimes, it's easy to forget that they're happening at all.
I'm extraordinarily lucky, because I get to see -- every single day -- the good in people, and people doing good. I get to know for a fact that the kind acts not only outnumber the cruel ones, but that they're stronger and more lasting as well. I hear from hundreds of people who don't necessarily hear from each other, and who perhaps will never know that they, themselves, are the reason why there will always be more good in the world than bad.
I get to see these things because of Homer. As we head toward Thanksgiving and the holiday season, I remain thankful for the little blind cat who let me see -- and for all the good that he left behind him.