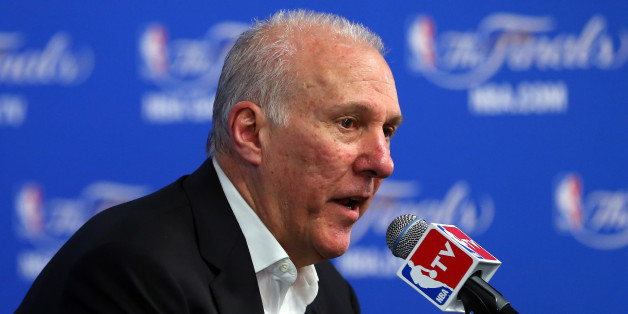 "...those numbers of individuals who are coming across the border and when you think about the idea that some of them are from countries that have substantial terrorist ties whether it's Pakistan, Afghanistan, or Syria we are at historic record highs with individuals being apprehended from those countries. We say that it's time to secure the border."
-Rick Perry ineloquently talking about children coming to Murrica
"It's a family here. It's just geometric, and it creates a mixed culture that we've all enjoyed tremendously."
-Gregg Popovich talking succinctly on recruiting foreign talent
Somebody PLEASE nominate San Antonio Spurs Gregg Popovich for governor of Texas.
No, seriously. This isn't just blogger hyperbole. I mean, I definitely do the blogger hyperbole; this just isn't it.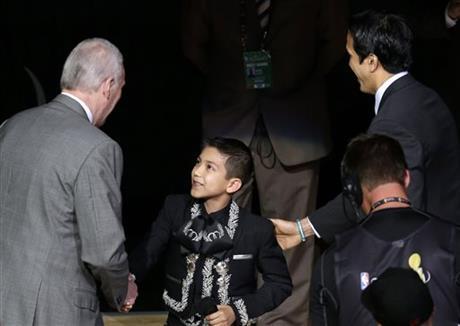 Put simply, no one brings people together and creates the best product better than Pop. No, Pop has this amazing ability of bringing very undervalued pieces together to create winning teams; whereas some people (e.g. Perry, Sean Hannity and their ilk) see outsiders as threats, Pop sees promise and potential. He embraces how a different individual perspective and/or skillset that ultimately will improve the collective; his 2013-2014 roster is comprised of players from ten different countries. He extracts the very best and hard work out of these players, Ninja Juice-style -- and gets an amazing and effective elixir.
The exact opposite of Rick Perry.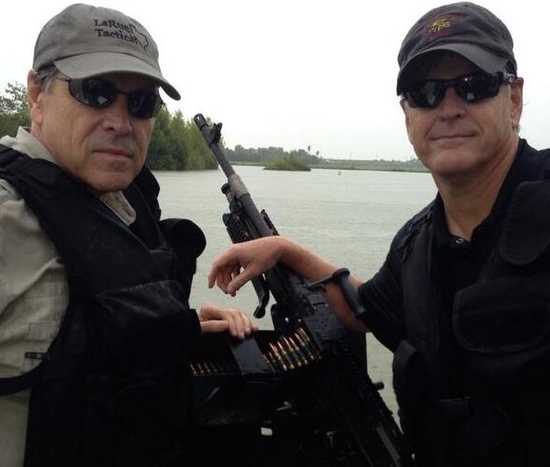 Oh yeah, Pop doesn't do it for effect -- no political correctness here. He does it for results. Five times NBA champs. Three times coach of the year. Six time Western Conference champions.
Diversity wins. The United States, before the current wave of xenophobia and racism that uses brown-skinned, indigenous children as the scapegoat for US-racial purity, used to know that. On a strictly economic level, we NEED these migrant workers -- for Rick Perry's Social Security, for a younger work force to (honestly) do the jobs that current Americans simply won't do. Sounds messed up, I know, but it's true -- just like the reason Pop prefers foreign players because of their lack of ego and commitment to a team, foreign workers are willing to do dirty jobs that American workers will not do.
That is empirical -- Americans are not competing for jobs with immigrant workers. That is a matter of fact, not argument.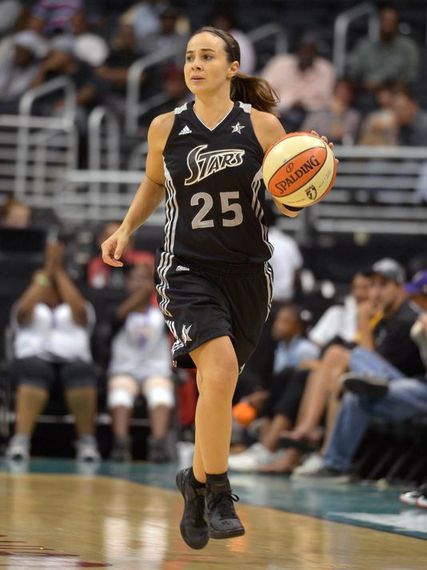 As if his record of inclusion and diversity didn't already speak for itself, Pop and the San Antonio Spurs recently crossed the GENDER LINE, hiring WNBA star Becky Hammon as an assistant coach. She is currently a member of the San Antonio Stars (but she's retiring from playing at the conclusion of this season) and she brings another perspective from a proven winner who most people simply don't pay attention to. She is not the first to woman in the NBA, but she is the first woman who is in a paid, full-time position. Imagine that -- women can coach men. Men have been coaching women for decades; why not? She's good. She's tough and knowledgeable. She happens to be from a demographic that wasn't deemed worthy to include in men's sports.
That's why it's a big deal, just like Pop's immigration policy. I'm guessing that Pop proves that this move will pay off big time for the Spurs as well.
Perry encourages fear. He encourages suspicion -- implying that the people moving across the border are terrorists. That's bad. Whereas Pop, when Sebastian de la Cruz was bombarded with racist statements because of his Mexican ancestry, for singing the national anthem, responded with: "There's still a significant element of bigotry and racism in our nation, I'm not surprised. It still plagues us, obviously. And what I was surprised by was how proud these idiots were of their ignorance..."
Brilliant.
Rick Perry has better hair. His jaw is more pronounced (Pop has a bit of a mushy jaw) and is marginally better at interviews (still, perhaps Perry could learn from Pop's monosyllabic responses to keep his foot out of his mouth). But for these two leaders from the Lone Star state, there's no question who gets better results.
Vote for Pop and he'll make all your dreams come true.
Gyasi Ross is a father, an author and an attorney. He grew up on both the Blackfeet and Suquamish Indian Reservations and continues to work and live within his community. He is the author of two books, How To Say I Love You In Indian and Don't Know Much About Indians (but i wrote a book about us anyways), both available at www.cutbankcreekpress.com. He also writes his own column for Indian Country Today Media Network called "The Thing About Skins."