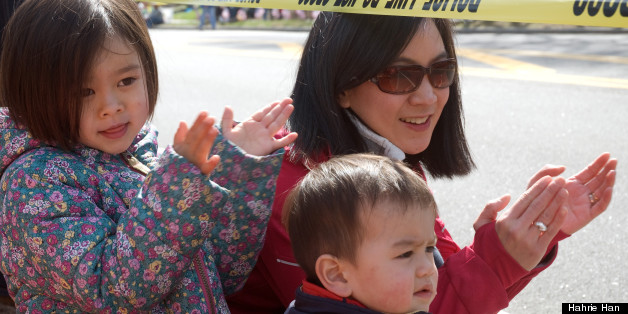 This has been a hard week. The bombing at the Boston Marathon, the chemical explosion in Texas, the poisoned letters and the failure of our elected officials to take action on gun control have reminded us of how vulnerable we really are. "I'm tired of being scared," one of my students at Wellesley College said in class yesterday. My online news feeds alternate between outrage, hope and the occasional picture of someone's dinner as people try to make meaning, find purpose and reconstruct daily life in the midst of all this tragedy.
My heartache is magnified by the fact that next Thursday, April 25th, is the three-year memorial of the day our middle child, Kaeson, died at birth. I had carried him with me for over 38 weeks. But then he died, unexpectedly, for reasons that remain unknown despite a battery of invasive investigations of his body and mine. I will never forget the moment the doctor said those halting words: "Your. Baby. Has..." I see that moment as a movie reel running in my head, the doctor looking gravely at me in the audience. I try to hit pause before she says the last word, but no matter how hard I hold my finger on the button, the movie always continues. "...Died." And then the screen shatters, leaving only blackness behind.
In that moment, I did not know if I would find my way out of the darkness. As a parent, how can I go on after learning that my very best efforts are not enough to protect my children from the worst kind of harm? My first instinct was to take my husband and then 2-year old daughter Kaya into a cave where we would be safe from harm. Such caves, it turns out, are hard to find, and neither my husband nor my daughter liked the idea much anyway.
So, I had to do the hard work of learning not to fear or ignore our vulnerability, but to embrace it instead. I had to find a way to love life again, even in the face of inexplicable tragedy.
Having a persistent almost-3-year-old helped. While other people seemed afraid to talk to me or unsure of what to say, Kaya treated me like she always did: clamoring for attention, telling me nonsensical stories ("I think Kaeson was watching me in the bathroom today, and he saw my butt"), asking me the hard questions about her brother no one else dared to ask ("Who made Kaeson die, Mommy?"). After returning from the hospital, I could not leave the house for a couple of days, unable to face the searching eyes of people I knew or the oblivious eyes of those I did not. The first time I went out was to go to Kaya's preschool because she wanted me to see a picture she drew. So I went, avoiding eye contact with everyone around me so that I could marvel at her artwork without crying.
I faced life again because my daughter demanded my love, and I did not want to let her down. Her demands were simple, pure and unencumbered by forethought of the future. I still grieve my son, and grieve the innocence I had before April 25, 2010, when life felt safer, more predictable. But I am grateful for the wisdom this experience has given me, the wisdom of knowing what is at stake even as I recognize how fragile it all is.
So this week, all I know to do is to demand people's love. When my students tell me they are scared, I cannot answer all of their questions about how we will confront the monumental challenges we face or bridge the yawning gaps that divide us. What I can do is demand that they love -- themselves, each other, and others we do not know. Everyone needs a Kaya.
Before the hospital took Kaeson away from me, I felt a desperate urge to absorb his entire body, for I knew I could never touch him again. I needed to feel his naked skin against my own, to nestle my face into the gentle curve of his back. I have no idea what kind of person he would have been and I never heard him speak. Yet I loved him, instinctively and unequivocally, simply because he existed. In that moment, I learned that what we share as humans is love.