Last week the internet exploded with the announcement that Playboy had re-invented its party school list to create the 2013 "Top Ten Party Commandments: The Ultimate Guide to a Consensual Good Time". As has been reported by Huffpo and other media outlets, the commandments were an elaborate hoax plotted to promote consent on college campuses. As the prank played out all over social media, the internet gave Playboy's new consent-themed look an enthusiastic thumbs up!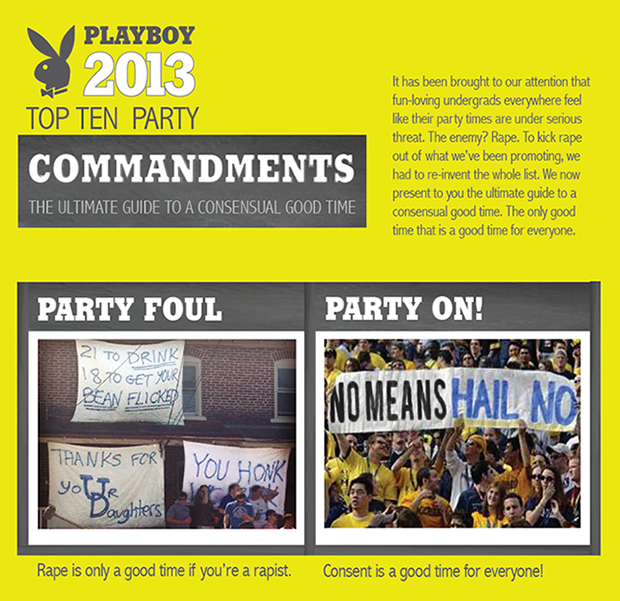 Although Playboy has been publicly silent to the consent-themed hack, today, the publication released its regular Top Ten Party School List.
How does the 2013 Top Ten Party School List compare to the Top Ten Party Commandments?
On Playboy's guide to campus life, "females" are listed as campus perks alongside scenery and food.
"It doesn't hurt that the girls are a beautiful as the surrounding wilderness. Roll one and relax."
"As the Athens locals say, if you love Southern women, and the food and football to boot, raise a glass!"
When Alexa Schwartz from University of Southern California's Student Coalition Against Rape saw the list she had this response:
"Playboy ranked USC #4 and described it as an 'elite college in a dicey neighborhood BUT the women look like models and LA luxuries abound!'
Publications like Playboy are always quick to mention that USC is in a 'dicey neighborhood,' but what isn't talked about is the prevalence of student-on-student sex crimes on the campus itself. Playboy objectifies my peers and me as if to contrast our 'dicey neighborhood.' USC women aren't LA luxuries. We are people! People who attend college! No matter what a woman looks like, she is not a commodity to list alongside nightlife attractions."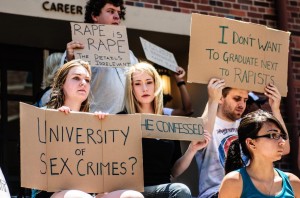 In 2013, college women should not have to remind us that they are human.
In contrast to Playboy's list, college students praised the fake Top Ten Party Commandments at partywithplayboy.com stating, "Thank you so much for promoting consent. I want to go to college to worry about my developing my career, not to worry about getting raped."

Its not that its wrong for women to be sexual. The question is, "for whom?". In Playboy's pages that offer up "hot female students" like sports and bars, what those women want is eerily absent. When women's own sexual pleasure is not part of the equation we create a sexual culture that is ripe for rape. We need to reject the model of sex that is good for everyone except women. We need to adopt a new model of sex that is good for everyone, except rapists.
The list never explicitly encourages rape. But celebrating a school like USC that is currently famous for an epidemic of sexual assault against female students, and comparing those same female students to commodities and leisure activities certainly creates a culture that condones and encourages rape. It creates an illusion that rapey attitudes are normal, when in fact, they are not.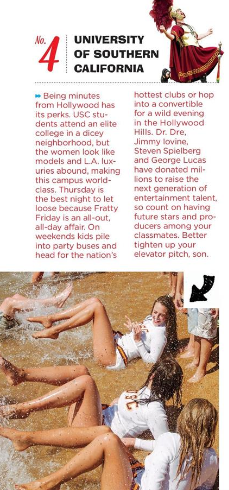 In contrast to Playboy's Top Ten Party School List, FORCE's Top Ten Consent Commandments condemns rape. The prank list's clear and uncompromising stance on rape was quite popular among its readers.
As Total Frat Move Contributor @BaconTFM tweeted:
"'Rape is only a good time if you're a rapist and f--- those people.' -I enjoyed that quite a bit."

While culture jam's declaration "Rape is only a good time if you are a rapist and f--- those people" may sounds flippant, in some ways the verbiage is spot-on. While rape is an infinitely complicated social issue, the truth that rape is wrong is completely simple. The more comfortable we can get as a culture in calling out rape for what it is, the less space it has to breath.
While Playboy is desperately trying to be current, the publication is glaringly backwards. Their most recent October issue contains such highlights as "You should never look down on someone unless they are giving you a blowjob." The rape joke feels almost as antiquated as the rare coin collections populating Playboy's noticeably sparse outside advertisements. Overall, the magazine is struggling with a dwindling readership, the decline of print media and a cultural message that was more popular 50 years ago than it is today.
Just like the popularity of print media is a dwindling, so is equating pretty women to good food. We can only hope that promoting campus cultures that are safer for rapists than for women are similarly going out of style. If the internet's response to the hi-jacked "Ultimate Guide to a Consensual Good Time" is any indicator, we are well on our way.
FORCE: Upsetting Rape Culture is a creative activist collaboration to upset the culture of rape and promote a culture of consent. We believe that a more difficult and honest conversation needs to happen in America to face the realities of sexual violence, and we envision a world where sex is empowering and pleasurable rather than coercive and violent. To promote this needed conversation, we create art actions to generate media attention and get millions of people talking. FORCE is organized by artist-duo Hannah Brancato and Rebecca Nagle. Both Hannah and Rebecca live, work, organize and teach in Baltimore, MD.