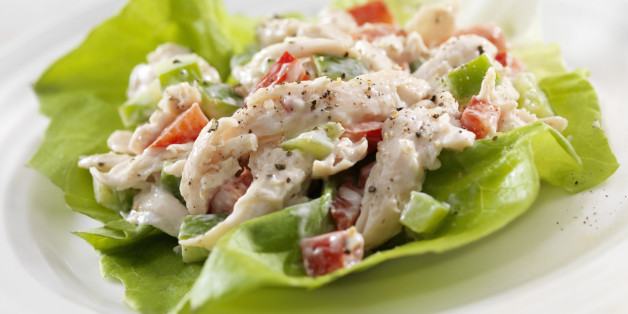 One thing I love about roasting a whole chicken is always having leftover meat! Leftover cooked chicken saves you time when preparing weeknight meals, is a great addition to many tasty leftover dishes, and can easily be made into a variety of chicken salads for weekday lunches. Below you can find 9 of my favorite, simple recipes to use up leftover chicken.
When cooking chicken, it's important to remember that once cooked it should last another 3 to 4 days in the refrigerator. You can also freeze your cooked chicken for 2 to 3 months so you can use it at a later time in leftover chicken recipes.
1. Skinny Chicken and Broccoli Alfredo
Chicken Alfredo is without a doubt a comfort food for many, but we all know how many calories can be included in the sauce. But not all Alfredo recipes are the same! This recipe for SKINNY CHICKEN AND BROCCOLI ALFREDO allows you to skimp on calories, but not on taste, while using up leftover chicken and broccoli!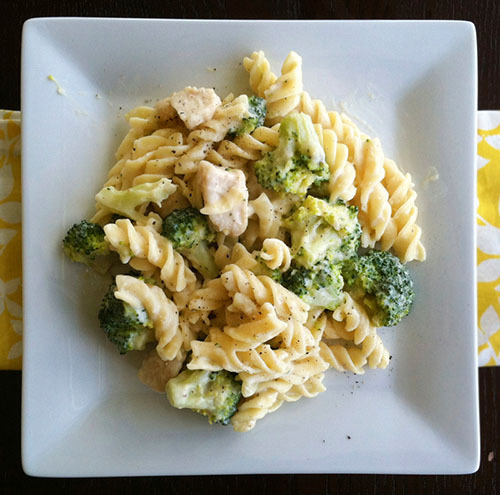 2. Chicken, Broccoli, and Cheese Casserole
Casseroles are a great way to use up leftovers, and this CHICKEN, BROCCOLI, AND CHEESE CASSEROLE does just that! Leftover chicken, broccoli, rice, and a few on-hand ingredients at home make this casserole a made-from-scratch and can-free weeknight meal your family will love.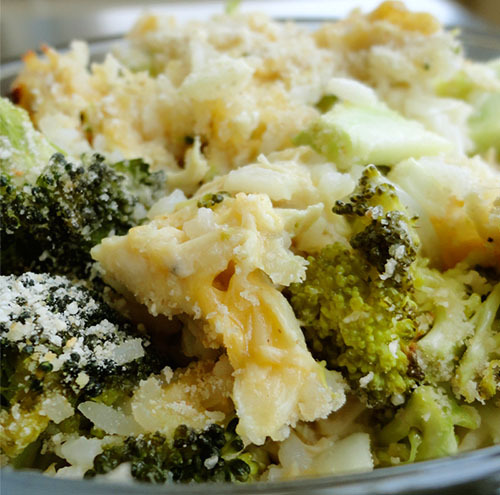 3. Fruited Curry Chicken Salad
We always have some sort of dried fruit and nut trail mix in our pantry at home, which really comes in handy for this FRUITED CURRY CHICKEN SALAD recipe. When we have leftover chicken, you'll often find me sifting through the trail mix, picking out all the dried raisins and craisins to add to the chicken salad. And we also usually have fresh apples and grapes at home, so this chicken salad is a household staple.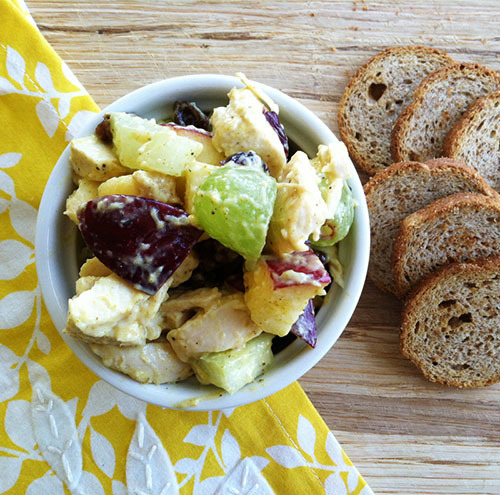 4. Cherry Chicken Salad with Greek Yogurt
Even though fresh cherries are only at peak season in summer months, you can still make this CHERRY CHICKEN SALAD recipe throughout the year with dried cherries instead. It's a delicious and easy way to switch up your chicken salad with an innovative new twist!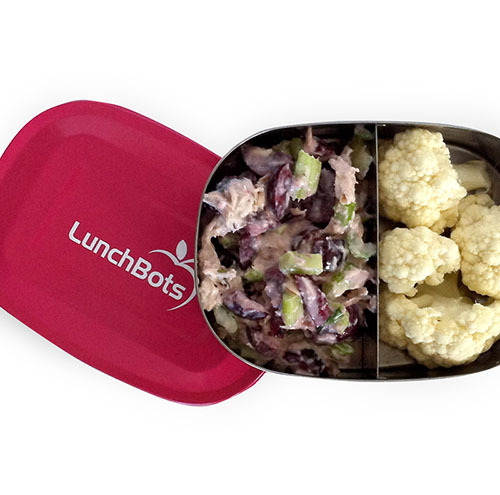 5. Yellow Squash "Noodles" with Chicken, Lemon, and Basil
If you don't have a spiralizer or julienne peeler at home, no worries. This YELLOW SQUASH WITH CHICKEN, LEMON, AND BASIL dish will still taste the same with sliced yellow squash. It's a refreshing combination of veggies, protein and fresh lemon and basil that will have your taste buds begging for more!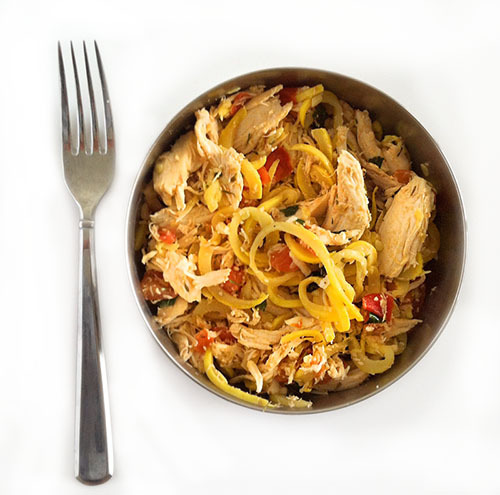 6. Grilled Chicken Bruschetta Salad
Topping a salad with leftover chicken is one of the easiest ways to use up leftovers and add protein to a meal. This GRILLED CHICKEN BRUSCHETTA SALAD can quickly be tossed together when struggling for time to cook during the week!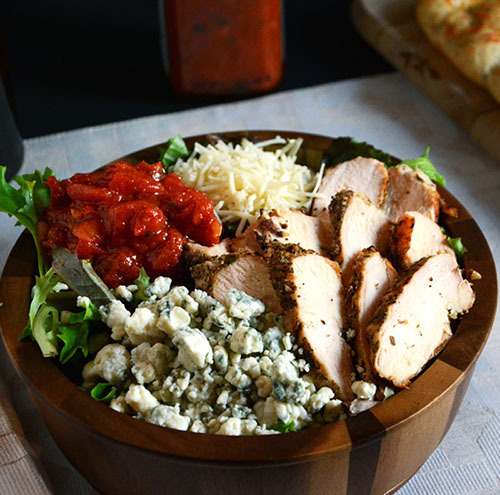 7. Pesto Chicken Salad
Pesto is a condiment that goes well on pizzas, pastas, and this PESTO CHICKEN SALAD recipe. We enjoy it with crackers or on a baguette with a slice of fresh tomato and mozzarella.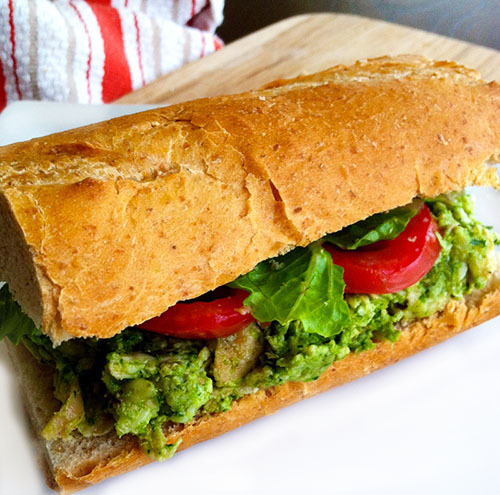 8. Chicken Chili
Chili is one of those one-pot wonders that is both a crowd-pleaser and easy to throw together! This CHICKEN CHILI uses up leftover chicken and corn and is a savory dish for when the weather gets colder.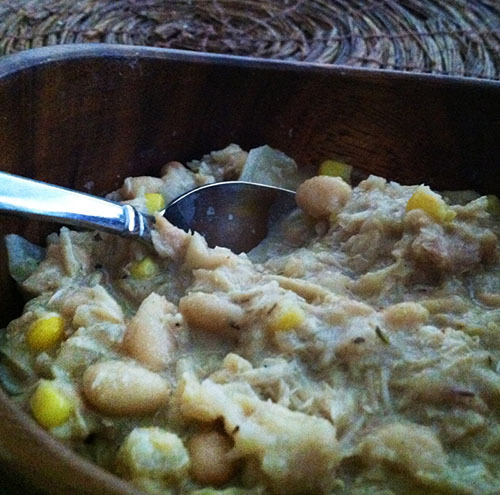 9. Light Chicken Salad
Sometimes chicken salads can be heavy and overpowering, but this LIGHT CHICKEN SALAD has less mayo while still packing big flavor! Made using a homemade poultry seasoning, this savory and satisfying dish is one both kids and adults will enjoy.