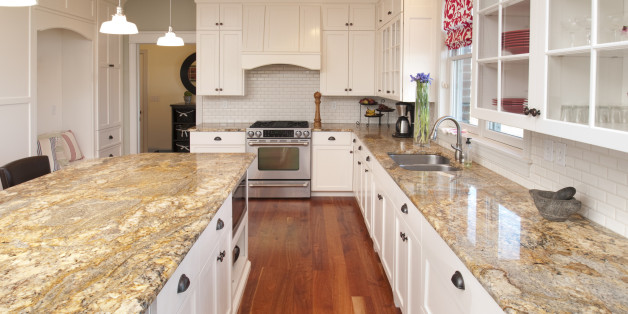 The major news television program 60 Minutes devoted a chunk of its broadcast earlier this month to talk about a toxic chemical and known human carcinogen used in the glue to make laminate flooring -- formaldehyde. The program specifically reported on the company Lumber Liquidators and questioned the levels of formaldehyde found in some of the laminate flooring it sells and has been installed in homes across America. It also reported that samples of Chinese-made laminate flooring from Lumber Liquidators stores around California failed to meet the state's formaldehyde emissions standards when tested; the average being six to seven times above the state standard for formaldehyde.
I was excited to see this report the other night because whether anything illegal is being done in this specific circumstance or not, I am glad that the topic of toxic chemicals found in some household products is being openly discussed and questioned. I've always been an advocate for more awareness of toxic chemicals, especially since toxic chemicals can lurk in several areas throughout your home and aren't just limited to formaldehyde. For example volatile organic compounds (VOCs) can also be found in homes. VOCs include a variety of chemicals with short and long-term adverse health effects emitted by a large variety of products including paints, cleaning supplies, building supplies, glues and more.
My family and I have been taking steps to reduce our own exposure to these types of toxic chemicals in our daily lives and working to share what we've learned so that more families can live healthier, toxin-free lives. So where else are these chemicals hiding and how can you reduce exposure in your home? Here are some tips and steps we practice in our home that you can take with your family today.
Cleaning products. Some laundry detergents, fabrics softeners, and dish-washing soaps can contain VOCs or formaldehyde. To help you avoid these toxins, be a label checker and buy products from brands that list all of their ingredients on the label and are transparent both on their website and in their product offerings. Look out for and avoid products with warnings like "fatal if inhaled or swallowed," "poison," and terms like "surfactant" or "solvent." Or try your hand at making your own cleaners with vinegar.
Changes in your home. At home, you can help lower formaldehyde levels by keeping adequate ventilation, moderate temperatures and reduced humidity levels. Also look for formaldehyde-free insulation and wood products. The EPA recommends using "exterior-grade" pressed-wood products.
Paints. Look for formaldehyde-free, low-VOC paints and glues, and non-toxic finishes when choosing new furniture. If you're doing some renovation, look for paints labeled as zero VOC, solvent-free, and non-toxic paint or look for Green Seal-Certified paints. You could also choose natural milk paints. These paints are odorless, made from milk protein and earth pigments, and don't contain preservatives or biocides.
Follow label instructions carefully. Products often warn users about the risks of a product and how specifically to use it. Follow outlined guidelines for exact use. It's also important to throw away partially full containers of old or unneeded chemical safely.
Gaining awareness of the presence of these chemicals is half the battle. Now you can work to reduce your family's exposure by choosing safer, toxin-free alternatives. It may seem like a lot to take on at first but every small step counts! You can also find more tips and ways to reduce exposure to several other types of harmful chemicals here.