Consumers, perk up. Things may not be so bad, as the confidence surveys indicate. History, in fact, may repeat itself. Once more, the jobs numbers don't look so good, but once more they will probably be misleading. Because, once more, it looks like the so-called seasonal adjustments (SA) are overestimating the summer jobs totals that would be normal with a robust economy, but not this one.
The June employment numbers weren't much better than May, which was "horrible," according to Ian Shepherdson, chief economist at High Frequency Economics, if you remember. The unemployment rate held at 8.2 percent, with just 80,000 payroll jobs created, vs. the 77,000 created in May, revised up from an initial 69,000 May payrolls increase.
But again we should see more upward revisions to job creation in coming months. Why? Because the 'seasonal adjustments' seem way out of wack, and that is important because the lack of business confidence may be holding back hiring. For instance, June nonfarm payrolls actually rose 391,000 before their seasonal adjustment. And the actual adjustment was a subtraction of 1,028,000 from actual jobs created, the estimate of 'normal' increases from summer employment of students and the like. In other words, the SA only counts the number above what should be normal job formation for June.
The Household Survey that includes self-employed individuals fared no better with the seasonal adjustment. Actually, 475,000 more jobs were created in June than May before the adjustment, and just 128,000 was the net increase afterward. The total seasonal adjustment was a subtraction of 787,000 jobs, meaning 787,000 jobs were subtracted from the actual job total for June.
We have been here before, as I've said. Last summer's scare came when the Bureau of Labor Management had to revise from 0 to 57,000 jobs created in August, and added an additional 42,000 payroll jobs in July when revised. This was because the so-called seasonal adjustments were overestimated then, too. This recovery has been tepid at best. There was another first quarter spurt in hiring as last year, then not much job creation in summer. So once again, the seasonal adjustment seems excessive, and will surely be scaled back as with last year, adding more jobs after the fact.

One concrete reason I believe jobs numbers will be revised upward is June average hourly earnings improved to a 0.3 percent boost from 0.2 percent in May according to the Establishment Survey. And two leading indicators for hiring were up. First, the average work week edged up to 34.5 hours from 34.4 in May. Second, temp workers were up 25,000 after a 19,000 boost in May.

What to make of all this? Consumer Credit jumped 8 percent in May, the largest rise in borrowing since 2007 and the boom years, according to the Federal Reserve. And so consumer spending will increase over the next few months. And since consumers power most economic growth, we have another reason to believe the jobs picture will improve. That may be why construction spending is surging, another indicator that real estate is finally on the recovery.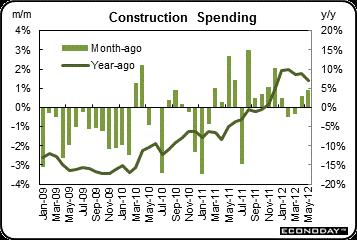 Graph: Econoday
Construction spending jumped 0.9 percent in May, following a 0.6 percent gain in April. The increase in May was led by private residential outlays which increased 3.0 percent after a 1.7 percent boost in April. The new multifamily subcomponent showed the greatest strength but the new single-family subcomponent also was notably positive.
On a year-ago basis, overall construction stood at up 7.0 percent in May.
So because the seasonally adjusted numbers are notoriously inexact, we cannot be sure that an economic slowdown is even happening. It could be the seasonal fluctuations that are normal for any business cycle, I would even venture that we might see upward revisions of some 50,000 per month in nonfarm payrolls as the fall progresses, if precedent holds and history repeats itself.
Harlan Green © 2012