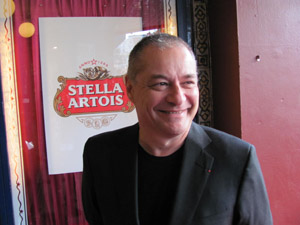 Hot dilly damn. Thursday night kicked off the opening of the 53rd San Francisco International Film Festival. And with it came Micmacs; the latest offering from innovative and imaginative French director Jean-Pierre Jeunet. Yes, he's that guy who brought us such joys as Amelie, City of Lost Children, and Delicatessen.
"It's Micmacs. It's not Big Macs," Jeunet told the packed crowed at the historic Castro Theater. "It's about shenanigans. I just learned that word, shenanigans."
Micmacs is a satire of the world arms trade. With that classic, recognizable Jeunet style, the film blends dark comedy with serious subject matter ("I thought about The Great Dictator. ") that smattered us in an aesthetic world of Rube Goldberg set pieces and a cacophony of surreal visuals and sound. After a video store clerk gets a stray bullet lodged in his head, he joins forces with a group of junkyard misfits that include a contortionist, a human cannonball, and other loveable oddballs. The band of eccentrics wage war on a pair of competing weapons manufacturers. Dany Boon portrays the lead role with the finesse of a silent film clown. ("The guy gets a bullet in the brain-it gives him an excuse to have imagination.") Film lovers will note such Jeunet influences as Terry Gilliam and Tim Burton, alongside Tex Avery, Mission Impossible, Charlie Chaplin, and Buster Keaton.
"It's Once Upon a Time in the West at the end, " Jeunet assures the crowd. "I wanted to put everything I had into the film."
A huge star in France, Jeunet enjoys the anonymity he receives in San Francisco:
"I was a t a bookstore and I heard the music of Amelie. The woman there said, 'It's a French film.' I said, 'I know.' She said, 'Of course you know it-you're French.'"
Before the screening I got a chance to chat with Jeunet as he made his way through the gauntlet on the red carpet. With child-like demeanor, he struck playful, animated poses as press cameras clicked. It was a thrill to look into the crazy, imaginative eyes of Jeunet, whose vision has brought the world such treasures as the squeaking bed scene in Delicatessen.
"You have to forgive me because I'm tired," Jeunet stated outside the Castro Theater.
I nodded my head and assured that all was forgiven. I then leaned forward and asked the astute: "Where does your crazy imagination come up with the ideas for your films?"
Jean-Pierre Jeunet leaned forward. He replied: "It's 10% inspiration and 90%, how do you say (search for word and looks at translator), perspiration."
Oh no. I've made one of the most imaginative people on the planet quote a bumper sticker saying. I should have just asked him, "Who are you wearing?" Must try harder.
"When you were 18, you worked for the telephone company. Did any of your ideas come from that experience?"
"At 18 I was at a telephone company and now I'm here!" he beamed. "Imagination was what saved my life. An important moment for me was when a friend of my parents got a Super 8 camera. I remember the sound of the camera. (Simulates sound of a Super 8 camera.) So I worked really hard to get that camera."
"How would you describe your filmmaking process?"
"I am a sailor in the middle of the sea--alone. It is cold. I don't sleep. Sailors fight. But I love it," he said. "When you go into a toy box, it's best to build the most beautiful toy you can."
How does Jeunet feel his films are received in the U.S. compared to his homeland?
"They laugh much less in France. They love to hate what they loved before. (Pause.) 'I want to stay in San Francisco. "
The San Francisco International Film Festival runs until May 6th.