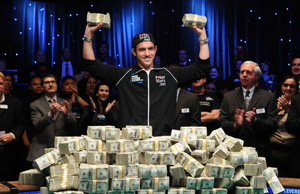 A new breed of internet poker players who have honed their gambling chops online are facing off against old-school competitors, bringing speed and aggression to the world's biggest tournaments, which I found out about in a little investigation I did for Wired.
In the movie version of one of these showdowns, Edward Norton could play the role of Daniel Negreanu, a 35-year-old player who sought out backroom card games while mastering poker as a young rounder in Toronto. Ranked second in all-time career earnings, Negreanu has won four World Series of Poker bracelets, as well as two World Poker Tour championship titles.
Negreanu says he thinks players today are better than ever, thanks to the online poker revolution. When he started, he had to play one table at a time. Now young card sharks can play 12, 15, 20 poker tables at once, as well as take advantage of a slew of online tutorials and forums.
"If you could take a kid who is 22 now and bring them back to the year 2000, he would destroy the game," says Negreanu, who's racked up more than $300,000 in winnings so far this year. "If I could take what I know now and go back 10 years, I could kill them."
Just as the Internet has forever changed the media and communications industries, online play is transforming real-world poker tournaments. While technically illegal in the United States, millions of Americans gamble on websites run by offshore operators. Even as federal regulators struggle to enforce a strange tangle of laws, U.S. lawmakers are considering legalizing internet gambling.
Joe Cada, a 22-year-old player from Michigan, is a great example of the new strain of internet poker whiz kid. At 16, he cut his teeth learning the game online -- sometimes playing up to 2,000 hands per day. Though he wasn't old enough to sit at the tables in Vegas, Cada made enough money playing online poker to buy a house. At 21, he made the jump to live tournaments and won the 2009 World Series of Poker, becoming the youngest champ in history. Cada took home $8.5 million.
Read the rest of the story at Wired