Thirty-five states are currently running early vote programs, and there is a lot of focus right now on two of the most important battleground states: Ohio and Virginia. Catalist, a data consortium, continuously updates data on early and absentee voting, and we are analyzing these data against the extensive set of variables in our file of over 280 million voting-age persons in the U.S. Catalist has a tested Partisanship model that turns more than 300 different variables into a probability estimate of an individual's likelihood to self-identify as a Democrat.
Ohio
Using this model to analyze early vote returns reported through October 23, it is clear that President Obama has built up a broad lead in early voting in Ohio, where he is over-performing Romney across important demographics and geographies.
· Overall early vote turnout is comparable to turnout at the same date four years ago, and
· Likely Democrats outnumber likely Republicans amongst those that have requested absentee ballots in the state overall, as well as in 12 of the state's 15 most populous counties.
This clear lead amongst those that have already requested ballots suggests that Ohio's most intense and reliable voters support Democrats at much higher rates than they do Republicans, indicating an early lead for the President and the Democratic ticket in the state.
· We see strong evidence that Democrats are requesting and returning more early ballots than Republicans; this is evidence of superior Democratic voter mobilization programs.
· 49.5% of those that have requested absentee ballots in Ohio are likely to be Democrats. Moreover, of those that have already turned in their ballot, 55% are likely Democrats.
· Only 36.2% of those requesting ballots are likely Republicans. Of those that have returned ballots, only 33.7% are likely Republicans, implying that Republicans are facing a 13.3 percentage point partisan deficit in the early electorate, and a 21.3 percentage point deficit amongst those that have returned ballots.
· In early voting, Democrats are disproportionately turning out in Ohio.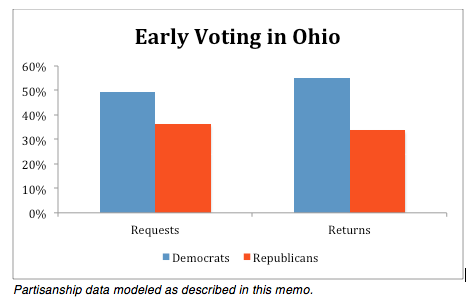 This trend of Democrats out-performing Republicans extends to blue-collar communities in the state. Using the employment data from the Census Bureau's American Community Survey, we compared absentee voting trends in communities with varying levels of employment coming from blue-collar jobs. While Democrats have an advantage overall and in each quartile of census-block level estimates of blue-collar employment, they have an even greater advantage in the most blue-collar communities.
· In communities where fewer than 50% of the jobs are blue-collar, Democrats make up 47.3% of the early electorate and 52.4% of the returned ballots.
· The advantage is even larger in areas where most of the employment comes from blue-collar occupations: in these communities, Democrats make up 58.1% of the early electorate and 63.4% of the returned ballots.
· Even if we set aside African-American voters from the analysis, this trend persists, as does the absolute Democratic advantage in the early electorate.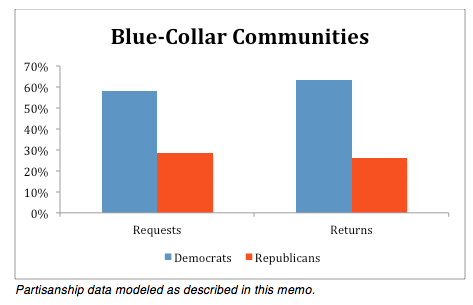 Virginia
In Virginia, the President is leading amongst important demographics in a traditionally red state. If these trends extend to Election Day voting, the President will carry the state this fall.
The absentee voting data in Virginia show a closer race than what we're seeing in Ohio, but a distinct Democratic edge is also evident here:
· Likely Democrats have 1.4 % larger share of absentee ballot requests than likely Republicans. Among those that have returned a ballot, the Democratic edge more than doubles, to 3 percentage points.
· 42.6% of the women who have requested absentee ballots in Virginia are likely Democrats, compared with the 32% of overall requestors who are likely Republicans, indicating a 10.6 percentage point advantage for Democrats in this key constituency.
· Among unmarried women, who account for 29% of ballot requests, Democrats outnumber Republicans by more than 2.5 to 1, with 60.8% of requests coming from likely Democratic single women, while 24.2% come from Republicans. This gap widens further when we look to those that have returned their ballots, where Democrats lead more than threefold, 67% to 21.6%.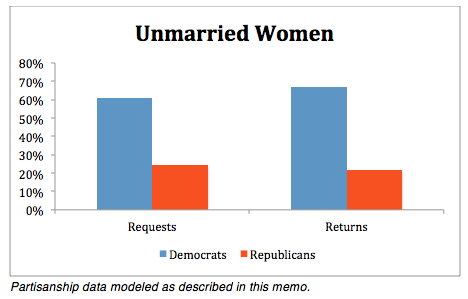 Not only are there more Democrats in the absentee voting pool, but the group of people who have already cast a ballot is more Democratic still. This is further evidence that the Democratic ground game is succeeding in getting their voters to take the actions necessary to cast a vote for the President, while Republicans are not keeping pace. If trends continue, Democrats should continue to hold an edge in absentee voting.
About Catalist
Catalist (http://catalist.us), as a unique national data consortium, provides an unparalleled combination of dynamically updated data from billions of actual individual civic behaviors collected from widely diverse sources and synthesized into easy to use variables for targeting, voter contact and communications.