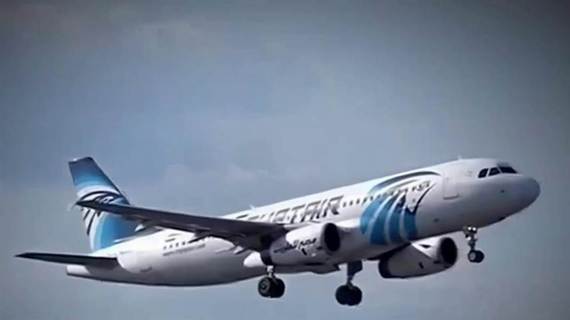 Bound for Cairo in Egypt to the Charles de Gaulle Airport in Paris, EgyptAir's Flight MS804 lost contact with the aviation authorities on 11 pm this Wednesday, 10 miles into Egyptian airspace. It disappeared from the radar at a height of 37,000 feet, and with nothing but speculation to guide their search, the authorities began a gruesome expedition to track the fate of the missing airplane.
According to records, the plane was carrying a total of 66 passengers, of which 10 were crew members. 30 of these passengers were Egyptians, while 15 others were French nationals. Two Iraqis, one Briton, one Belgian, one Sudanese, one Chadian, one Portuguese, one Algerian, one Canadian, one Kuwaiti and one Saudi were also on board.
It has been stated that the plane had been properly checked before takeoff, and a mechanical failure scenario is highly unlikely, and with reports of automatic messages transmitted by the plane detecting smoke in the cabin just moments before the crash, the horror of a terrorist attack seems more and more probable. The Egyptian government has, however, tried to dissuade the people from making any premature conclusions.
Initial searches have revealed debris and personal belongings from the aircraft about 180 miles north of Alexandria. Further, the U.S. Navy's Sixth Fleet has contended that one of its patrolling aircrafts supporting the search had spotted more than 100 pieces of debris identified as having come from an aircraft. Now, the Egyptian authorities are bent on ensuing a much deeper search of the waterspace by employing deep sea search in order to retrieve the black box of the aircraft, which could provide clues as to what happened the night of the crash.
It is in this regard that the Egyptian authority has decided to deploy a submarine robot in order to search for the missing black box, which could seriously aid in the investigation on the crash. In the words of Egyptian President Abdel Fattah al-Sisi:
"They have a submarine that can reach 3,000 meters under water. It moved today in the direction of the plane crash site because we are working hard to salvage the black boxes."
The robot submarine, originally used to maintain offshore oil rigs, would be used to locate the missing black box, which is presumably sunk far beneath in the deep sea. How the robot submarine is going to aid in this search remains unclear, although with the given success of robots in almost every industry in the world, there might be hope for those who must cling to it.
Either way, one thing is for certain. After the chain of events that have forced the world populace to doubt the security of Egyptian air travel, including a recent hijack on an EgyptAir flight by a man wearing a fake explosive vest, the government will certainly have a hard time convincing the people of secure air travel opportunities.