Pioneering rock 'n' roll songwriters & producers Jerry Leiber and Mike Stoller -- universally-known as "Leiber & Stoller" -- are being saluted in-person on Friday night at the Mods & Rockers Film Festival. In addition to a special 50th anniversary screening of Elvis Presley's "Jailhouse Rock" -- for which they wrote the songs -- there will be a showing of the film of their Broadway show "Smokey Joe's Cafe" The duo will also partake in an in-depth conversation about their career. Music historian Harvey Kubernik reflects on their legacy.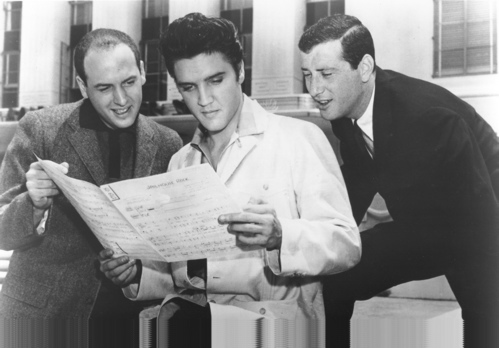 Mike Stoller, Elvis Presley and Jerry Leiber in 1957. (Photo: Leiber & Stoller Archive)

First of all I want to address everyone living within reach of Los Angeles: Do you realize that if you act fast -- you can spend an entire evening this Friday with Leiber & Stoller for only $10?! If you don't show up at this historic event you've lost your rock 'n' roll library card as far as I'm concerned!
This summer I was interviewed about the Leiber & Stoller team for the bonus footage to be included in the 50th anniversary special edition DVD of the 1957 film Jailhouse Rock. The DVD is about to be released by Warner Home Video. So the topic is very fresh in my mind.
If they'd only written Hound Dog for Big Mama Thornton, along with Kansas City and Stand By Me, they would already deserve their place in The Songwriters' Hall Of Fame and The Rock and Roll Hall Of Fame, both of which have inducted them. But the Jerry Leiber and Mike Stoller team (Leiber penned the lyrics and Stoller composed the music) were also the tunesmiths who gave us Jailhouse Rock, (You're So Square) Baby, I Don't Care, Trouble, Treat Me Nice, Little Egypt, and Loving You by Elvis Presley, Ruby Baby and Dance With Me for The Drifters, Only In America (Jay And The Americans), Saved (La Vern Baker), Drip Drop by Dion, I (Who Have Nothing)(Ben E. King), Love Potion #9 by The Clovers, Fever and Is That All There Is? that Peggy Lee took into the charts. Not to mention The Cheers' Black Denim Trousers And Motorcycle Boots and Wanda Jackson's version of Riot In Cell Block #9. They also co-wrote There Goes My Baby and On Broadway for the Drifters.

And did I mention that the duo wrote (or co-wrote) virtually every hit record by The Coasters and their predecessors The Robins? Charlie Brown, Poison Ivy, Along Came Jones, Young Blood, Yakety Yak, and Smokey Joe's Cafe -- the song that gave title to the acclaimed stage revue of their canon.

Leiber and Stoller's songs hardly needed the Broadway run of Smokey Joe's Cafe to legitimize their place in music history, of course. Fortunately the film of the show gives us a both a visual and aural document of their enduring catalogue.
Their compositions and record production endeavors have been the cornerstone of rock 'n' roll since the music form developed and evolved from R&B, jazz, country, pop and gospel.
Ike Turner, Chuck Berry, Bo Diddley, and Little Richard might be the architects of rock 'n' roll but Leiber and Stoller really helped create the blueprint, reinforces my pal, surfer, and music lover, Peter Piper, who attended Hollywood Professional School, and is a longtime fan of the dynamic duo.
In the course of interviewing these two music icons for HITS magazine some years ago -- I asked them about Elvis Presley- - who covered 20 of their songs.
MIKE STOLLER ON ELVIS:
"Jerry and I actually produced -- without credit -- our songs that were in the film Jailhouse Rock. And, he asked for us to be there. We had never met him before. He was a very good-looking young man, very energetic. He just kept going and going in the studio. He'd say, 'Let's do another one.' And it would go on and on until he felt he had it. The studio was booked for the whole day, and we were used to just three-hour sessions."

JERRY LEIBER ON ELVIS:
"He loved doing it. He wasn't someone who was doing it and wanted to go home, like a lot of people. He had more fun in the studio than he did at home. He was very cooperative and a workhorse. He had 'The Memphis Mafia' around him. They were his boys. He would be nice to other people but did not interact that much. We met him in the studio. He had seven or eight guys hanging around. He had his entourage, Lamar, Red, his cousins. He traveled with his environment. And The Colonel was smart, he let him travel with his entourage and it kept him insulated. And nobody could get to him..."
"I thought he was the greatest ballad singer since Bing Crosby. I loved to hear him really do a ballad, 'cause there weren't too many people who could do our ballads to our satisfaction. We didn't have people like Tony Bennett or Frank Sinatra because we were writing rhythm & blues, torch ballads, and they didn't so those things. That was what we were writing, and that's what he sang better than anybody. As far as I'm concerned, nobody cuts Little Richard on rhythm tunes. You have to go far and wide. But Presley was the ultimate in the ballad."
I also spoke to them about the success of Smokey Joe's Cafe - the stage revue based on their songs - and the film of that show's Broadway production.
MIKE STOLLER ON "SMOKEY JOE'S CAFE":
"My response to the show has been one of amazement at the audience response. I am carried along and buoyed by that audience response and it's a wonderful thing to behold. Really, it's very exciting and the audience ranges from kids who come with their parents to 80-year olds who are rockin' and rollin' and clappin' their hands in time. So, there's the 'Disney audience' and at the same time people who are 40 and 50 who lived these songs."
JERRY LEIBER ON "SMOKEY JOE'S CAFE":
"Mike sent them 80, 90 songs. Forty are in the show now, and they picked what they wanted. I told Mike at one point, I think I said, 'Man, we shouldn't have done that because they're gonna pull out all of these B-sides that all these record buffs love to pull out, and feel that this is a gem that we overlooked.' The song "Don Juan" was added to the show in Chicago, and it's one of the showstoppers. In Chicago, after a couple of songs, the whole audience got up, dancing in the aisles. And these were not kids. Some of the melodies and lyrics have become part of the public consciousness."
The compositions of Leiber and Stoller continually inform our own life-long music discoveries and record collections.

In fact -- taking us back to the original Mods & Rockers -- the first-ever film footage of the Beatles -- shot in the Cavern Club in Liverpool by a local TV crew -- shows the band performing Some Other Guy a tune from the Leiber & Stoller songbook...
THE "MODS & ROCKERS FESTIVAL" BLOGS
• GREGORY WEINKAUF - Picking Up Every Stitch...
• D.A. PENNEBAKER - Inside Pennebaker's Soul
• STEVE HOCHMAN -
Memo To Al Gore
• BRAD SCHREIBER - Monterey Pop Goes Pow!
• MICHELLE PHILLIPS - California Dreaming Becoming a Reality • JERRY MILLER - Grapeful for Monterey
• HARVEY KUBERNIK - UP In Monterey...
• GREGORY WEINKAUF - Skidoo Does Hollywood...
• STANLEY DORFMAN - Zeppelin Takes Flight
• BRAD SCHREIBER - Tripping Back to 1960s London...
• D.A. PENNEBAKER - Pennebaker on "Pop"
• MARTIN LEWIS - ROCK Like An Egyptian!
• DAVID HABER - Really With The Beatles
• PAUL WILLIAMS - Nilsson Is My Cup Of Tea
• BRAD SCHREIBER - Festival Opens & Explains "What's Happening!"
• PAUL KRASSNER - Skidoo
• MARTIN LEWIS - First Night Report!
• STEPHEN BISHOP - The Beatles Were My True Parents
• ANDREW LOOG OLDHAM - Mocking The Rockers
• BRUCE SPIZER -The Beatles Were Coming!
• MARTIN LEWIS - Movies For Nothing And Kicks For Free..
MORE "MODS & ROCKERS FESTIVAL" BLOGS COMING SOON FROM
• ERIC BURDON