I followed Rabbi Menachem Froman with my video camera for over five years, until he died in March of this year. The material I videoed will be part of my documentary A Third Way - Settlers and Palestinians as Neighbors.
For me, Froman was a rare integration of a political person and a religious mystic. In the Jewish mystical imagery of Isaac Luria of Safed, 10 vessels couldn't contain the holy light -- they violently shattered. Now our task is to gather all the shards, the sparks, back again: only from the wound comes the healing -- we can't avoid it.
What this translated into on the ground for Froman was, yes, we definitely have to "talk with the enemy." Some alchemy of respect and healing happens when we sit face-to-face with "the other."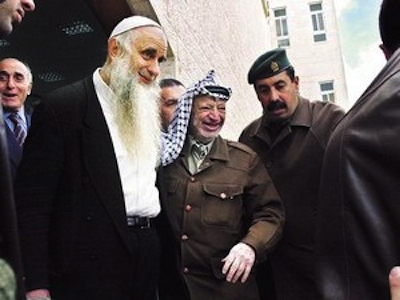 Froman had a long term friendship with Yasser Arafat that started in the 1980s, but perhaps Froman's most notorious relationship with a Palestinian was with Sheikh Ahmed Yassin, the spiritual founder of Hamas. Froman visited Yassin several times, including in Israeli prison: the Shin Bet wouldn't allow Froman's prison visit, but then Shimon Peres intervened. Froman said about his role, "Shimon Peres is the youngest politician in Israel, the most open-minded."
Froman told me that in one meeting he confronted Yassin on suicide bombings: "I shouted at him" that such spilling of civilian blood would result in Yassin being consigned to Hell. But Yassin had calmly replied that "we are just defending ourselves."
Froman shouted an accusation, Yassin answered -- but it was a process of verbal communication, not resolution by missile or suicide bomb.
After Israeli agents were caught trying to assassinate Hamas leader Khaled Mashal in Jordan, Froman helped resolve the situation, which included the release of Yassin from his prison cell in Ramle, Israel.
Soon after the Sheikh's release, Froman visited him at his Gaza City home, in the fall of 1997, and they appeared on a Hamas stage together. According to an interview Froman did with Israeli journalist Larry Derfner, Yassin had announced to the audience there: "This is Rabbi Froman, I sat with him a few times in prison and Rabbi Froman is always urging me to have a cease-fire between Judaism and Islam -- and I agree to a cease-fire. We have our homes and they have their homes, and the border between us is the Green Line."
Froman had immediately reported this agreement to the Israeli government (led, like today, by Bibi Netanyahu) -- who made no response at all. And then several weeks later, Yassin declared, even louder than before, his call for terror against Israel.
I have been searching for footage of that 1997 appearance on the Hamas stage (apparently filmed by several Arab media outlets), but I haven't had any luck yet. It's become my Holy Grail -- friends in Gaza doubt there's anything left in Gaza. Maybe a tape sits in some media backroom in Dubai or Qatar, but I haven't been able to locate it yet.
I'm getting closer though -- a friend recently shared with me her footage shot in 1998, a few months after the Gaza City appearance, when she and a group of Jewish-Americans had visited Rabbi Froman for a couple of hours in his home in Tekoa settlement, and then the very next day had gone to Gaza and visited Sheikh Yassin. Here's a sample of that footage:
With his trademark irreverent humor, Froman had played on the public's view even 15 years ago, of settlers as destructive and out of control: "You know what a settler is?" -- and then he had play acted, growling threateningly at the camera.
At that meeting, Froman told about his long-attempted plans to create a "madrassah, or a yeshiva" where religious Muslims and religious Jews would study together. He summed up the goal of this interfaith center: "Do you know what happens when you put two fundamentalists in one room -- without introduction? They become human."
Yassin was assassinated by an Israeli missile in March 2004, and replaced immediately by Abdel Aziz al-Rantissi -- who was killed by another missile less than a month after Yassin's death.
Up until succumbing to cancer in March of this year, Froman remained very active as an incomparable peace maker. In line with his belief that religion is the neglected factor in bringing together Israelis and Palestinians, in the last few years he paid several "sympathy visits" to West Bank villages whose mosques had been vandalized by extremist setters in "price tag" attacks, sometimes bringing gifts of new Korans to replace the ones that had been burned.
I went with him one of these times to the village of Qusra, in the Northern West Bank.
Froman cemented his connection with a large crowd of villagers, beginning his speech by shouting "Allahu Akbar!" ("God is Great") in call and response with them three times.
Imagining the healing contained in the wound, Froman frequently said he would be happy becoming a citizen in a future Palestinian state. Settlers, often with Palestinian neighbors only a few hundred yards away, could be the ideal "fingers of the hand extended for peace."
With Western powers recently conducting possibly game-changing talks with Iran, it might be that Froman's methods of developing relationship through dialogue were far ahead of his time. And Israeli methods of confrontation and creating "facts on the ground" might be seen as past history.
A version of this article appeared originally in Times of Israel.