 Ironically, being a hyper-connected society makes many people feel more disconnected from an inner peace and balance within themselves. We can get so caught up with texting, emailing, posting, status-updating and tweeting, we forget to pause for a few minutes to check in and ask, "What's my inner 'status' report?" Technology has made us more stressed in many ways, instead of less as many predicted, and is creating a palpable urgency now to figure out how to manage stress quickly and effectively.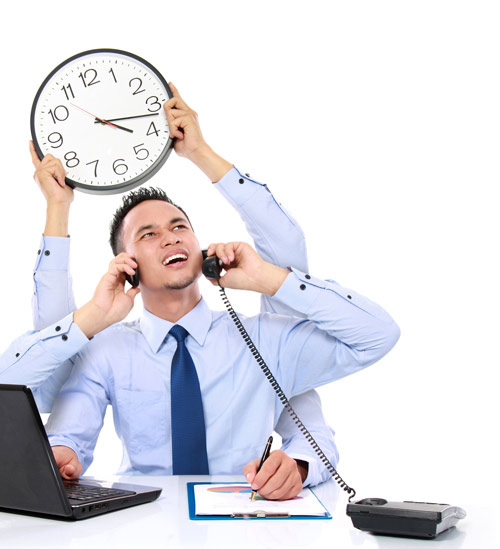 The call has been heard and answered. We at HeartMath are excited to announce a new partnership with The Huffington Post in the development of a new iPhone app called GPS for the Soul. Arianna Huffington approached us last year with her concern for the world's stress epidemic. She wanted to create a way to provide millions of people with tools, techniques and technology to take charge of their stress and find more joy, peace and quality in life. She knew that HeartMath has been committed to this mission for over 20 years, conducting scientific research and clinical studies that demonstrate a critical link between stress, emotions, heart function, and cognitive performance, and providing practical solutions to thousands.
Enter the GPS for the Soul app, launching at the Consumer Electronics Show on Jan. 8, 2013. Just as a GPS system in a car helps to navigate the best route, GPS for the Soul helps users notice when they've gone off-course with stress -- or have lost sight of personal balance. The free app provides instant, on-demand feedback and suggestions to help users course-correct on the spot.
Using your phone's camera lens as a sensor, GPS for the Soul measures your heart rate and heart rate variability (HRV), which measured together are a proxy for stress, and then connects you with the things that help you course-correct -- from music and poetry to breathing exercises and pictures of your loved ones.
While the GPS for the Soul app is a useful antidote for stress, it also can help users tap into what's vital to their happiness -- connecting to their inner nature and intuitive signals, also known as "heart intuition."
Remember what your grandmother always told you about listening to your heart? Researchers are finding that the heart may actually play a key physical role in the intuitive process, and a recent HeartMath study indicated that the heart receives intuitive information before the brain -- by a second or slightly more.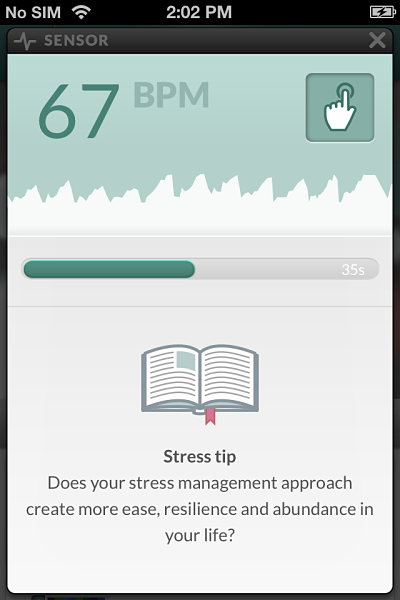 The GPS for the Soul app can help keep our stress levels low and our heart rhythms smooth with help from HeartMath's HRV camera sensor that is at the core of the app. HeartMath's HRV technology is best known in the form of the award-winning emWave technologies that provide the most advanced and accurate HRV sensor monitoring and training. From our research we've seen that the monitoring and training combination can be highly effective in assisting people to transform stress, access heart intuition and anchor sustainable behavior change. The first emWave was released in 2008 and won the 2009 CES Show Last Gadget Standing People's Choice Award; the emWave 2, upgraded to sync to one's computer and display/store data, was released in 2011. Together, about 100,000 have been sold.
HRV coherence feedback is designed to help people bring their physical, mental and emotional systems into balanced alignment with their heart's intuitive guidance. GPS for the Soul gives people an opportunity to experience the transformational power of the heart. As we get our heart, brain and mind in sync -- into a coherent state -- we have greater access to our heart intuition. We're talking about having a practical intuition that can help prevent stress and make better decisions as we learn to listen to our inner promptings.
Easier said than done? You might consider some people capable of tapping into their heart intuition, but you haven't been able to do it, or it is such a rarity that you readily dismiss all such instances as mere coincidence or sheer luck. No matter, say researchers who have studied the intuitive process, because the heart, like the body, is constantly engaged in intuitive activity we are not even aware of, and it keeps right on intuiting -- receiving information before the brain, processing it, then steering us in directions it deems beneficial to us.
One of the greatest gifts in life is being able to be in touch with your own intuitive guidance from the heart. It's that still small voice inside each of us. Life just seems to work better and feel easier when I follow mine. You can even enhance your ability to use your heart intuition, as you reduce your stress levels.
Recently, a friend was going through a hard time and I wanted to help her sort it out but my heart intuition said "wait." A few days later, it felt right to connect with her. We had a really powerful and heartfelt conversation. She'd had time to reflect on the issue a little deeper, so our talk was more effective than it would have been if I'd rushed right in.
Here is how to fine-tune your own heart intuition:
1. Download the GPS for the Soul app from the iTunes store. Use it for two to three minutes several times a day, if possible. If you get a stressful reading, follow or create a guide of your own on the app to bring yourself into more balance.
2. Ask your heart if you could access your intuition more consistently and how would it influence your life? Write down your answers to help chart your progress.
3. Practice asking your heart for guidance. Start with simple practical things like: What helpful attitudes should I bring to an upcoming situation? Should I speak up or hold back? What would be a balanced meal for my body? Calm the mind and emotions and listen for the first thoughts that come to you that feel right. Write them down. Do a self-test. Follow your heart and see how things turn out.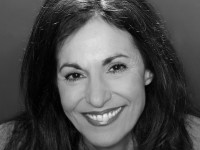 Deborah Rozman, Ph.D., is president and CEO of HeartMath LLC, located in Boulder Creek, California. HeartMath provides scientifically-validated and market-validated tools and technologies that activate the intelligence and power of the heart to dramatically reduce stress while empowering health, performance and behavioral change in individuals and organizations. HeartMath's award winning emWaveᅡᆴ technologies monitor and provide real time feedback on heart rhythm (HRV) coherence levels, an important indicator of mental and emotional state. HeartMath also offers training and certification programs for organizations, health professionals and coaches, and a self-paced online personal development program called HeartMastery for individuals.
Dr. Rozman has been a psychologist in research and practice, entrepreneur and business executive for over 30 years. She was founding executive director of the Institute of HeartMath, and now serves on the Institute's Scientific Advisory Board and Global Coherence Initiative Steering Committee. She is co-author with HeartMath founder Doc Childre of the Transforming series of books (New Harbinger Publications): Transforming Anger, Transforming Stress, Transforming Anxiety and Transforming Depression. She is a key spokesperson on heart intelligence and the role of the heart in stress management, performance and wellness.

For more by HeartMath, click here.
For more healthy living health news, click here.