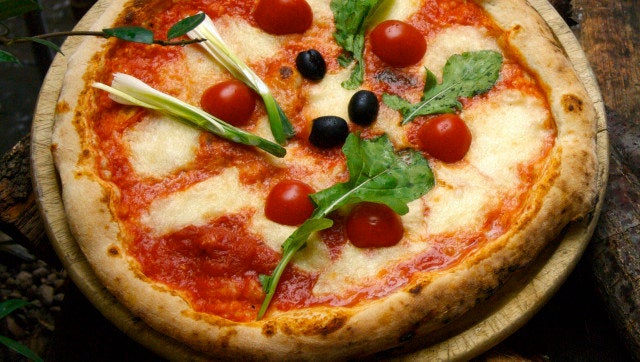 "Greasy," "fattening," "high calorie." That's how you would typically describe your Super Bowl Sunday menu. Let's face it: Watching the big game noshing on raw broccoli and carrots just isn't as much fun as noshing on pizza. I'm sure even the biggest health foodies admit to a little splurge during the Super Bowl. (I know I'm guilty!)
But, what if there were ways to make these greasy, fattening and high-calorie foods diet friendly? Listen up because I have a solution: It's pizza! You heard me. Pizza has the potential to be ridiculously healthy -- it covers all the food groups! Hold the delivery this year and get creative in the kitchen. Try one of my favorite healthy spins on the not-so-greasy good stuff.
For the Low-Carb Lover: How thin can you go? Besides being delicious, thin-crust pizza clocks in fewer carbs, which means fewer calories than traditional or deep-dish pizzas. It's time to take thin crust to the next level. Use a La Tortilla low-carb, high-fiber tortilla for your dough. (I had to do a double take myself when I saw this tortilla was only 50 calories and covers more than half of your daily recommended fiber.) Top the tortilla with Cucina Antica tomato sauce, low-fat organic cheddar cheese and chicken. Just bake until the cheese is melted and tortilla is a little crispy for a nutritious Super Bowl snack you won't feel guilty about.
For the Creative Chef: If you're feeling adventurous in the kitchen, you can even ditch the carb-loaded crust all together and make a cauliflower crust instead. I know it sounds crazy and not too appetizing, but I was sold after my first bite. To make the crust, just chop cauliflower into chunks, pulse in a food processor, and then sautᅢᄅ in a skillet. Check out one of my favorite recipes from the Eating Bird Food blog.
For the Mushroom Lover: Stuffed mushrooms have been making mouths water for years, but the dieter in your head tells you to walk away because the combination of cream cheese, breadcrumbs and cheese is a dieting disaster. Well, now you can have your stuffed mushroom and eat it, too -- in the form of a portobello pizza. Stuff a portobello mushroom with all your favorite pizza fixings. Your guests will love this personal portobello pizza recipe from Hungry Girl. Keep it skinny by using low-fat cheese and making your own pizza sauce.
My Favorite Frozen Pick: If you're crunched for time or just not in the mood to cook, a healthy pizza can still be part of your Super Bowl menu. The frozen food section in the grocery store can be overwhelming. Too much sodium, too much sugar and too good to be true typically come to mind. I'm going to make it easy for you this year. When my clients have a pizza craving, I tell them to keep a Kashi Thin Crust Pizza BBQ Recipe Chicken in their freezer. It's packed with whole grains, fiber and protein, which will help you feel full faster. It will be the hit of the party!