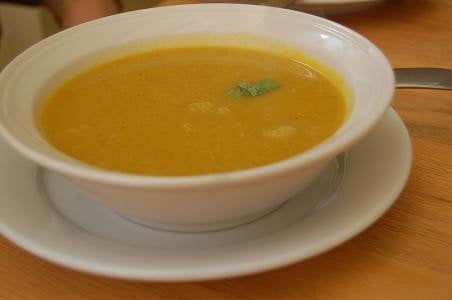 Winter is in full swing, and there's no better way to warm up on a chilly night than to cozy up on the couch with a bowl of hot soup. During the thick of the season, soup can be a tasty and healthy meal or appetizer, but it can also be deceptive and fattening. Don't be fooled by your soup. Follow these tips to keep it skinny.
Why it's good for you: Eating broth- and vegetable-based soups before a meal can significantly reduce the total calories you consume, studies show. You'll feel full before the main course arrives, making soup a perfect alternative during the food-filled holiday season.
Besides keeping you feeling full, low-calorie, broth-based soups can be a great way to sneak in some extra veggies. Attention parents: If you have a picky eater on your hands, you may have found the cure to the if-it's-green-I-won't-eat-it attitude. Throw in some zucchini, carrots and celery for a healthy boost of fiber and vitamins. Your child will forget he or she is eating veggies.
What to watch out for: Not all soups are created equal. Cream-based soups are diet no-nos. A 12-ounce serving of Panera Bread's creamy New England clam chowder soup is 630 calories with 35 grams of saturated fat. Yikes! My rule of thumb: If the soup is thick, it's best to walk away.
It's also important to be aware of sodium content. Some restaurants and soup recipes are too generous with the salt shaker. It's not a good sign if you need to go guzzle water for the remainder of the day after your meal. According to the Centers for Disease Control and Prevention, most Americans should consume about 1,500 milligrams of sodium per day. One serving of Campbell's canned chicken noodle soup clocks in at 890 milligrams of sodium, which doesn't leave you with much wiggle room for the rest of the day. I recommend my clients look for a soup with no more than 450 milligrams of sodium.
Experiment in the kitchen: If you have the time, the healthiest option is to make your own. The fan favorite award in my family goes to the classic chicken noodle. I start with a low-sodium broth. I recommend using Imagine Free Range Chicken Broth because it's low in sodium and made from organic ingredients. To cut back on carbs, mix in low-calorie and low-carb Japanese yam noodles. Alone, these noodles have little flavor, but they take on the flavor of the tasty broth when saturated in the soup. Toss in your favorite vegetables, chicken, carrots and celery to complete the perfect winter meal that everyone will enjoy.
Not a fan of chicken noodle? Try a tasty garden vegetable soup to satisfy your taste buds:
2/3 cup sliced carrot
ᅡᄑ cup diced onion
2 garlic cloves, minced
3 cups Imagine Free Range Chicken Broth
1 ᅡᄑ cups diced green cabbage
ᅡᄑ cup green beans
1 Tb tomato paste
ᅡᄑ tsp dried basil
ᅡᄐ tsp dried oregano
ᅡᄐ tsp salt
ᅡᄑ cup diced zucchini
In large saucepan sprayed with nonstick cooking spray, sautᅢᄅ the carrot, onion, and garlic over low heat until softened, about five minutes.
Add broth, cabbage, beans, tomato paste, basil, oregano, and salt; bring to a boil. Lower heat and simmer, covered, about 15 minutes or until beans are tender.
Stir in zucchini and heat 3-4 minutes. Serve hot.
Nutrition per serving: 42 calories, 0 grams fat, 2 grams fiber.