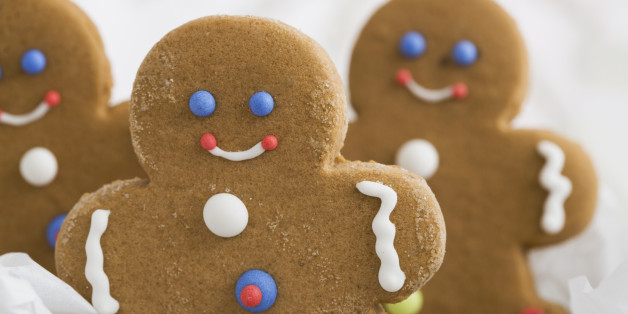 Spirits are bright, bells are jingling, and it's going to be eight crazy nights -- the holidays must be upon us.
For most of us, starting around Thanksgiving, our weekends are packed with shopping, wrapping and of course -- holiday dinners and parties. And even though we might feel spread thin from the packed schedule and far too many commitments, the holiday magic has a way of keeping things merry and bright. The good tidings and cheer shouldn't be interrupted by guilt -- from eating at least -- as your Bubby will still talk your ear off about how you don't visit enough.
Go armed with holiday spirit and 10 tinsel-time tips for surviving the onslaught of get-togethers.
1. Get party pampered.
Even if it's just a good old gathering at a friend's house, use the get-together as an excuse to hit the salon. Get your hair blown out, finally treat yourself to a well-deserved manicure or maybe just plan your regularly scheduled roots touch-up that day. Getting glammed up will set you up to feel super-fly all night and less likely to over-indulge.
2. Dress for success.
Now's the time to whip out that LBD that you triumphantly scored outlet shopping on Black Friday (a little holiday gift to yourself). Feeling fabulous starts with dressing the part and will perfectly complement your Christmas coif or Hanukkah hairdo. Try picking out something fitted as well, and you'll want to work the room, not scour the room for treats.
3. Snack attack on track.
You definitely don't want to be the guy or gal at the party gnawing on a granola bar from home, and that's definitely not expected. What you can do is munch on a healthy snack beforehand. Aim for 180 calories or less, such as two Fiber Rich crackers with a Justin's nut butter 80-calorie pack, or a Zing bar. The invite might read "Cocktails for Christmas" but it's fairly reasonable to assume there will be at least some noshes for the night, so don't arrive ravenous. Plus, if cocktails are the only item on the menu, it won't hurt to have food in your stomach before a night of drinking.
4. Know before you go.
If you know beforehand that there will be food at the party, decide if the offerings will be your dinner. If yes, stick to the "four-napkin rule" -- fill up three to four napkins worth of appetizers throughout the party and then stop -- and no munching when you get home. If temptation is too fierce, make solid plans for after the party. Be it a fun dinner reservation at a favorite place or date night -- just you, your couch, Will Ferrell (as Buddy the Elf, of course) and a portion-controlled organic frozen dinner, such as an Amy's or Luvo meal.
5. Delay your way.
No matter what, a good trick is to delay your eating from the start. When you walk in and saunter over to the bar area, grab a bottle of water instead of a cocktail and a helping of appetizers. This way there will be less time to overdo it, and you will be proud of your restraint from the beginning. If you are at a holiday dinner and manage to skip the hors d'oeuvres altogether, it will leave you more room for flexibility at the dinner.
6. Protein packed.
If you are going to indulge in appetizers and munchies at the party, stick to the veggies and proteins like shrimp cocktail, chicken satay or sushi (not fried or drenched in mayo!). Again, stick to the "four-napkin rule" and only help yourself to four servings eaten off of a napkin or cocktail plate. Not allowing yourself to pick and pop in your mouth will help you to keep track and be mindful.
7. Hold on.
These events are the place to whip out your (seemingly impractical) but fabulous clutch. Keeping it in your clutches all night, along with a drink in the other hand, will help you to avoid snacking for the sake of keeping occupied. Gentlemen (and some ladies!), sparkly handbags might not be your thing, but keeping a drink in one hand and the other one free for firm, friendly handshakes could go a long way at the company party.
8. Chat it up.
Remember why you're there -- it's a party after all! Even if it's a work event, it's a great opportunity to relax a bit and enjoy the office crowd. Or maybe it's a yearly get together with gal pals that is sadly becoming one of the only traditions you're able to keep where everyone actually is able to make it out. Make the night about conversation and connection -- not cocktails and confections.
9. But be careful about mixing it up.
Visions of sugarplums might be dancing in your head but don't let them boogie on into your beverages. Beware of the super sweet drinks! It's really cute that your gracious host spent weeks coming up with her "Yuletide Poolside Patron Margarita" but her themed drink goes down way too easy. One too many of those babies and you're simultaneously belting out "Mele Kalikimaka" and gorging yourself on pineapple upside down cake among many other treats from the dessert spread. Stick to wine, light beer or vodka mixed with club soda and limes. Pick something refreshing that you will sip slowly.
10. Good list, bad list, who cares.
Above all else, it's the holidays after all. If you make it the "five-napkin rule" or indulge in your pal's "Yuletide Poolside Patron Margarita," don't go home and worry that Santa will be skipping your house this year -- and certainly don't crunch down his cookies with a gulp of his milk. Instead, tuck yourself in, rest snug in your bed, and maybe play a few extra reindeer games the next day.
Healthy holidays to all, and to all a good night!